keitha hatcher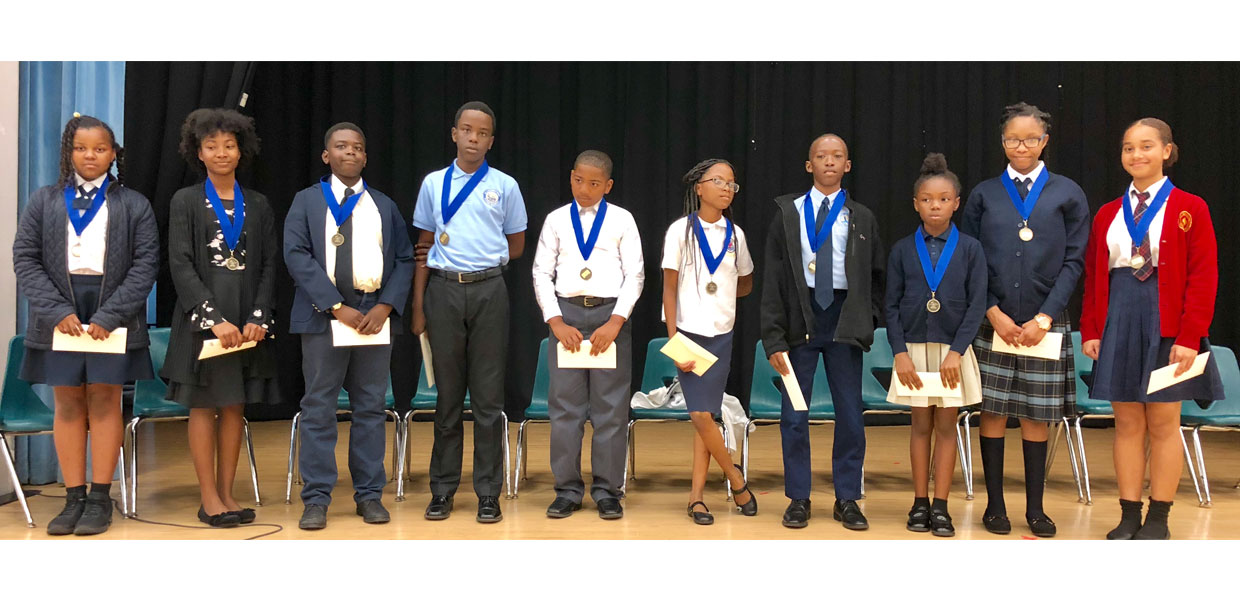 Participants of the 2018 Spelling Bee include Shelby Pinnock (left), NH; Vanessa Blemur, BJRB; Benjamin Alcide, MUA; Wadson Dieudonne, MSJA; Caleb Ruff, BES; Brenae Curry, PS; Stevens Etienne, BJA; Colhendie Zulmar, DOZJA; Brianna Graham, MTC; and Farrah Murray, MTO. Not shown are Stephron Allyson, EJAX; Mikayla Desilus, Elim; and Cassidy Clarke, EWPB.
Each participant represented their school as champions of their local school's spelling bee.
Edson Jarvis
The future is bright in Southeastern, and the youthful lights were shining at the most recent Spelling Bee. The hope of the future showcased the students' vocabulary skills for those who were in attendance to cheer them on. Students, teachers, family, and friends traveled from the east, west, north, and south to the Frank C. Martin International K-8 Center in Miami, Fla., for the annual Conference-wide event on February 24, 2018. The 2017 winner was from the Perrine SDA School; therefore, Perrine hosted this year's event. The 13 participating students were 1st place winners of their local school Spelling Bee.
Each student utilized their own unique technique. Some asked for definitions, and some wanted the word used in a sentence. After 62 rounds of competition, Shelby Pinnock of New Hope SDA School, emerged as the 1st place winner. Her spelling style proved hard to best as she broke down every word into syllables, and then spelled each syllable. Pinnock, and 2nd place winner, Stevens Etienne, pushed each other for more than 40 rounds, until croquette proved to be too tricky of a word. Pinnock's winning word was physique. Benjamin Alcide of Miama Union Academy, was the 3rd place winner.
The event was a challenge even for the pronouncer, who gave students words from various word origins, with all their possible pronunciations. One word was even withdrawn completely because the pronouncer told the audience that she did not know how to pronounce it herself. The word was kishke.
One dictionarian stated, "I have never even heard of some of these words myself."
Southeastern | May 2018