Jean Hercule Toussaint,
Pastor at Philadelphie church
Merkita Mosley, CFO of South Atlantic Conference, makes a presentation during Philadelphie Haitian Church mortage-burning ceremony.
Fritonne Ducasse, Philadelphie Haitian Chruch treasurer, burns the mortgage documents.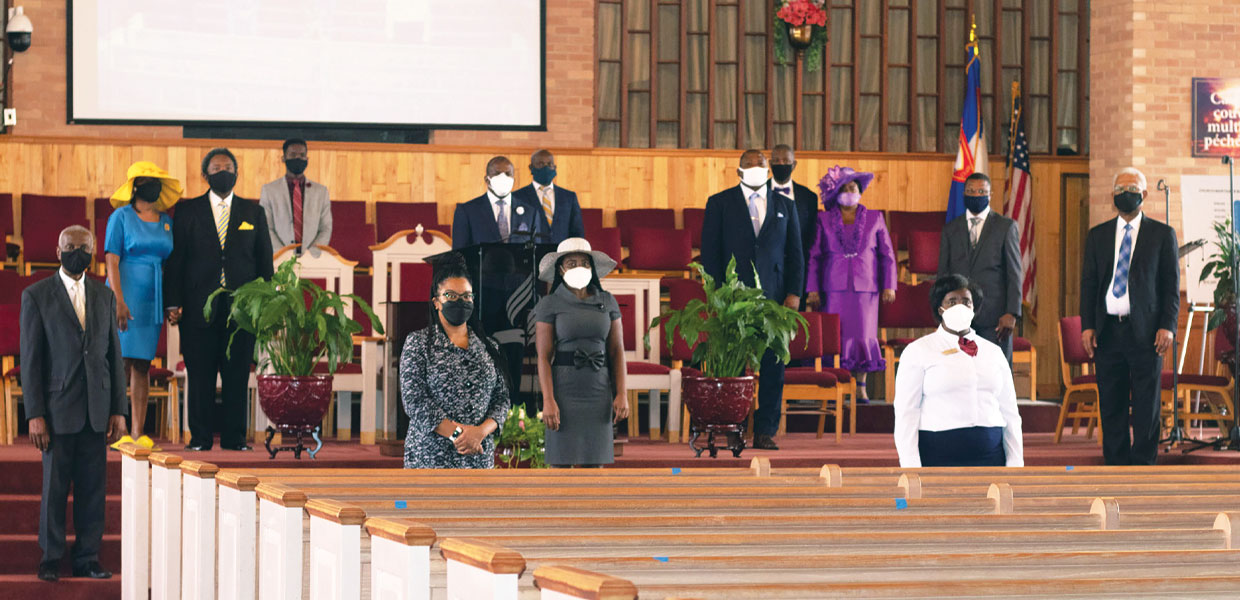 Attendees who attended the Philadelphie Haitian Church mortgage-burning ceremony
It was with overflowing joy that the members of Philadelphie Haitian Church in Douglasville, Ga., entered their sanctuary on August 8, 2020, to celebrate the goodness of God. There were 15 people in the building and others joined virtually to be in compliance with social distancing regulations. Merkita Mosley, CFO of South Atlantic Conference, honored Philadelphie's achievement and reminded them that even though they are free of debt, they remain indebted with the responsibility of sharing the Gospel. Mosley also presented the treasurer of Philadelphie, Fritonne Ducasse, a check for $1,000 as a contribution to the Gospel ministry.
The spoken word was delivered virtually by William Winston, president of South Atlantic Conference. The promissory note was burnt by Ducasse; the prayer of dedication was given by Jean Hercule Toussaint, pastor of Philadelphie Church. Marc Rico Borieux, pastor, shared an emotional testimony of the building's acquisition, and Jean Robert Jeanniton explained what the members did to pay off the mortgage debt.
In the midst of COVID-19, God has taught the members there is no confinement of His blessings. Toussaint added, "From the bottom of my heart, I want to thank you all, members of Philly, and thank you for helping me to be your leader. We made it! All the praise and glory to our God."
South Atlantic | October 2020