lisa marie esser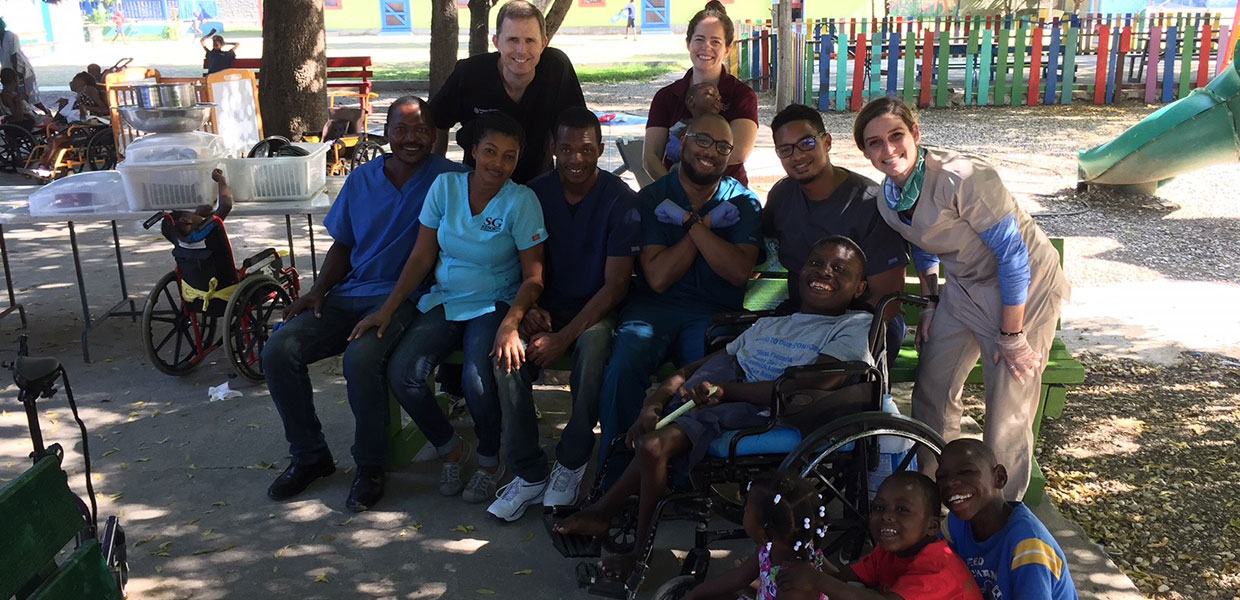 Jeff Emde (top left), D.P.T., and Jennifer Porter (top right), with other ADU students as well as staff and children from New Life Children's home in Haiti
Students and faculty from Adventist University of Health Sciences' (ADU) doctor of physical therapy (DPT) program completed two mission trips in February during their Spring Break. Students had the opportunity to join trips in either Haiti or India to fulfill the program's international service learning (ISL) requirement. The ISL is a unique component in the DPT program that was created to satisfy three criteria: academic learning, service learning, and cultural development.
On the Haiti trip, Jeff Emde, D.P.T., DPT's director of clinical education, led a group of five students and a consulting pediatric orthopedic surgeon to Port-au-Prince, organized by Florida Hospital's Global Health Initiative. The group stopped at New Life Children's Home, working with children with disabilities. They also visited the region's Seventh-day Adventist hospital, working with patients as well as training rehabilitation staff and PT aides. "It was an invaluable opportunity to leave an enduring legacy, and help staff continue our work when we're gone," said Emde.
Jennifer Porter, a DPT student who joined the Haiti trip, shared her experience, "Traveling to Haiti … was the first of many mission trips I hope to take." She described her "positive and helpful" interactions with the rehabilitation staff in Haiti, and said, "Supplementing their work with new knowledge and advancements in research seemed simple, but their gratitude and excitement was a reminder that there's more work to be done to help … as they continue promoting wellness in their country."
Jennifer Collins, Ed.D., DPT chair and professor, and Laura Podschun, D.P.T., a DPT assistant professor, led the India trip with 14 students to Kerala where they provided similar services, working with children with disabilities and at a physical therapy clinic. The students also participated in an exchange with PT students from the Lourde Institute of Allied Health Sciences, learning about traditional Indian medicine, Ayurveda. Students from each school completed presentations and shared ideas. This immersion gave ADU students the chance to expand their own worldview as well as leave their own impact on another culture.
On both trips students provided assessments for patients, and followed up with training PT staff to ensure recommended treatment continued after the team left. Podschun spoke about the trips' effect on the students: "It broadens them as people. They find value in the cultural experience, working with different languages but finding ways to communicate."
The international service component is a central element in the mission trips; however, the professors see another, equally important value for students. Collins explained, "The ability to have a professional exchange with people in another country, where we often focus on what is different, allows students to have a clear sense that our profession and its practitioners have the same intent and desire to serve others regardless of the culture or where they live."
These mission trips provide a valuable experience not only for students, but for the international communities they serve. Their work leaves a lasting impact, carrying out ADU's mission to develop skilled professionals who live the healing values of Christ.
Adventist University of Health Sciences | May 2018