By Gianni Arroyo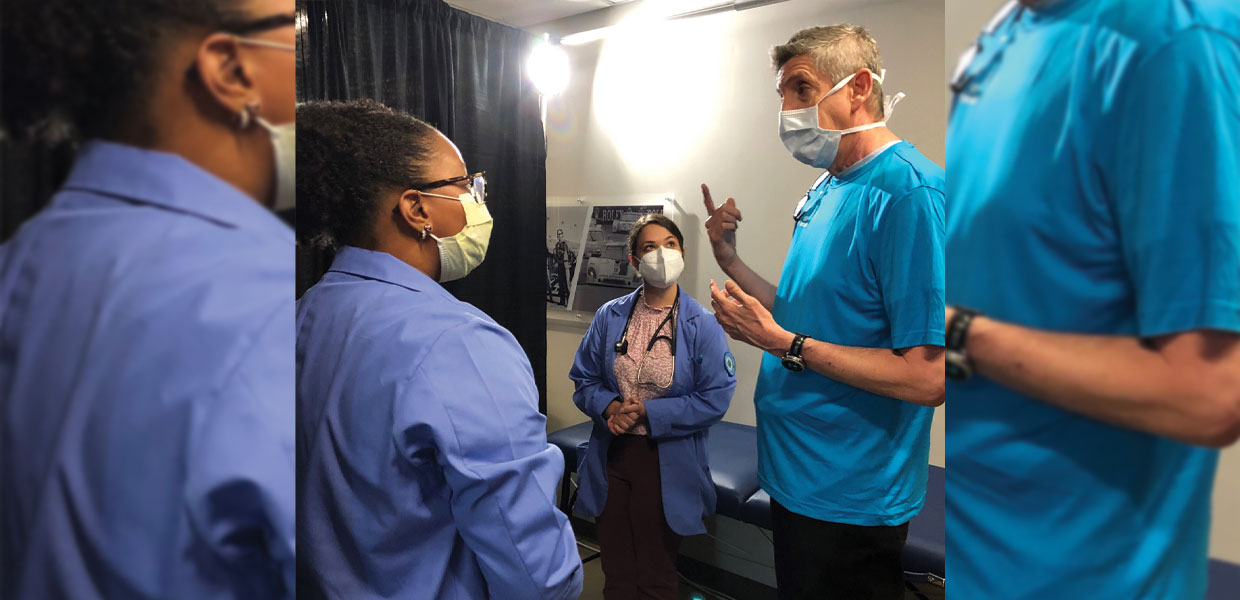 AdventHealth University's (AHU) Physician Assistant (PA) Program participated in the Volusia County, Florida, annual pre-participation sports physicals event. Held at the Daytona International Speedway, the event gave AHU students hands-on field experience with members of the community.
The pre-participation sports physicals were for student athletes grades 6-12, and included free medical screening, a vitals screening, an electrocardiogram (EKG/ECG), and an assessment of functional movement.
"To have AdventHealth University jump on board and say, 'We'd love to be involved' was an answered prayer," said Erik Nason, manager of sports medicine partnerships at AdventHealth, who helped organize the event.
As a part of their training, AHU's PA Program requires students to attain 40 community service hours. Typically, the program helps with pre-sports physicals for Jones High School at the Camping World Stadium in Orlando.
For this year's event, Nason sent an internal email requesting volunteers, and Ann Marie LeVine, M.D., PA Program medical director, responded by offering her students.
AHU's PA students took part on the last day of the three-day event where more than 800 student athletes were registered for a physical. The PA students helped approximately 350 of those athletes. Although there were other volunteers at the event that day, the AHU volunteers were the main group providing physical examinations.
"I am thankful not only to have had this learning experience, but to also take part in serving the community using skills that I have learned during my time at AdventHealth University in PA school," said Jonathan Bohner, PA student.
"It was an excellent experience for our students. They were able to perform the physical exams independently," said LeVine. "They left there feeling very good about what they did for the day and how they touched so many people."
LeVine said that the PA program will continue going to the pre-participation sports physical event at the Daytona International Speedway. It will not only serve as a good experience for the students of AHU, but for community students as well.
PA student Ysatis Hernandez enjoyed the hands-on physical examinations and teamwork she experienced that day.
"Daytona Speedway came as an opportunity for our class to achieve outreach service hours within our community, but it was so much more than a simple service hours 'check-off,'" said Hernandez. "It felt as if each family happily entrusted AHU's PA students with the care of their children. It was as if they were actively training the providers of tomorrow to grow, learn, and compound knowledge in a stress-free environment."
Through participation in this event, the AHU PA Program actively followed its calling of educating knowledgeable and compassionate health care providers who embrace a mission of service to others and to Christ's healing ministry.
AdventHealth University | October 2021