BY Abigail duman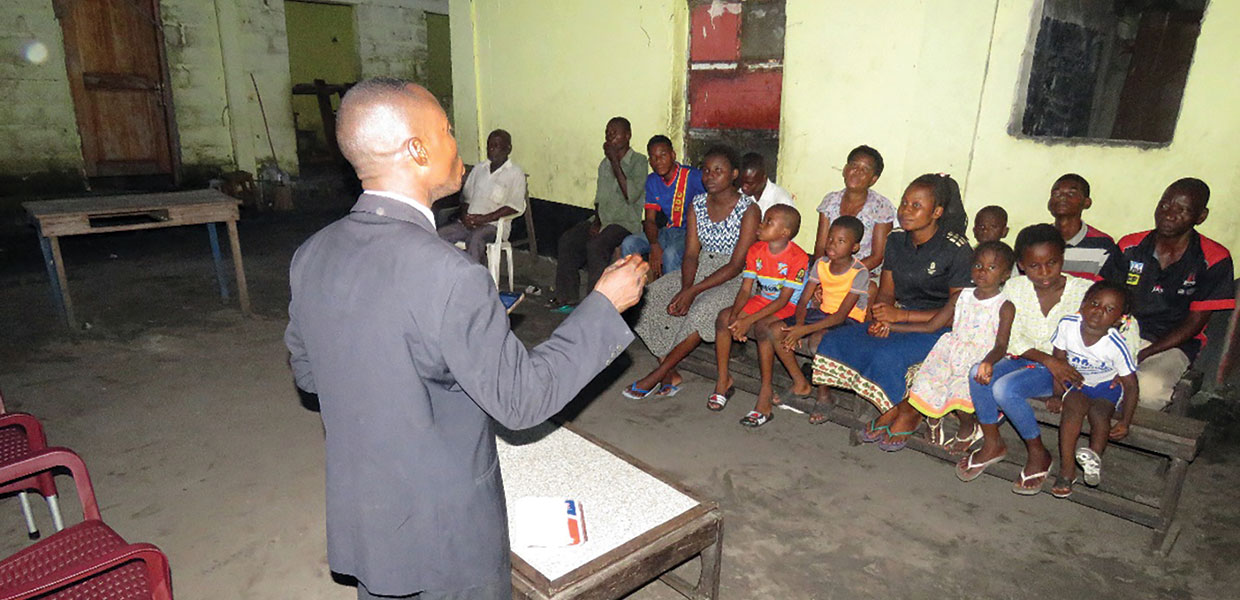 Shintoni (left) speaks to his young church plant.
While it is not uncommon for churches to donate to foreign mission projects, not many have the privilege of actually seeing the result of their giving. This past spring, Piedmont, Ala., Church members had a special opportunity to touch a congregation in need across the world by sponsoring the land, labor, and materials to build a church in the Democratic Republic of Congo (DRC).
Funds were donated to Train Them 2 Fish, an Adventist nonprofit in DRC focusing on training Bible workers, and establishing churches in this vast central-African country. While on a visit to the United States, Thomas Ongasa, Congolese pastor, was able to visit the Piedmont congregation this past June, and show pictures of the church building already in progress.
Also special for Piedmont, is the story of the believers this church building was gifted to. Shintoni grew up in a spiritually dark area of Congo, where superstition and witchcraft reigned. The young man wanted to know the truth about God, and prayed earnestly for direction. One night he had a dream where an angel told him that a stranger would visit the next day to show him greater truth. Sure enough, a stranger visited the following morning with the contact information and address of a Seventh-day Adventist pastor. Ultimately, Shintoni and many others from his village were baptized as a result. The young man went through Train Them 2 Fish's Bible worker course, and started a church plant. The new believers meet every Sabbath, previously holding services in an alley between several buildings.
The Piedmont members feel blessed and privileged to give Shintoni's church plant a building to worship in. The congregation recognizes that they have an Adventist church family around the world, and that God has commissioned all to work together to fulfill the Gospel commission.
Gulf States | August 2019