Pastor Roy Rugless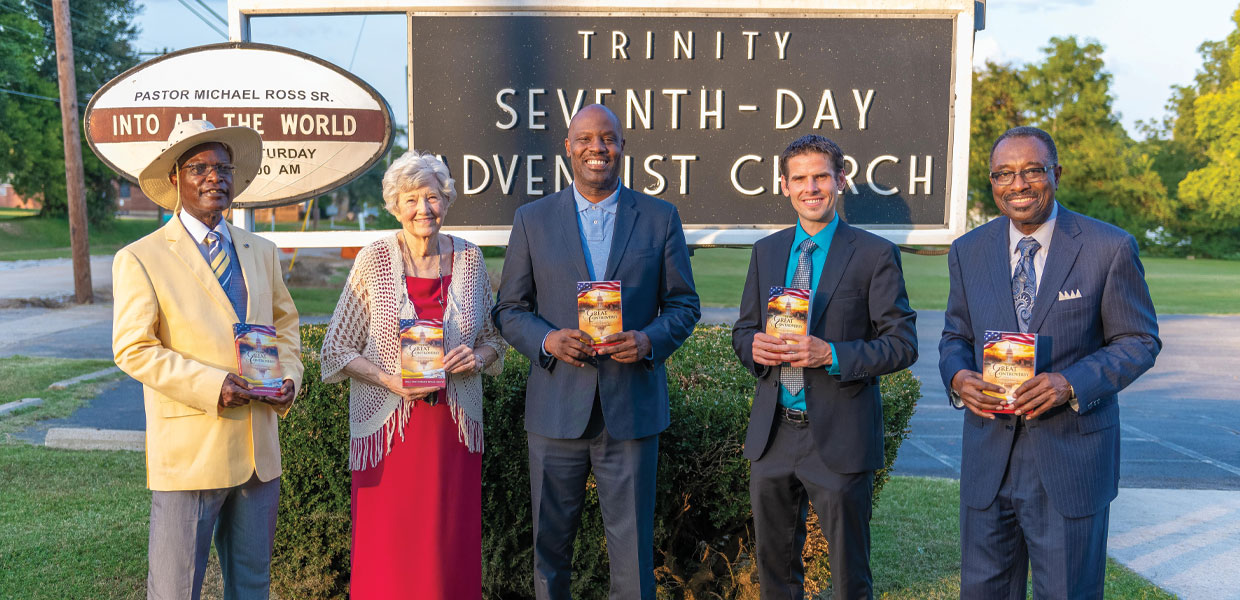 The Great Controversy Project team includes Ephraim Pembleton, pastor and personal ministries leader at Trinity Church, Athens, Ala; Sandra Price, Ph.D., personal ministries leader at Athens Ala., Church; Isaac Olatunji, Ph.D., pastor at Stateline Church; Matthew Sandvik, pastor at Athens Church; and Roy Rugless, retired pastor and Conference director.
How in the world can the work of God get finished? Roy Rugless, retired pastor and department director for the South Central Conference, received an advertisement from Remnant Publications in Coldwater, Mich., with an invitation to join them in getting the book The Great Controversy to the nation. Rugless got excited and enlisted Ephraim Pembleton, personal ministries leader for Trinity Church in Athens, Ala., and Sandra Price, Ph.D., personal ministries leader at Athens Church in the same city, to plan and initiate mailing the book to the entire county of Limestone, Ala.
The group decided to respond unitedly to the invitation of Remnant Publications. Both churches would work together; however, it would take $60,000, more than what these two small churches could handle. It was then suggested that instead of trying to do all the zip codes of the county at once, to just do one or two in increments, and perhaps the project could be completed within a couple of years. But, God had another plan.
A prayer group in Athens, who have been together for a couple of years, took on the need as a major prayer point. Members of the churches gave sacrificially, but it wasn't enough. The church members solicited their friends who were not members to support the initiative. The Stateline Church in Ardmore, Ala., joined the effort. Believe it or not, what was thought would take 2-3 years to complete, was accomplished in 4½ months. The $60,000 was raised! The church families praise God and give Him the glory for the great things He has done.
South Central | January 2022