BY shirley scott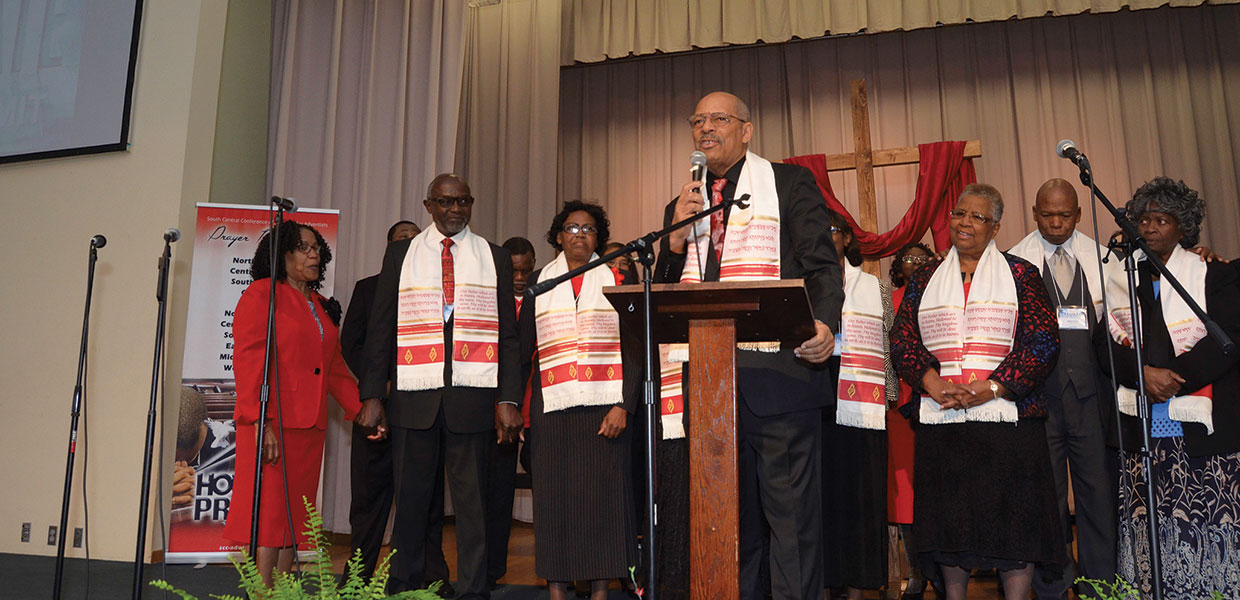 Benjamin Jones Jr., president of the South Central Conference, welcomes the Prayer Summit attendees.
Michael Hubbard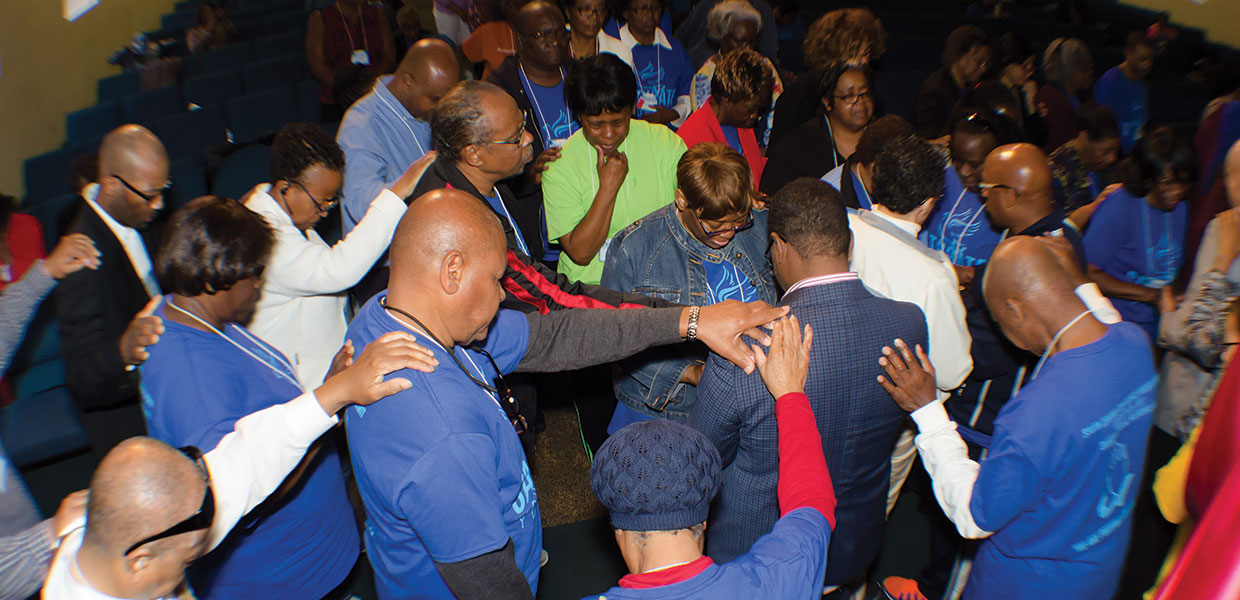 2017 Prayer Summit attendees
Michael Hubbard
Forty days prior to the annual South Central Conference (SCC) Prayer Summit, under the direction of the Holy Spirit, Shirley Scott, co-director, led a dedicated team of Conference men and women to pray and fast each day. Prayer warriors asked God to do a new thing in and through His people at the Summit. They prayed for an outpouring of the Holy Spirit. They prayed for healing and restoration of souls that the devil has taken and thrown into life's trash can. They prayed for each attendee, presenter, musician, and worker. They prayed for the Shocco Springs Conference Center and their staff. They prayed without ceasing, claiming John 15:7.
After 40 days of prayer, on March 24, 2017, nearly 200 prayer warriors, including the Prayer Federation presidents, Prayer Cover team, local prayer coordinators, presenters, psalmists, and musicians, arrived at the Shocco Springs Conference Center in Talladega, Ala., and they came ready to participate. The location was peaceful, surrounded by nature, and perfect weather.
Scott kicked off the Summit on Friday night by explaining the theme, "SATURATE." Saturate means to fill something (your heart) completely with something (the love of God) that fills to overflowing — so much so, you must share! She stated, "Our desire is that we become men and women of prayers that move mountains, that we will be the men and women who stand in the gap as stated in Ezekiel 22:30. That means you and I must totally surrender our lives to God. Then, and only then, can we expect an abundant outpouring of the Holy Sprit."
Each Summit session included the spoken Word by Conference officials, ordained music by the praise team and psalmists, and corporate and individual prayer time that focused on repentance, reformation, and revival. This was directly in tune with the SCC Prayer Ministries mission "to seek the Holy Spirit's guidance in the coordination and integration of prayer into the lives of God's people and the life of the Church
Lillian Green, prayer coordinator for the SCC Prayer Cover team, was one of eight warriors responsible for the prayer room located outside the main auditorium. Here attendees could go and request special prayer, intercede for others, or just sit quietly in the presence of God. The prayer room is a continuation of the existing prayer call that happens every Sunday night.
Benjamin Jones Jr., president of the South Central Conference, stated in his welcome that, "We are seeking for more than inspiration; we are praying for transformation. We are asking God to do a new thing in South Central, and let it begin with us!"
The general response of the Summit attendees was that the Holy Spirit rained down abundantly, filling hearts and minds with an overflow of God's presence. Just like the woman at the well, all felt a conviction to go and share throughout South Central and beyond. All involved agree that all glory and honor and praise go to God for giving an Ephesians 3:20 blessing.
South Central | July 2017