Trisney Bocala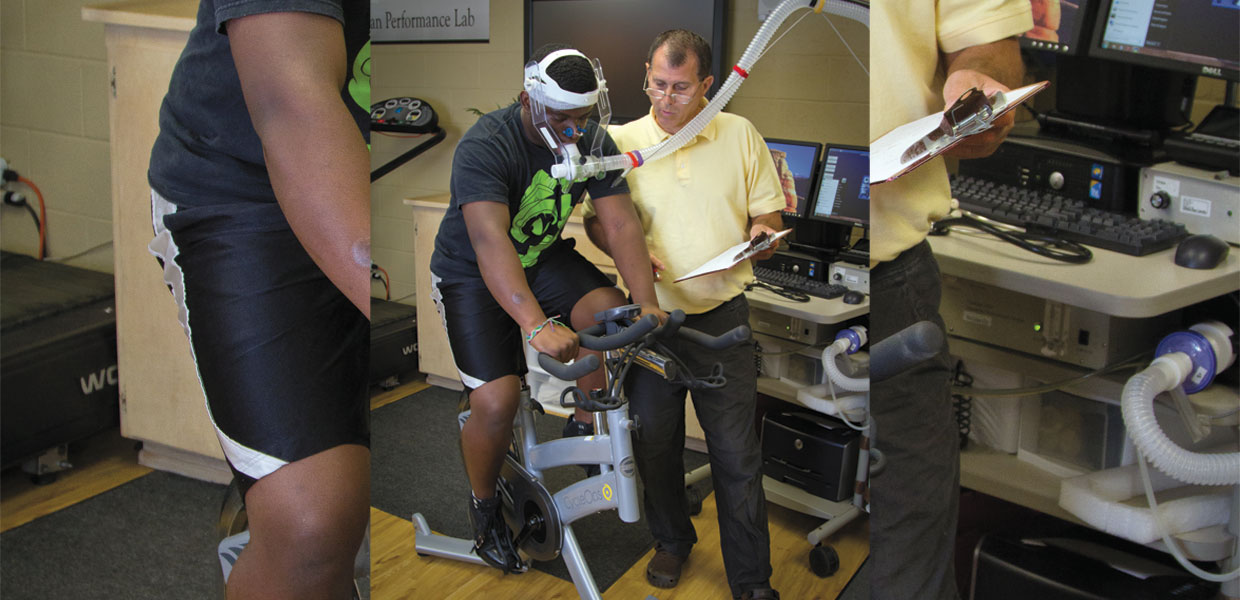 Professor Harold Mayer, Ph.D. (right), works with a student in Southern's Human Performance Lab.
Only 25% of calories are burned during exercise, so professors and students at Southern Adventist University have been researching methods to improve an individual's metabolism to more efficiently burn the other 75% while resting. An article documenting their results is currently being peer-reviewed for publication this summer.
Harold Mayer, Ph.D., professor in the School of Physical Education, Health, and Wellness, has made this topic his life work. Before joining Southern's faculty 18 years ago, he worked at Lifestyle Center of America, where he used the technique of intermittent training to help recovering heart patients regain their strength. Four times per day, the patients would spend half an hour repeating the pattern of exercising for 30 seconds and then resting for 30 seconds.
Inspired by the successful results he had witnessed in those patients, Mayer decided to dive deeper at Southern. As part of their research, Mayer and his co-researchers tested 44 females between the ages of 25 and 54 to see if their bodies were efficiently burning fat or inefficiently burning carbohydrates.
"Your carbs are just the spark of the system," Mayer explained. "What happens when someone lives on that spark? They quickly burn out the source."
Utilizing state-of-the-art equipment in Southern's Human Performance Lab, the team was able to measure physiological processes for each individual, which is more accurate than using theoretical numbers based on age, gender, height, and weight.
After initial testing, the research subjects followed a plant-based diet for 14 days to control for nutrition differences. After the two weeks, they were retested and, while continuing the diet, they followed a low, moderate, or high intensity walking for eight weeks, after which they were tested a third time.
The research provided a unique understanding of participants' metabolism by measuring the oxygen composition of the air they exhaled during exercise, among other calculations. The results showed that exercising in the cellular respiration "sweet spot" helps to train cells to burn fat at rest.
"I hope someday portable breath analyzers will be available for the general population so that, during exercise, people can read their own breath composition at the cellular level," Mayer said. "Our research validates the original hypothesis that working smarter, not harder, gives better results; moderate activity combined with a negative energy diet achieves the best results."
Noah Humphrey, who earned his bachelor's degree in health science in 2020 and is currently in Southern's pre-physical therapy program, was one of the students involved in running the lab during the metabolism study.
"My responsibility was to conduct many of the health tests and collect data," Humphrey said. "It was awesome to see scientific theory genuinely impact people and to witness the difference for some participants in both their data and their confidence levels."
Southern Adventist University | August 2021