BY Rick Woodruff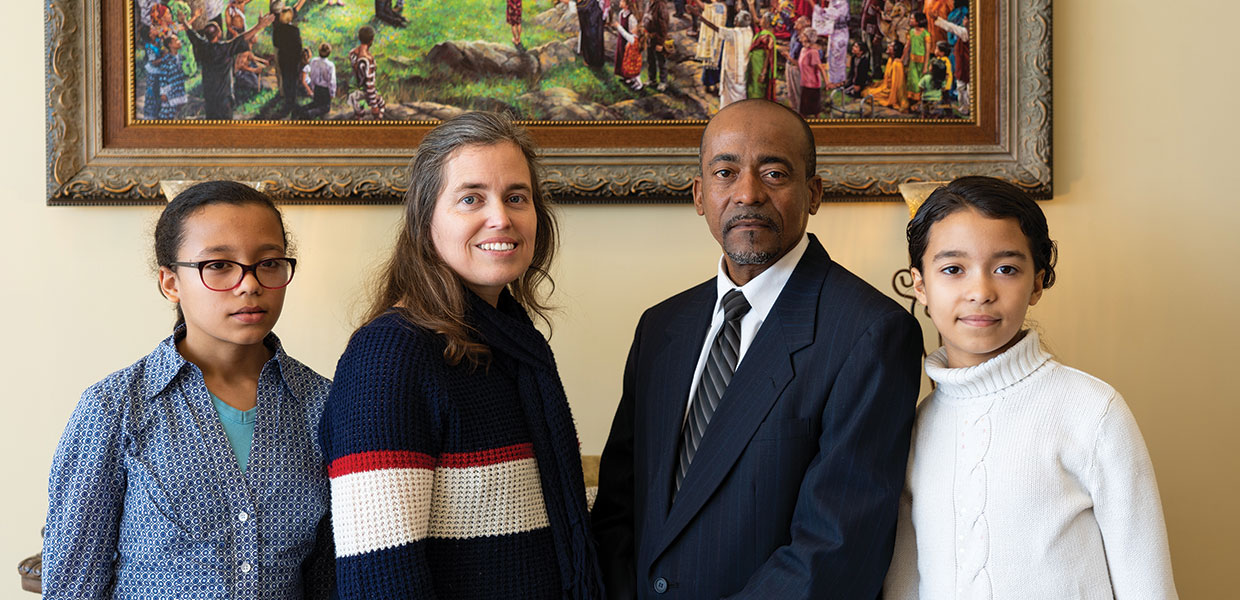 Mateo Ramirez's family — daughter Hadassah (left), wife Marla, Mateo, and daughter Elena — pose together at the Gulf States Conference office.
Shane Hochstetler
Gulf States Conference officers joined Mateo Ramirez on January 16, 2019, at the Conference office in Montgomery, Ala., to ordain Ramirez to chaplaincy ministry. Ramirez was born and raised on a farm in the Dominican Republic. At 12 years old, he felt God's call to become a Seventh-day Adventist, though his family practiced a mixture of Catholicism and witchcraft. His commitment to worship on the Sabbath rather than work on the farm eventually led to young Ramirez being forced to leave home. God remained faithful to him, and local church members provided homes for Ramirez for the remainder of his school years. Upon graduating high school, the way was opened for him to go to the Adventist University of the Dominican Republic where he studied theology. While there, Ramirez was deeply involved in his local church, where his commitment and personal efforts were instrumental in the establishment of a new Adventist church congregation in that community.
Ramirez graduated with a degree in theology, and soon after he moved to the United States where he worked as a literature evangelist in New York City. A short time later, he accepted a call to Grand Rapids, Mich., to help establish a church plant which quickly grew to more than 70 members. His next call was to Green Bay, Wis., where he established and ministered to a Hispanic church family for several years. God's call came next in 2001 to Fredericksburg, Tex., where Ramirez not only planted a new church family but started his own, marrying his wife, Marla, in 2003. They continued their ministry together in the Arkansas-Louisiana Conference in 2005, by working in a church plant in Berryville, Ark., and helped to open another church in Huntsville, Ark., a few years later. Ramirez pastored in the Gulf States Conference from January 2017 to December 2018 in the Meridian and Forrest district.
The Ramirezes, along with their daughters, Hadassah Hildalis and Elena Deborah, continue to seek the Lord's will as they pursue the chaplaincy ministry.
Gulf States | March 2019