Atlanta Revision members sign their names to become official members of Revision Atlanta Church. The church started in 2009 as Atlanta Fusion Mission Group, and in the last few years has experienced exponential growth.
Nathan Zinner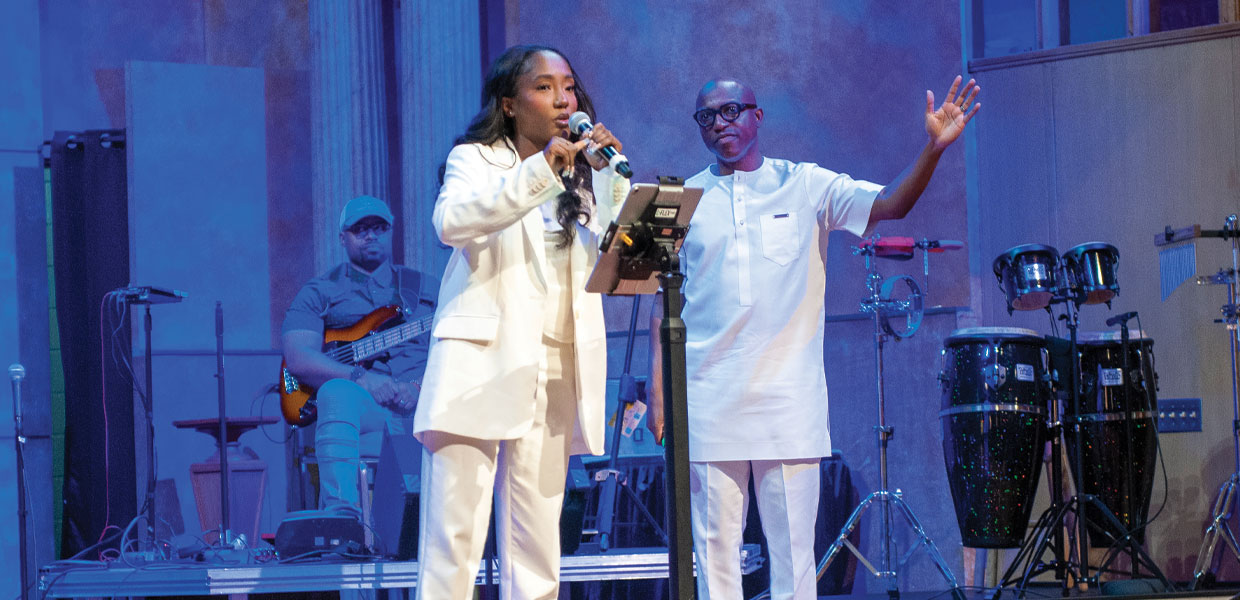 Audrey French, one of the new members who started watching Revision services during COVID-19, recounts her testimony of how Revision provides her with hope. French is one of 36 people becoming official members of Revision Atlanta during the church organization service, in addition to three baptismal candidates.
Nathan Zinner
The members of the Atlanta Revision Company celebrated being formally organized as a church on July 23, 2022. Despite delays due to the pandemic, members stayed focused on their mission and persevered to achieve this milestone.
In 2009, a group of primarily young adults from the Marietta Church started the Atlanta Fusion Mission Group with the goal of reaching other young adults in the Atlanta area. Unbeknownst at the time, a family who started attending would later come back as leaders in the church.
While working as a professor at Oakwood University, Wesley Knight, D.Min., and his family attended Fusion. During his hiatus from pastoral ministry, Knight says the Lord gave him a vision for a church that kept Gospel mission at the forefront of ministry while using a non-traditional approach.
"This church, that Jesus inspired in my mind, would be a church that wouldn't be different for difference's sake, but would be different based on its unapologetic passion for the Gospel of Jesus and its impact on the community," says Knight.
During a conversation with Georgia- Cumberland Conference administration, Knight shared his vision for this type of church in the Atlanta area. Knight started a Bible study group, believing that God would provide an opportunity to start a church based on his vision. However, God had a slightly different plan. Knight became the part-time pastor of Fusion on November 10, 2018, tasked with carrying out the vision he had shared with the Conference.
Despite having challenges along the way, the church plant thrived and changed its name to Atlanta Revision. When Knight started leading the small congregation, there were 20-30 regular attendees. Since that time, the group has experienced exponential growth, eventually outgrowing a 600-seat sanctuary in east Atlanta prior to COVID-19.
Knight credits the Revision community for rallying and adjusting during the pandemic. The church launched its online presence and live streamed services, gaining 1,000 live viewers and thousands more from around the world watching during the week. Members maintained their mission focus through projects such as providing funding for Atlanta Legal Aid, raising money for clean water in Africa, and helping 20,000 people with their bills and needs. Through their dedication, the church continued to grow through baptism and profession of faith.
"[Members] believe the church is not a building, the church is a people who are saved, sanctified by the Holy Ghost," proclaims Knight. "We celebrate what God has done."
During their church organization service on July 23, members had even more reason to celebrate as 36 new members joined through transfer of membership and profession of faith along with three additional baptismal candidates.
Audrey French, one of the new members, credits Revision for filling a spiritual need during the pandemic.
"I was going through a really difficult time," says French. "Faith seemed in short supply, and hope seemed in short supply."
Knight's sermon, "Have a Productive Year," changed the way French understood Christianity to be and reintroduced her to a God who is more loving, kind, and tender than French had imagined before.
"To me, Revision means a resounding hope that God is on our side," exclaims French.
While Revision has a strong online presence, they continue to find ways to reach their community in Atlanta through outreach, and projects with a passion for unapologetically sharing the Gospel through methods that help people see and experience Jesus.
Georgia-Cumberland | October 2022