BY CAROL COURTNEY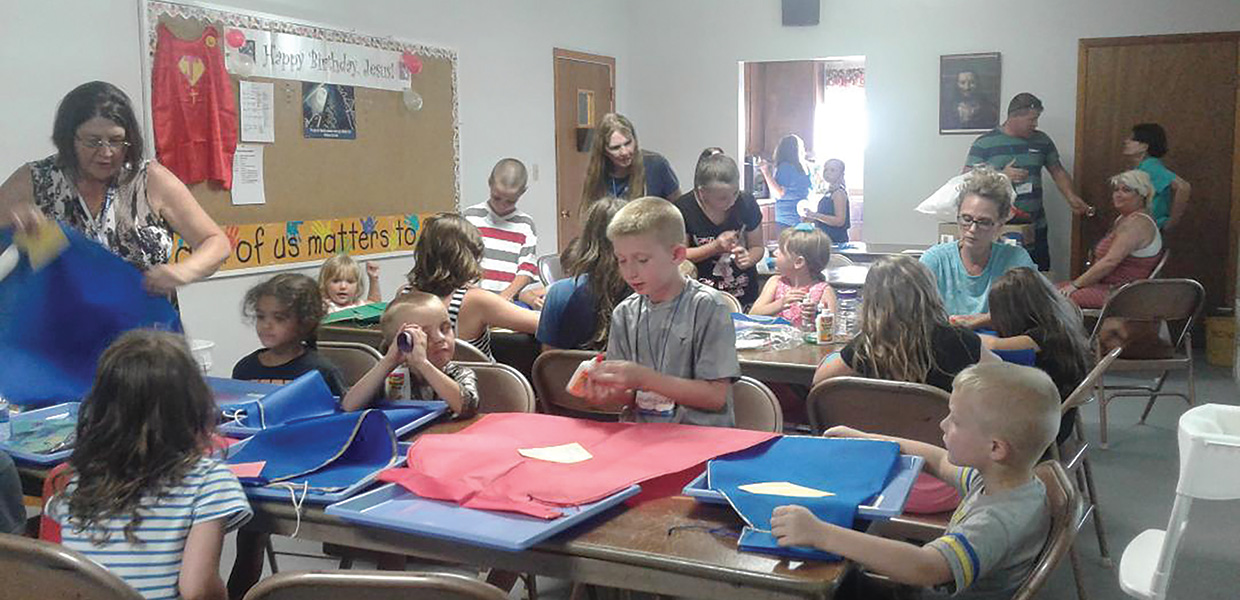 Children attending VBS enjoying the crafts
Richmond, Ky., Church held Vacation Bible School (VBS) under the leadership of Donna Crawford. Church members joined her several times for pre-planning, and enthusiastically supported her selection of the theme, "Jesus, Our Superhero."
God answered prayers resulting in 23 children in attendance, three of which were children of members. Helpers included Nick and Christy Miller, Morgen Begley, Kathy Jo Cooper, Carolyn Chasteen, Jill Mathis, Lana Bailey, Ed Hudson, and Carol Courtney. The oldest children were asked to assist with the younger ones.
Not only did the children learn Who should be the number one Superhero in their lives, but also that they could be superheros for others. Every evening began with the children marching into the sanctuary singing, "I Have Decided to Follow Jesus," followed by more songs, the pledges, and prayer before parting for crafts. Crafts were followed by a Bible story, snacks, and recreational games. The evening ended with a discussion of Jesus as Superhero and more songs. The children particularly liked the songs that had hand movements.
Members praise God for the attendees, the members who worked so diligently, and those who brought children. Four children who were transported to VBS are now being transported to church. It is a blessing to see more children in the church. Members join together in prayer that all VBS programs will connect children to God, create change in their hearts, and give them opportunities to share God's love with others.
Kentucky-Tennessee | February 2019