BY JANICE JOHNSON BROWNE, PH.D.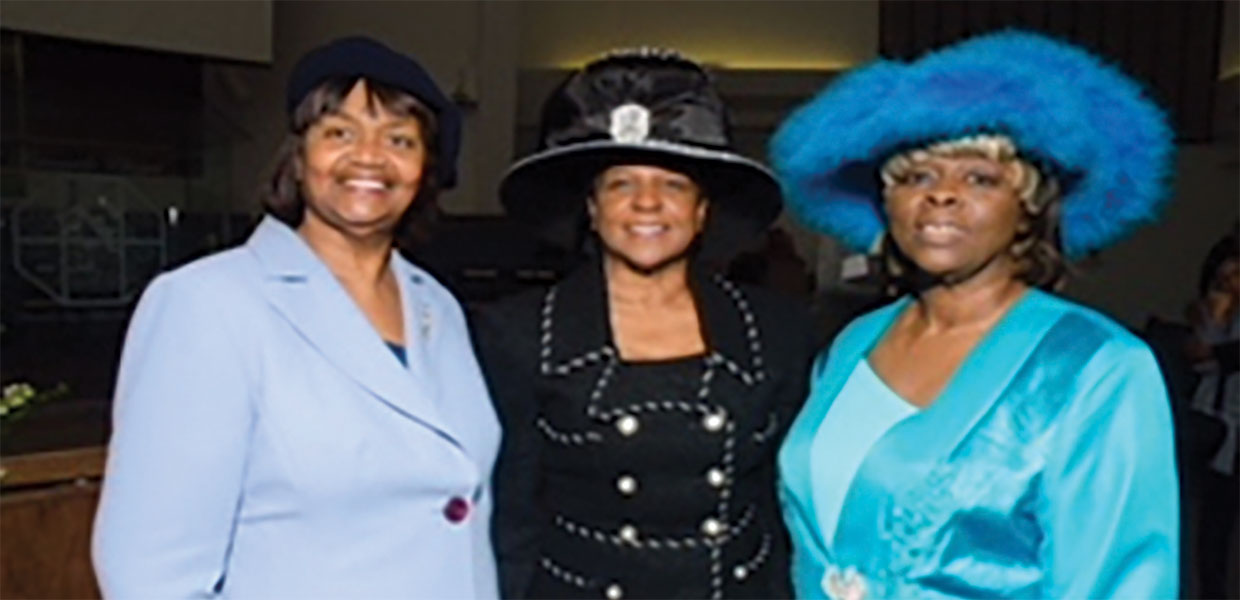 Newly ordained elders include Shirley O'Giste (left), Janice Johnson Browne, and Sarah Monk.
Michael Hubbard
The number three is associated with certain of God's mighty acts," The New Bible Dictionary. A mighty and divine act took place as three servants of God, Sarah Monk, Shirley O'Giste, and Janice Johnson Browne, Ph.D., were ordained as elders in the Riverside Chapel Church. The servants of God were given the vow of commitment and consecration, a pledge of service and agreement of congregational support, by Chris Marshall, associate pastor, and the prayer of dedication by Furman Fordham, senior pastor at Riverside Chapel Church.
The congregation was invited to stand and given a charge to accept the new elders as Christ's gifts to the church, recognizing them as the Lord's provision for a healthy congregational life — to hold them in honor, take their counsel seriously, respond to them with obedience and respect, accept their help with thanks, wholeheartedly participate in the ministry into which they lead them, sustain them in prayer, encourage them with support (especially when they feel the burden of their office), and acknowledge them as the Lord's servants among them. The members stood and wholeheartedly accepted the charge, and pledged to receive the three new elders.
Family members and friends from far and near were in attendance. Elders from Riverside Chapel Church, visiting elders from other churches, and ordained and lay pastors were invited to lay hands on the three ordained elders as Fordham prayed a spiritually powerful prayer of consecration. In his prayer he acknowledged gifts from God given to the new elders, for them to be further filled with the Holy Spirit, and for their diligence and courage. He prayed for them to be under-shepherds looking for and strengthening the people of God. And finally, he prayed for the new elders, their families, and those they serve to be saved when Christ comes again. He thanked God for adding three gifts to the church.
South Central | April 2019