BY Shane Hochstetler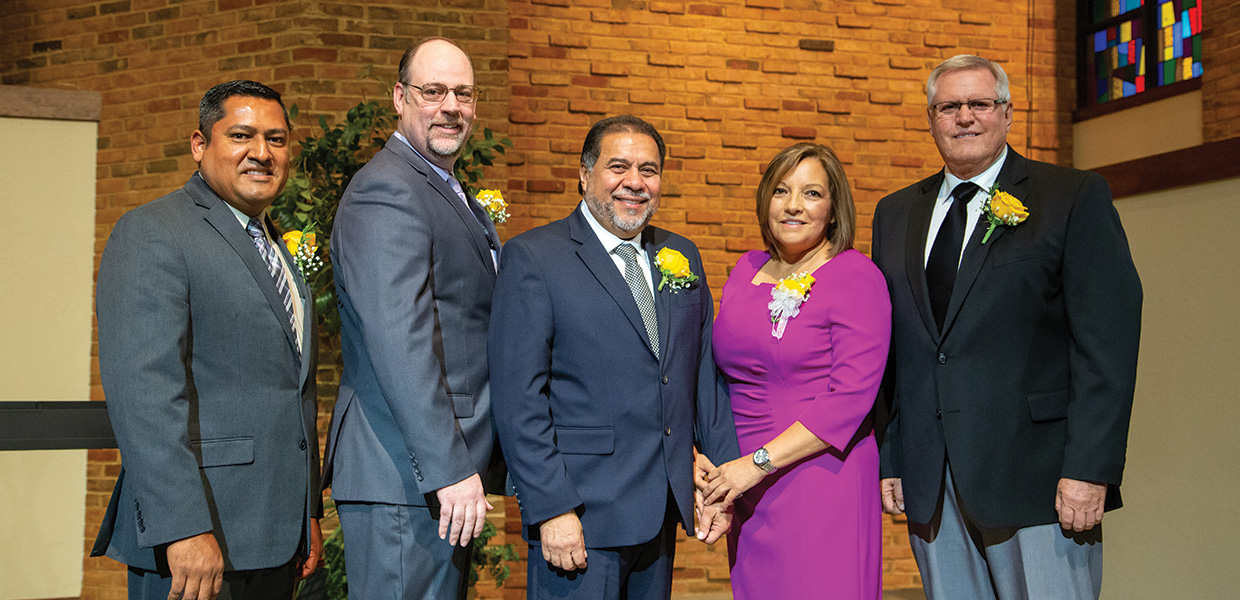 Gerson Sanchez (left), Gulf States Hispanic coordinator; Martin Fancher, Gulf States executive secretary; Roberto Solórzano, pastor; Silvana Solórzano; and Dave Livermore, president of Gulf States, participate in the ordination service.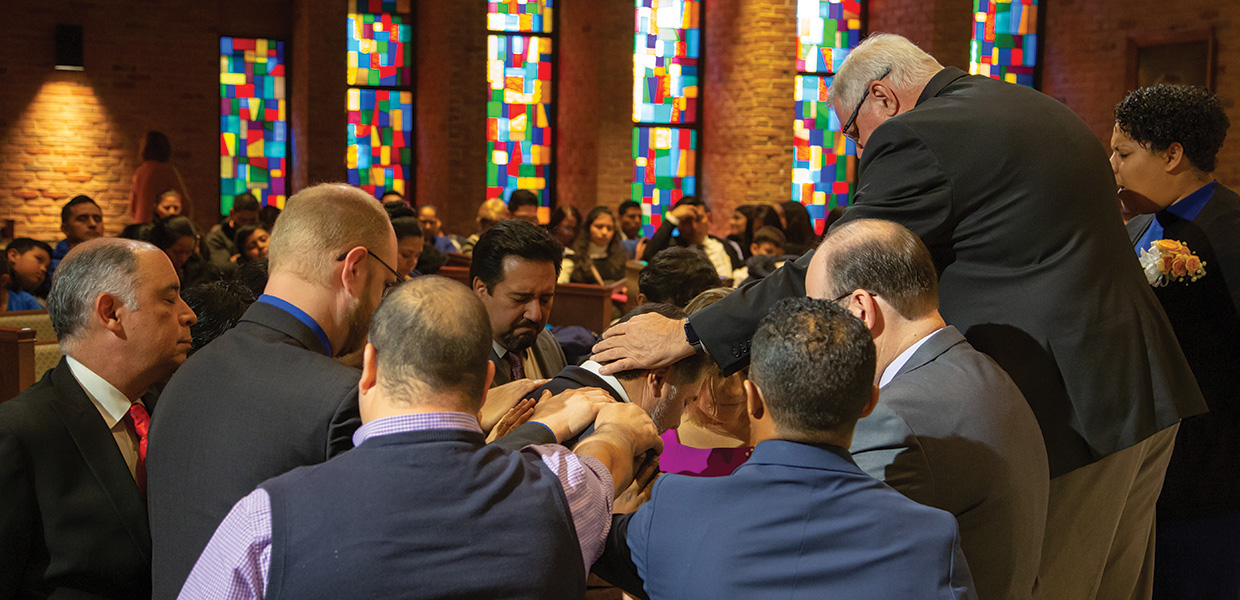 Ordained elders lay hands on Solórzano while Livermore (standing) prays and Ruwie Vazquez-Juarez (right) translates into Spanish.
Shane Hochstetler
Roberto Solórzano was ordained to the Gospel ministry on Sabbath, November 10, 2018, at the Birmingham, Ala., First Church.
Born in the city of Guatemala on July 27, 1955. Solórzano was raised in a low-income Adventist home, but one that was full of love from his parents, the late Roberto and Cony Solórzano, and his sisters, Ana Belinda and Rita Regina and a younger sister who passed at the age of 23.
Solórzano studied at El Progreso Adventist School, where his passion for the Gospel was born, an example that his mother gave him. He graduated as a physician and surgeon at the University of San Carlos De Guatemala in 1980.
In 1979 he married the love of his life, Silvana. Together they accepted the call to serve as missionaries at the Adventist Hospital in Honduras, where they were trained as servants of Jesus. While helping in Honduras, the Lord gave them two beautiful children, Miriam and Roberto. They, too, grew up in a home where serving God was the main task. Today they are adults and have given their parents four beautiful grandchildren, Nicolás, Santiago, Mateo, and Matías. The two Solórzano children also live their lives in the admonition of the Lord, desiring that their children see Jesus return in the clouds of Heaven.
God brought the Solórzanos to the United States at the beginning of 2011, and it was here that God called Solórzano to the most important ministry of his life. No more medical prescriptions, no more clinical work, now God would put him where He had planned before Solórzano was born, where step by step He prepared and led him to be ready to preach the Gospel with passion and joy in a full-time pastoral position. It was God's time for Solórzano to share the Good News of the Gospel, and now to see how the power of the Holy Spirit heals sick hearts that lack faith and hope.
His ministry started in the English- speaking church at Olive Branch, Miss., with a Hispanic group of 15 members. The blessing of God became evident, and God brought many souls to the feet of Jesus. A year later, he was called to work in the district of New Albany, Miss., where the Lord's hand was manifested again. Solórzano currently serves in the Hispanic district of Birmingham, Ala., where the Lord leads him in such a way that his walk is full of teaching and experiences that keep him at the feet of Jesus.
Dave Livermore, president of Gulf States; Martin Fancher, executive secretary of Gulf States; and Gerson Sanchez, Hispanic coordinator of Gulf States, presided at the event.
Gulf States | January 2019