BY Francine Brown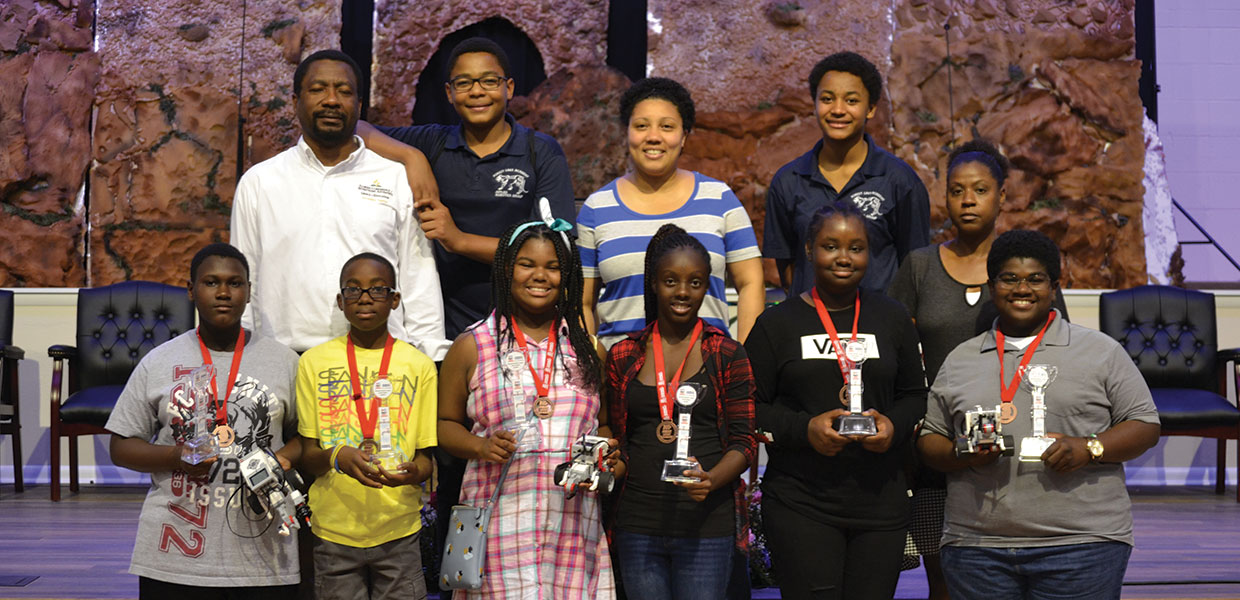 Robotics camp challenge winners pose with camp staff: Robert Henley (left, rear), Brenden Henley, Francine Brown, Tai Henley, and Tiffany McNealy; Myles Rachel (left, front), Kaleb Ruff, (third place), Kristen Dudley, Tamya Nickelson (second place), Lemanisha Adams, and Langston Redden (first place).

Karen Greene
The Southeastern Conference Education Department Robotics Camp is more than just Legos. The camp was directed by Robert Henley, the FIRST® Adventist Robotics League Florida Region director. FIRST® LEGO® League is an exciting alliance between FIRST® and the LEGO® Group. It's a robotics program for 9- to 14-year-olds which is designed to get children excited about science and technology, and teach them valuable employment and life skills.
The camp's theme was "Destiny," from "Before I formed you in the womb I knew you, before you were born I set you apart…" Jeremiah 1:5. Worship each morning started with a discussion about a Bible character whose destiny was clear from their youth, like David and Joseph. Worship ended with the song "Your Destiny" by Kevin Levar and One Sound.
Each camper enrolled in the robotics camp practiced perseverance and teamwork. They were required to keep a technical notebook, a journal, and construct a presentation poster. The campers learned Cornell notetaking skills, odometry, the engineering design process, algorithm, and software development for robotics.
After just three days, teams of two designed, built, and programed LEGO MINDSTORMS®-based robots to perform autonomous "missions" on a playing field. The competition was held on Friday, June 22, 2018, and the members of the winning team walked away with a wealth of knowledge and $50 each. The Southeastern Conference Education Department is committed to inspiring STEM Education and life skills via robotics. Start planning now to be a part of this innovative teaching tool next summer at Camp Meeting.
Southeastern | September 2018