BY Angela Hyde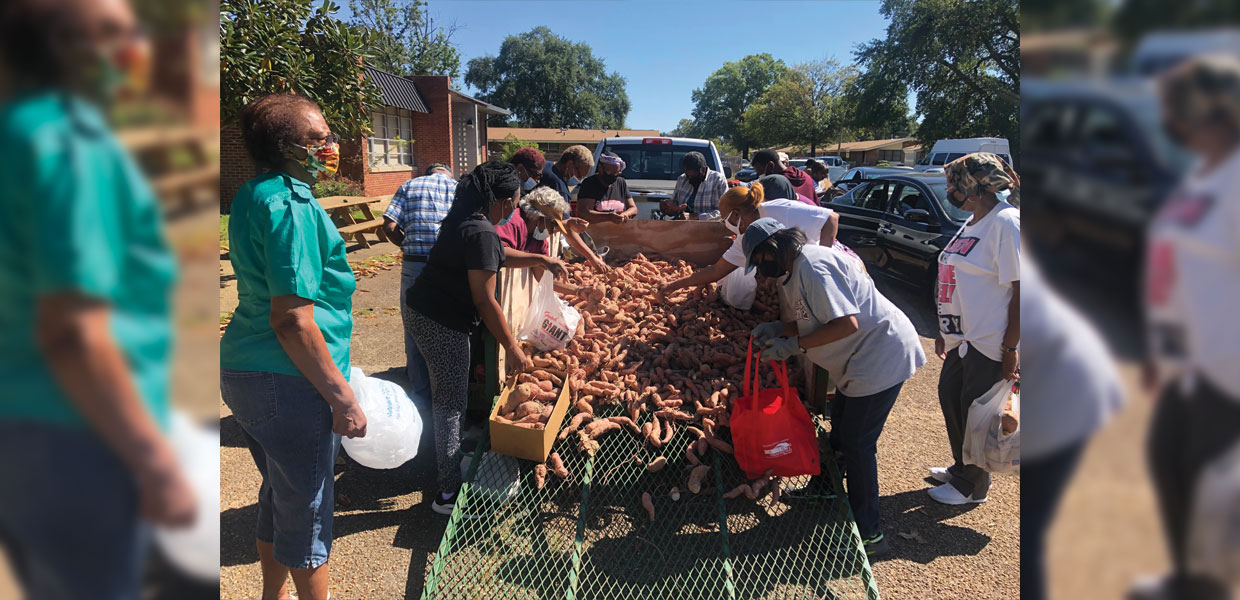 Mark Hyde, pastor, (who is also known as "Bible Patrol Man," when he is out going door to door to spread the Gospel), shares produce and literature with the community.
As September 2020 opened its doors to fall, the Salem Church in Columbus, Miss., and Lee Memorial Church in West Point, Miss., district had to "fall in!" The members opened their doors to service to the Mississippi community. It all started with a little gleaning.
For several years now these churches have partnered with local agriculture programs to bring food into the community. One of the members will receive a call to come to the fields and gather what's left, or to pick up whatever produce is available that week or that day. The pick-up is made and then brought to the churches to share with the community.
The members started with gleaning sweet potatoes, and they were some of the sweetest they'd had in a long time. They could be popped in the oven until tender, and were dig-in delicious — no sugar, cinnamon, or butter needed. Next came the cucumbers. These were not just any cucumbers; they were a conversation piece because they were extra long with prickles. Most were not familiar with the English cucumber, so they were able to talk about God's goodness through cucumbers.
They took a short break from food, and helped the Community Services team set up shop at Lee Memorial Church for the drive-by uniform give-away. The youth and several volunteers from the community came to assist in this yearly event. Individuals donated funds in excess of $700 for brand new uniforms to distribute.
Parents were encouraged to register online so that their bags would be ready when they arrived. Because of CODID-19, there were no games, waterslides, nor food as had been done in years past, but, with God's help, the members were able to serve more than 25 families which had one to five children. Each child received two uniform shirts and one pair of pants. The members were also able to connect with at least three individuals who wanted prayer and Bible studies, and there was one sorority that promised to volunteer for next year's event.
Carolina | December 2020