BY Judy Kendrick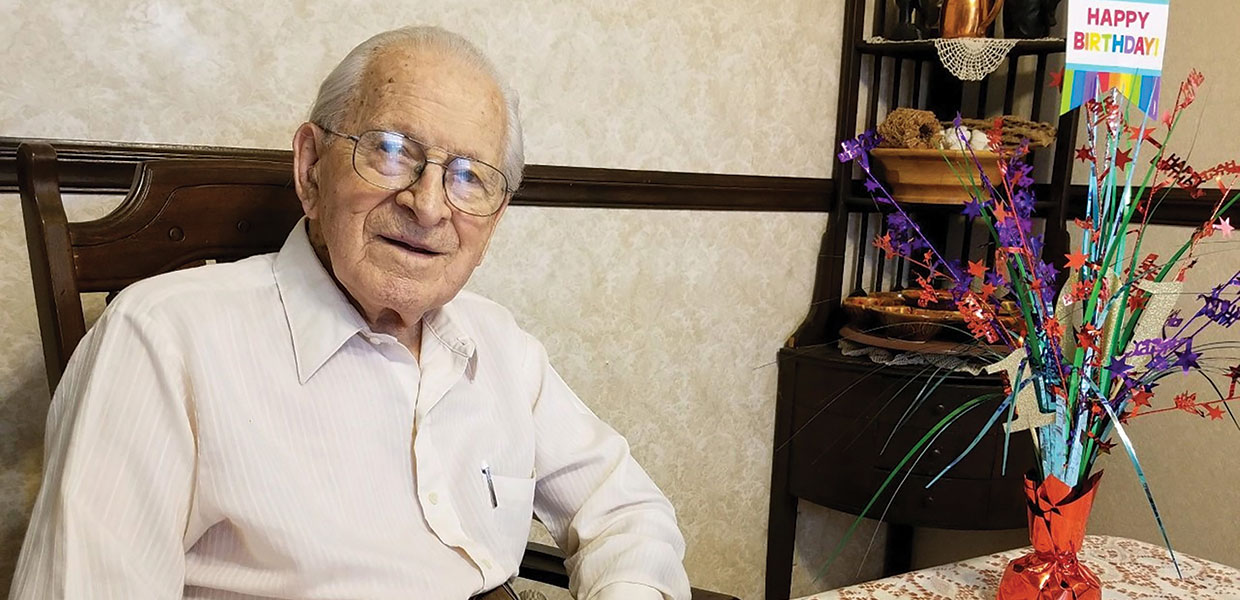 Bob Santini celebrates his 101st birthday at home with his family.
On July 19, 2019, Bob Santini turned 101 years old. He spent time on this special day with his daughter, Judy Kendrick, and his granddaughter, Stephanie Sheehan, and her husband, Bill. During church fellowship lunch on Sabbath, July 20, Santini was thrilled to see his son, Jerre, along with Jerre's wife, Fern, arrived from Texas. His Roebuck Church family of Birmingham, Ala. wished him another year of God's blessings.
Santini, the youngest of six children, was born in Hibbing, Minn. When he was 4 1/2 years old, he and his brother, Roland, both contracted measles and scarlet fever at the same time. They were hospitalized, and the doctor said their conditions were severe. The doctor told their mother that Santini would not live through the night. Santini survived, however, though his brother sadly passed away from their illness.
After high school, Santini went to Madison College, became a nurse, met and married Dorothy Swanson, and served his country during WWII. After his discharge from the Army, he and Dorothy wanted to serve the Lord as missionaries. They accepted a call to the Ile Ife Adventist Mission Hospital in Nigeria, West Africa, where Santini worked as an office manager and surgical assistant for six years. Following their return, they accepted a call from the Layman Foundation to work at one of their nursing homes, Pine Hill Sanitarium, in Chalkville, Ala. There they served the Lord for 30 years, Santani as the administrator and his wife as the director of nurses. Santini continues to serve through his involvement in prison ministries.
Santini has had a lifetime of consecration to God and His Holy Word, faithfulness to share the eternal light and love of Jesus, unwavering stance to fight the good fight of faith, and commitment to intercessory prayer. He gives God the glory for all the blessings of his long life.
Gulf States | December 2019