BEATRICE BANKS, COMMUNICATIONS SECRETARY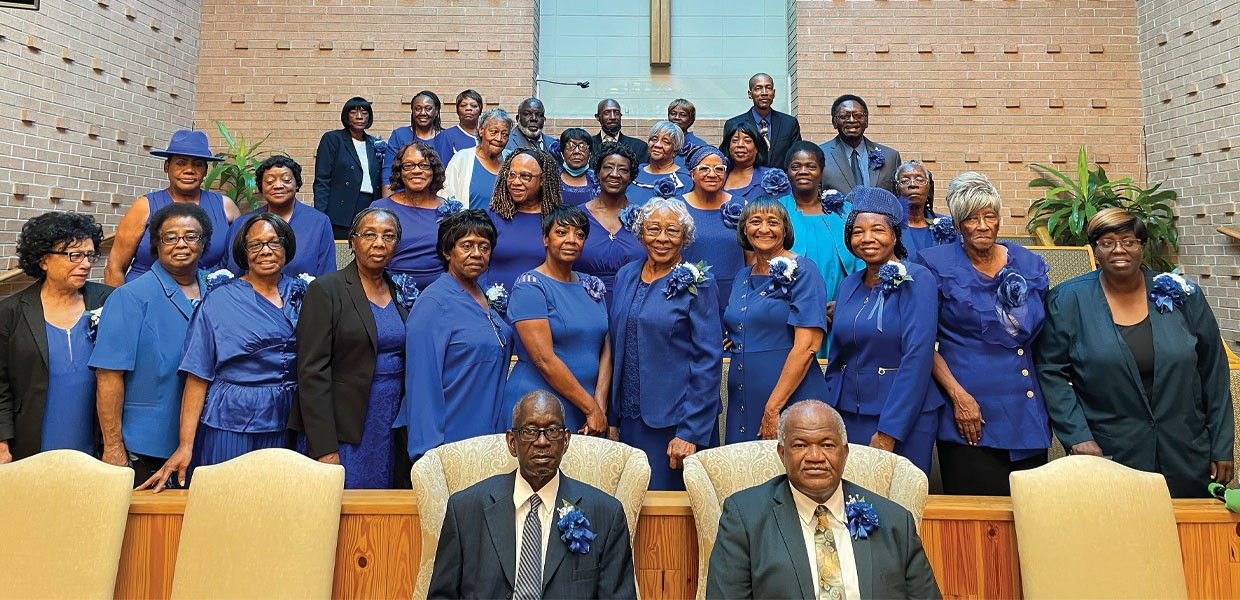 Seated are Anthony Gadson (left), Senior Social Club co-leader, and David A. Smith, executive vice president for the South Atlantic Conference, with the Senior Social Club Choir behind them.
Advancement in age sometimes tends to slow us down. However, at West Broad Church in Savannah, Ga., the Senior Social Club (formerly the Golden Agers) is one of the most active organizations in the church. The only criteria to become a member is you must be 55 years of age or older.
Having its beginning under the leadership of the late Gladys Davidson, the members of this club intentionally do not let any grass grow under their feet. Activities such as out-of-town trips, bowling, annual Christmas galas, quarterly birthday breakfast or lunch, sick and shut-in visitations, consistent monthly meetings, secret pal name exchange, fellowship gatherings, contributing to worthy causes, and annual seniors' day Sabbaths, are a part of their yearly itinerary. In July, an all-white attire Gospel River Boat Cruise took place on the Savannah River on the Georgia Queen Riverboat.
In September, the Annual Seniors' Day Celebration was held with the guest speaker being one of the former pastors, David A. Smith, executive vice president for the South Atlantic Conference. Music was provided by the Senior Social Club Choir, and seven of the seniors were honored with gifts for having lived 80 years or more: Lucy Brown, Merry Clements, Florence Dailey, Anthony Gadson, Shirley Hall, Julia Jones, and Marjorie Williams. After the worship service, a delicious dinner was served to the entire church, followed by an adult and youth trivia session conducted by David Smith.
The seniors of West Broad are appreciative to all the former Senior Social Club (Golden Agers) leaders for starting and keeping this active organization alive. Currently, the organization is under the faithful and capable leadership of co-leaders Anthony Gadson and Herman DeLoach.
South Atlantic | November 2023