BY Carolina smith, Collegedale academy journalism student, class of 2020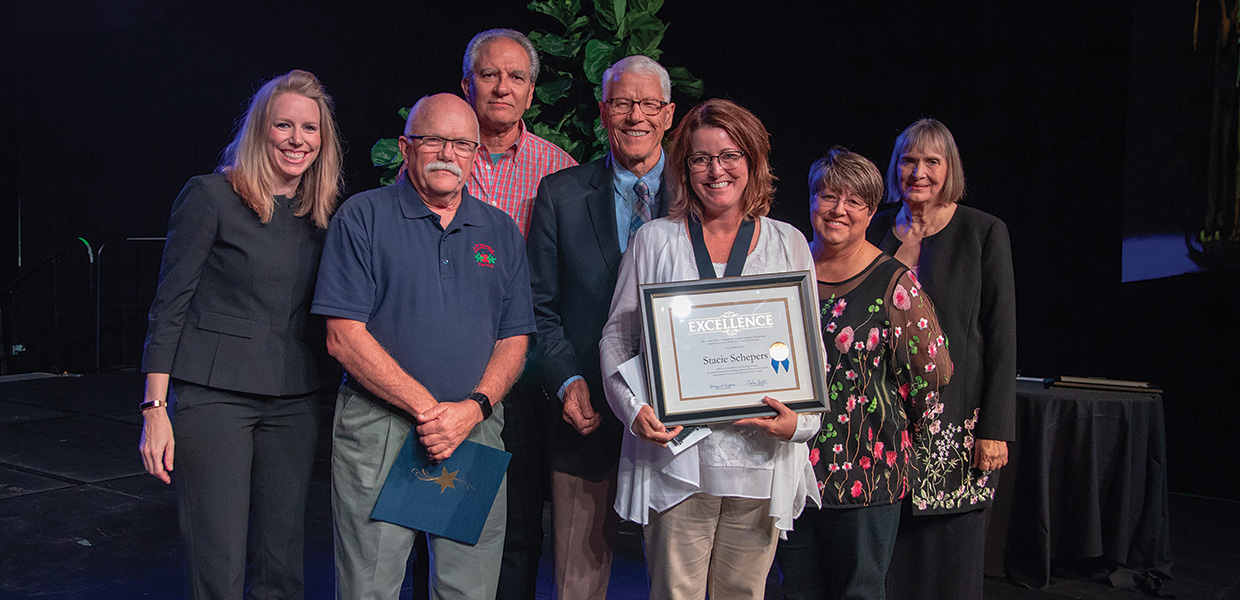 Congratulations to Stacie Schepers (holding award) on receiving the Award of Excellence of Outstanding Educators in the North American Division by the Alumni Awards Foundation. The award reads, "Demonstrating outstanding professionalism, creativity, and dedication in the classroom of an Adventist School." There are more than 9,000 Adventist teachers in North America, with only six or seven receiving this honor.
North American Division
Stacie Schepers received the Award of Excellence for outstanding educators in the North American Division (NAD) at the 2018 NAD Teachers' Convention in Chicago, Ill. Schepers is A.W. Spalding's (AWS) beloved teacher, and has been teaching for 22 years. She is currently teaching first grade at the Collegedale, Tenn., School.
Tom Fogg, principal at A.W. Spalding, confirms that this award is well-deserved due to the "incredible feat of Mrs. Schepers' determination and teaching excellence."
Awarded by the Alumni Awards Foundation, Schepers was publicly recognized and received a certificate and a monetary gift.
Schepers says, "Being a teacher is very rewarding. I get to see so much academic, spiritual, emotional, and physical growth of my students each year. Teachers must be thinking and doing all day long; there isn't much 'me time.' We put in a lot of emotional and physical investment into our students and they're learning, both inside and outside of the classroom."
One of the biggest contributions Schepers has made to the Greater Collegedale School System is her introduction of a Montessori program, which has transitioned into the AWS Early Childhood Education Center. She helped create an environment where three-year-olds can learn and grow within a school setting, even at such a young age. Schepers' commitment to successfully launch this unique program at AWS left a strong imprint on the entire community.
She is a tremendous inspiration to all of her students, and "has an uncanny ability to set a climate for learning in her classroom," says Fogg.
When asked about her reaction to being chosen, Schepers admitted she was "shocked." With more than 9,000 teachers eligible for the award, she could not believe she was one of the few selected.
However, Schepers goes on to explain that this honorable award cannot compare to the many she receives every year in the classroom. "When I hear first-graders reading at the end of the school year, watch them writing paragraphs and being able to do more difficult math problems, those are the best, deep-in-my-heart awards." The idea she hopes her students remember most is simple — the assurance of their salvation in Jesus.
Schepers added, "There are so many wonderful Adventist teachers in the North American Division, many of them here in Greater Collegedale School System. I hope to live up to this 'excellence' award. I thank God for continuing to work on me to bless the children that I am privileged to have in my classroom each year."
She adds, "There is nothing more important for students to learn about than their salvation in Jesus Christ. I am so privileged to teach in an environment where I can speak about our Creator and our Savior freely with my students, and pray with them when they are having a hard day."
Schepers has a bachelor of science in education, and master of arts in early childhood education from Central Michigan University, as well as NAD certification through Southern Adventist University.
Georgia-Cumberland | November 2018