BY Genae Darville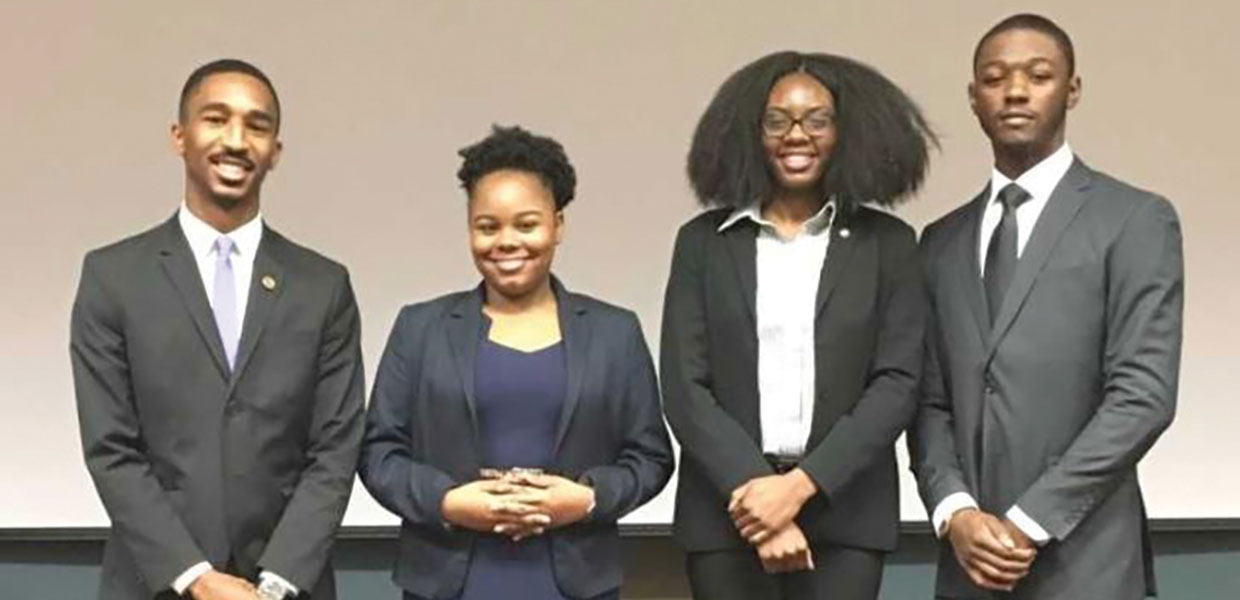 A mini fashion show was held to promote how aspiring business professionals can "Dress for Success." Models include Andrew Taylor (left), Genae Darville, 
Toni-Kay Watson Grant, and Darius Woods.
During departmental chapel on September 14, 2017, freshmen, sophomores, juniors, and a few seniors gathered in the McKee Business & Technology Auditorium to hear a presentation by Calvin Littlejohn, southeast program manager for INROADS, and Toni Eberhart, executive director for New Leaf Digital.
Students and faculty listened attentively as Andrew Taylor, United Student Movement president, began the program with a brief presentation about trusting God not only during times of hardship, but trusting Him wholeheartedly.
Littlejohn then talked briefly about the lack of diversity shown in corporate America, and related INROADS' mission, "to develop and place talented minority youth in business and industry, and prepare them for corporate and community leadership," to his discussion. He encouraged each student to have a plan, and be committed to whatever tasks they have at hand.
Eberhart introduced Co-Working Night, which is held every Wednesday at an off-campus location, to the students at the School of Business. This innovative weekly conference joins people from all backgrounds to network and brainstorm any business ideas they may have. This provides a great opportunity for Oakwood University students who intend to follow a path into entrepreneurship.
The School of Business' first departmental chapel was one of enthusiasm, as like-minded students joined together not only because of their love for the field business in all its forms, but because of their love for God. Business students are looking forward to a successful academic year as they continue to put "God First" as they go through the semester.
Oakwood University | November 2017