BY shane hochstetler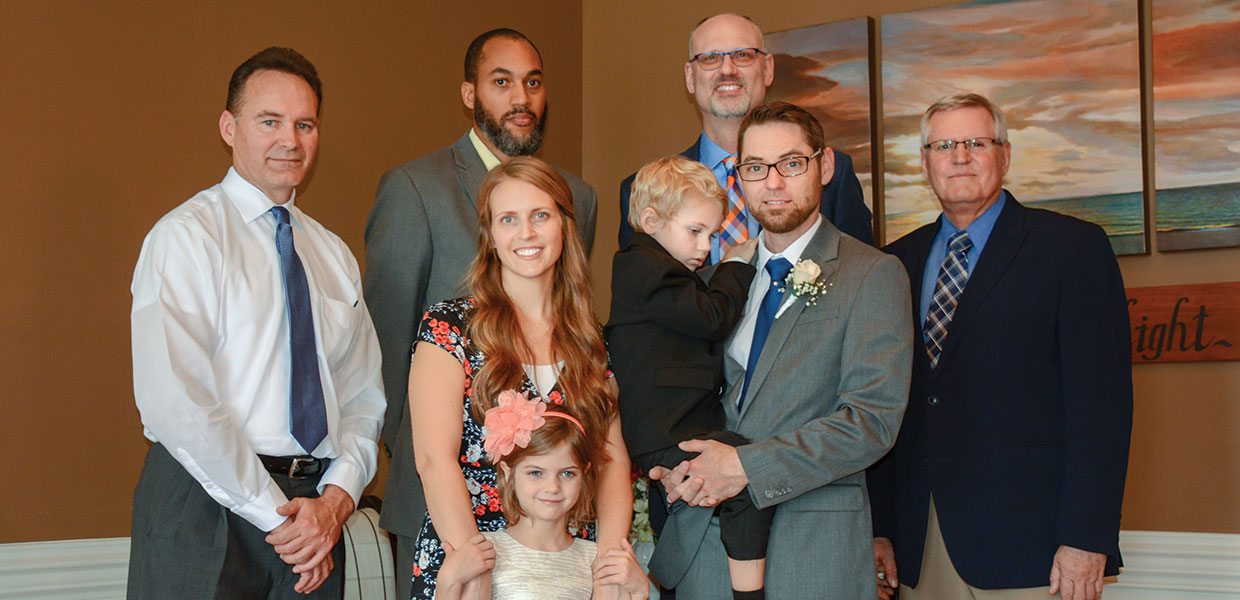 Brian Danese (back row, left), vice president of pastor and church development; Deon Johnson, pastor of Maranatha and Greenwood churches; John Stanton, Upper Columbia Conference personal ministries and discipleship director; and Dave Livermore, Gulf States president, stand with Jennifer, Anna, Morgan, and Sean Day.
Sean Day was ordained to the Gospel ministry on January 27, 2018, during a special worship service at the North Bay Church in Southport, Fla. He was joined by his wife, Jennifer Day, and children Eamon, Anna, and Morgan, along with the administrative team from the Gulf States Conference.
After two years of marriage, the Days began ministry when he accepted the call to a Bible worker position in the tiny town of Superior, Mont., where, shortly thereafter, his wife gave birth to their first child, Eamon.
This two-year appointment became two and a half years when the Lord made it clear that the work in Superior, and in Sean and Jennifer Day, was not yet complete. In His time, the Lord opened doors for them to move to the beautiful area of Sandpoint, Idaho, where he served as a Bible worker coordinator, and she gave birth to their second child, Anna.
The Lord worked through the Days as they claimed His promises, saw His miracles, and exercised their faith. After almost two years in North Idaho, the Lord called Day to pastoral ministry in the deep south of Alabama and Mississippi in the Shoals district of Gulf States Conference, where their third child, Morgan, was born.
The Days continue to follow the Lord's leading, which has brought them even farther south to their current home in Southport, where they are happily serving the North Bay district.
John Stanton, personal ministries and discipleship director for the Upper Columbia Conference, gave the morning message. Stanton and Day served the same church during Day's time in Upper Columbia, Stanton as pastor and Day as the Bible worker coordinator.
Gulf States | April 2018