Kelissa Delva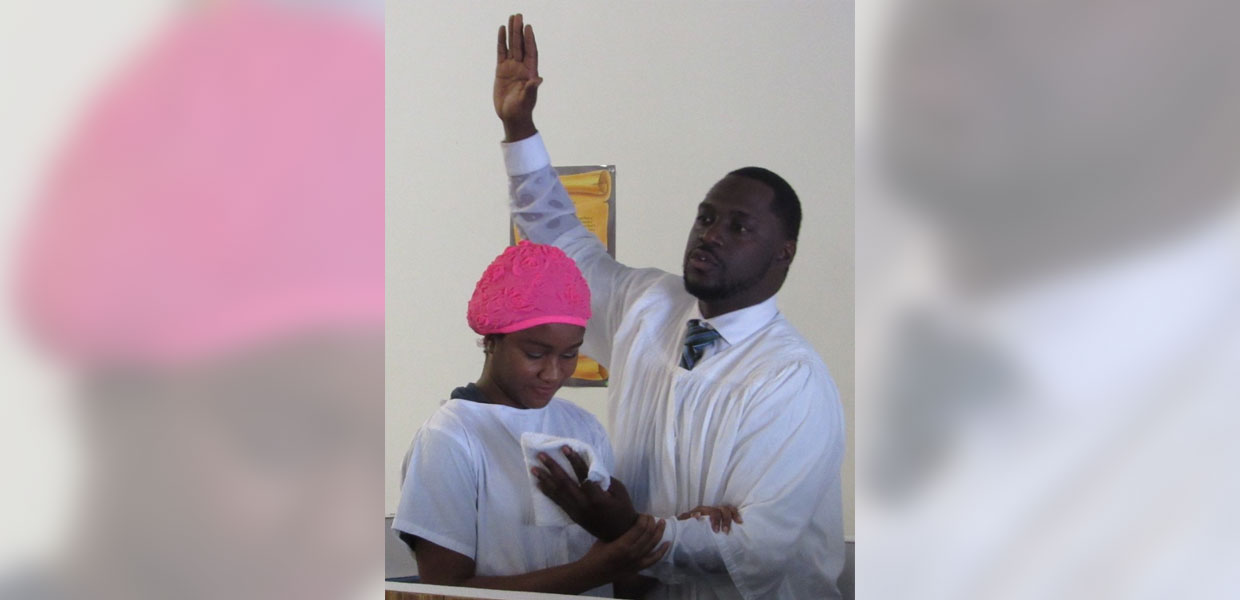 Senior MUA student Diandra Barnes (left) demonstrates her commitment to Christ in baptism with Eddy Guerrier, MUA chaplain. Barnes was baptized with five of her classmates.
Kelissa Delva
Six students from Miami Union Academy (MUA) were baptized on February 3, 2018, at the West Park, Fla., Church. Jessica Charilus and Diandra Barnes are 12th-graders; Jerry Brilsaint, Grener Polynice, Junisha Niclasse, and Cassandra Menard are ninth-graders. In addition to their Bible course at MUA, these students had also been attending Bible studies to further prepare for baptism.
The baptism was well attended by family, friends, and church members. Also there to support were MUA faculty, staff, and administrators, including Edwin Silie, MUA principal; Gavin Gaynair, vice principal; and Trina Bowden, Southeastern assistant superintendent of education. The baptismal vows were read by Kelissa Delva, MUA Bible teacher, and all candidates took a stand and verbalized their commitment to God. The baptism was conducted by Eddy Guerrier, Conference chaplain.
After the service, the students received baptismal certificates, gift bags with new Bibles, study guides, cards signed by family and friends, and other small tokens to commemorate the day. They were greeted with the right hand of fellowship by those in attendance, and light refreshments were served. These students remain active in the MUA community, and continue to attend Bible study on campus to support their spiritual growth.
Southeastern | May 2018