BY Lisa Marie esser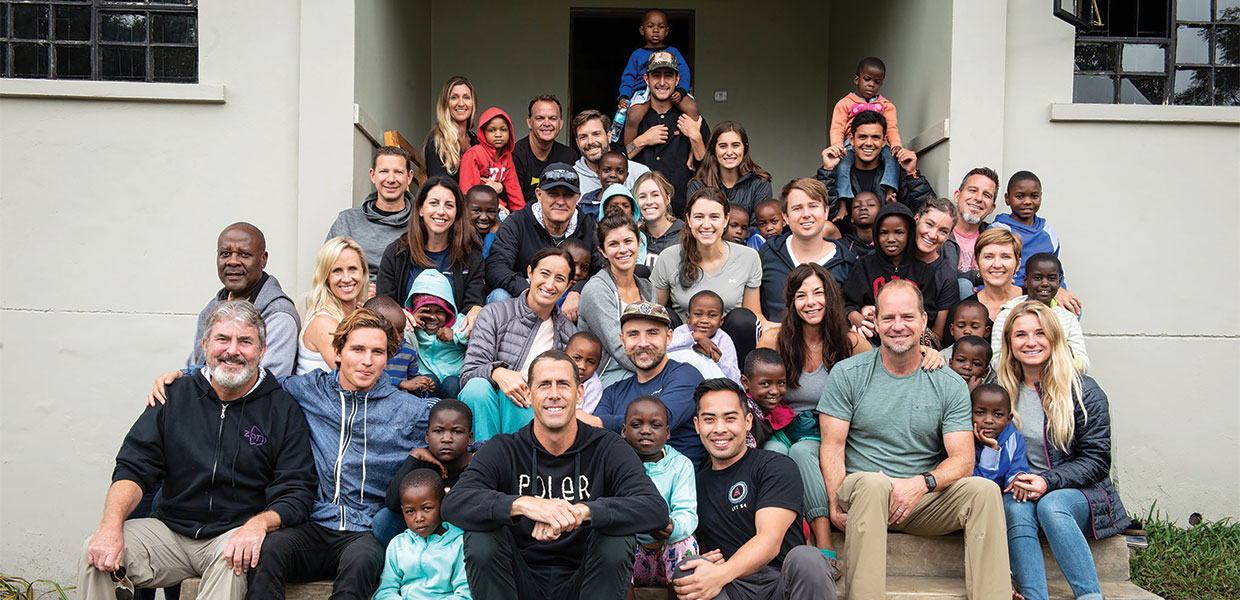 The Small Steps board members, volunteers, and all 25 of the girl's home children pose together during their August 2018 mission trip.
At AdventHealth University (AHU), the mission to live the healing values of Christ starts with its employees. Elisabeth 'Beth' Spinella, office coordinator for AHU's Office of Mission, keeps busy with her involvement on campus, serving as a leader and ambassador of the University's culture.
In addition to her role at AHU, she also serves as the secretary for Small Steps for Compassion, a home for orphaned girls in Tanzania, Africa. The charity is a family affair, with Spinella and her husband both serving on the board. Beth's sister-in-law, Shannin Pickle, is the founder and president, while Pickle's husband, Paul, serves as its vice president.
It all began after the two families watched "Invisible Children," a documentary that depicted the abuse of children's rights in Africa. They were moved to take compassionate action.
Pickle and Spinella eventually became board members for an orphanage in the Democratic Republic of Congo. After a couple of years, however, Pickle said she felt "like God is telling me I need to start an orphanage." Spinella's answer came in the form of a donor who reached out, offering to donate land in Tanzania.
In 2009 they established an NGO (non-governmental organization) and partnered with another organization, Orphan's Heart, to help with fundraising and getting the land ready. Everything was set.
Then, weeks before they were to start, plans for the land fell through. Losing the property was an unexpected challenge. "But, God had something better in mind," said Spinella.
Shannin and Paul Pickle went to Tanzania and found another seller, purchasing 11 acres that had a small home on it. An important focus from the beginning was to be involved in the community. So, the first thing they built was a well, providing a clean water source to the locals.
The girls' home started with four girls and three house "moms." Now, after 10 years and with a new, larger home built, it's at full capacity with 25 girls and 17 employees. The team is intentional with how many girls they bring in to ensure each gets the time and attention they need. The girls have tragic stories, coming from traumatic, often dangerous situations.
Spinella attributes much of their success to Juma Kitau, the director of operations. "[He] is amazing. We could not do anything without [him]. He is our cultural source and a great leader," she said.
The home is designed to be sustainable with a herd of goats for milk, a fish pond, as well as two large greenhouses, and an outside garden that provides fresh vegetables. Their philosophy is "cradle to college," and they are committed to funding a college education for the girls someday, or the opportunity to learn a vocational skill.
The team also operates STEPS Academy, which provides a God-centered learning experience to educate and empower students. The academy has 25 teachers, including the headmaster, as well as regular staff, and has a total of 300 students from pre-K up through the first four years of high school.
When they acquired the school in 2017, it was dilapidated and woefully lacking in resources. Through fundraising they were able to repair the grounds and buildings, purchase books for each student, put new whiteboards in the classrooms, and create a resource room where other classroom supplies can be checked out.
Spinella, her family, and other volunteers come on mission trips often, bringing members of AHU's community. This month she will be there with faculty and staff to do teacher training, helping the school's educators improve their skills. They will also spend time giving love and attention to the children at the girls' home. "I'm counting down the days. I get so excited every time I go to see our girls … our community there," said Spinella.
The community returns her enthusiasm. The organization even received honors from the village chief. Additionally, the girls' home has been recognized by the Tanzanian government as the most outstanding children's home in Tanzania. And, between the girls' home and STEPS Academy, they provide employment for about 50 locals.
Like many charitable organizations, Small Steps' biggest challenge is fundraising. Currently, they're working to get each student sponsored so that their monthly schooling expenses would be covered.
Small Steps has ambitious plans for growth, including a medical clinic for the community, and they are already making an impact. "It was a lot of prayer and just God opening the right doors at the right times," Spinella said.
AHU strives to be a home to faith- focused employees and students who seek opportunities to serve others. It's uncommonly compassionate and devoted people like Spinella and her family who help bring AHU's vision to life.
AdventHealth University | June 2019