BY marc dolcy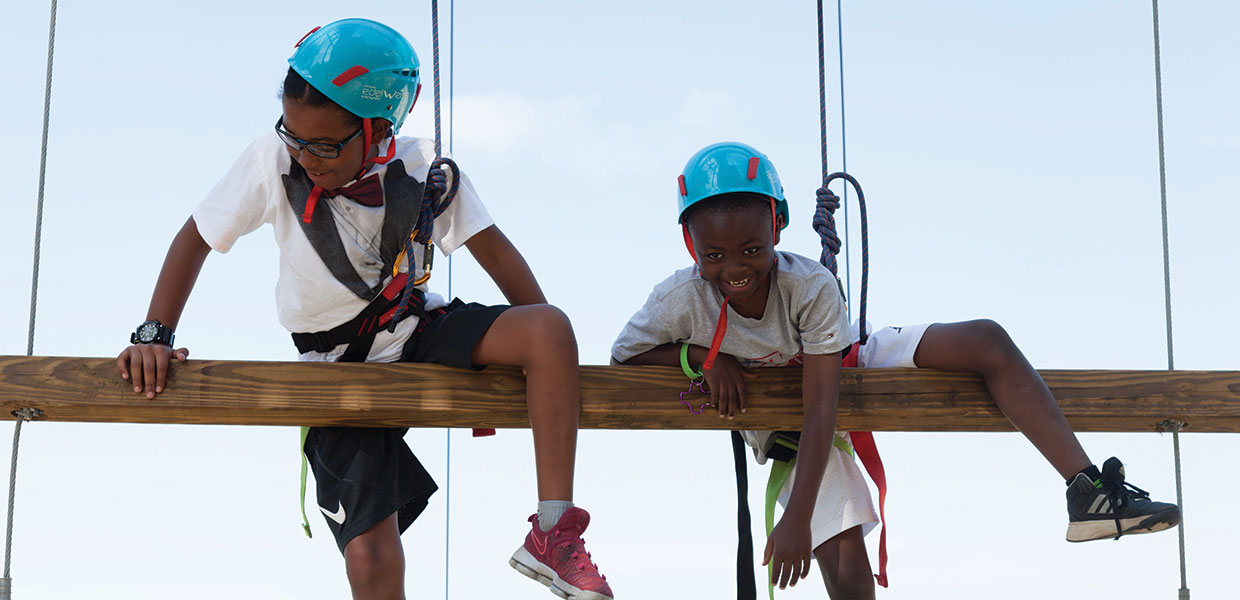 Campers Ezra Madrid (left) and Cole Anson take a breather while climbing the Camp Hawthorne mountain climbing wall and obstacle course. Summer camp is a time for youth to build relationships with peers as well as a relationship with Jesus.
Marc Dolcy
Summertime has come and gone. In the Southeastern Conference, one major highlight of summer is Junior Camp. Every July, Camp Hawthorne opens its gates to more than 100 junior campers. Old friends are reunited, new friendships formed, and long-lasting memories made. During Camp, campers participate in a variety of activities that teach the love of Christ. These activities include the Camp's newest features — a rock climbing/ziplining wall (Jacob's Ladder), and waterfront activities (canoeing and paddle boating). All activities help promote team building and personal growth while having fun. The Camp staff work to ensure that the experience leaves a positive impression of Christ in each camper's life.
The theme for Junior Camp was "Soaring for Jesus." For Prince Lewis, Southeastern youth director, the main focus for each camper is spiritual growth. This year's Junior Camp chaplain, Navy veteran and Oakwood University theology graduate Alexis Madrid, equipped the campers with engaging lessons on making right choices, and about a God Who loves them. This love was best reflected at 2 a.m., when Chelsea Bethel and Brian Hunt woke Lewis and requested to be baptized. This was a moment that Bethel, Hunt, and all their fellow counselors will never forget.
With each year's success comes various challenges, yet Camp never fails to leave an unforgettable mark on every camper. Each camper leaves with a better understanding of who God is and what He requires of them, in addition to laughs and great memories. Junior Camp 2018 has come and gone. One can only wonder what next year will have in store.
Southeastern | October 2018