BY tyrone fisher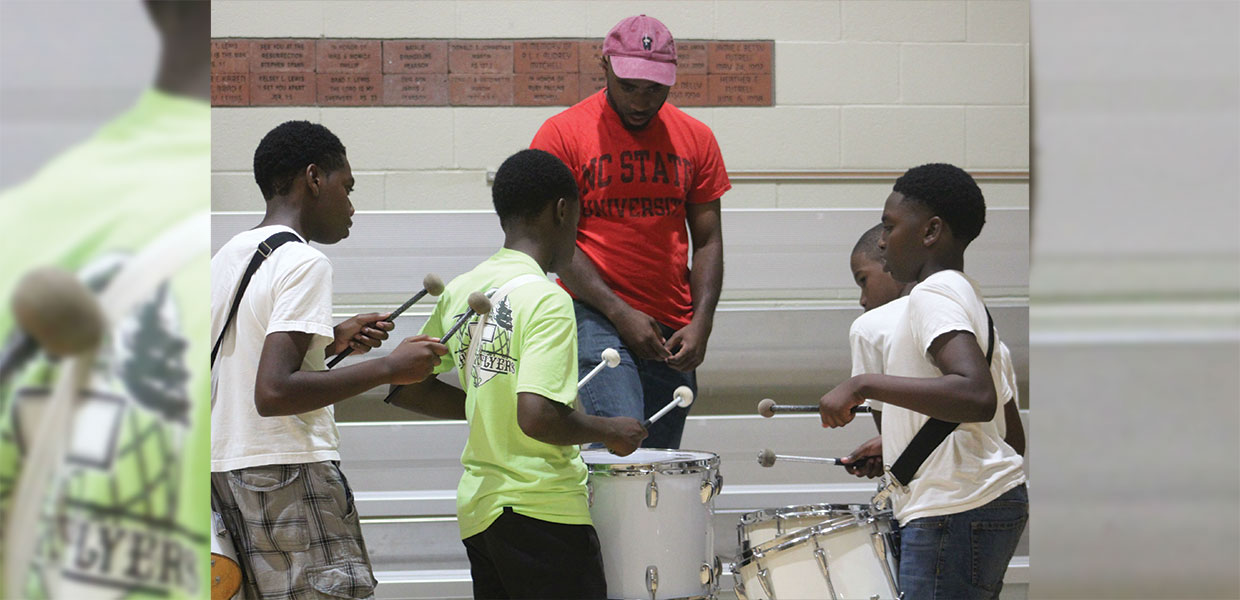 Nehemiah Mabry teaches drum skills to South Atlantic and Carolina Pathfinders.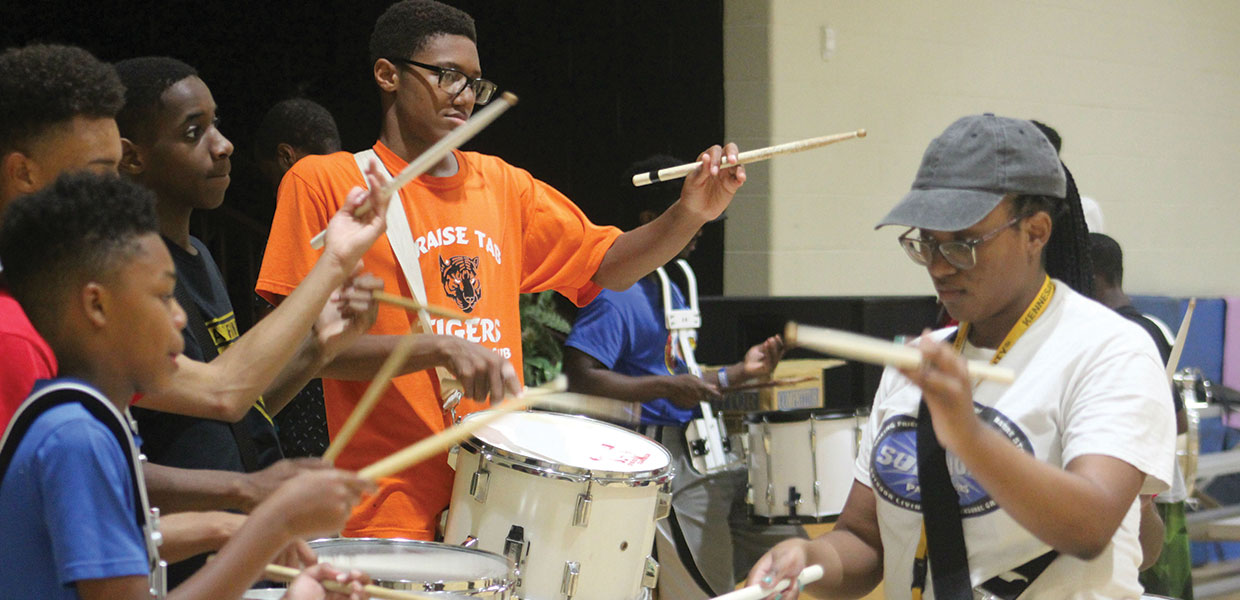 Jeanelle Posy teaches new drum skills at Raleigh Church's ARC Center.
Using Drum Ministry to Glorify the Lord" was the theme for the first South Atlantic's Drum Camp, with many more to come. This new event was held during the weekend of August 18-20, 2017, and was hosted at Gethsemane Church in Raleigh, N.C.
Gethsemane Cougars Pathfinder Club participated in Florida Conference's Drum Camp in December 2016. Tyrone Fisher, Pathfinder director, took a truckload of Pathfinders and percussion equipment to Pine Lake Retreat in Groveland, Fla. Pathfinders who attended include Lauryn Fisher (TLT), MeDora Saint Louis (TLT), Kabelo Saint Louis (TLT), and Jamaal Kelly. They were overwhelmed to see more than 50 drum corps learning and building their skills to play for the Lord. They watched and learned from Darrell Edwards, drum ministry leader.
The goal was not to reinvent the wheel, but to do what is working successfully, and to implement it in the South Atlantic Conference. Working with Kirkland O'Neil, they were able to get Gregory Carmichael, drum ministry leader and author of the North American Division Drum Ministry Manual. They were also successful in recruiting Duane Pettus, drum ministry leader from Charlotte, N.C., to help lead the inaugural event.
The goal for the South Atlantic drum ministry was to learn several cadences to demonstrate unity, and to learn proper commands, so that the drummers can prepare for the International Pathfinder Camporee in 2019 in Oshkosh, Wisc. Once the Facebook announcement was posted for Gethsemane Cougar Pathfinders, clubs from across North Carolina and Georgia signed up. Pathfinders from South Atlantic drum corps include Gethsemane, Immanuel Temple, Praise Tab, Charlotte Trinity, Charlotte Berean, Decatur, and Ebenezer French. Two drum corps from the Carolina Conference were also welcomed — Charlotte Sharon and Raleigh.
The Cougars are glad to report more than 60 Pathfinders learned how to use His drums to glorify Him, and learn discipline and obedience in the drum ministry. Several drum leaders were recruited to work one-on-one with the Pathfinders. There were rookies to veterans who were having a great time and learning new skills.
Using drum ministry with youth ministry is one of the best programs to keep youth in the Church, as well as to keep them involved in the Church. The goal is to teach the Pathfinders to use percussion instruments for the Lord, which has a greater reward, rather than using them for the hip-hop industry. All left with a goal to bring the Pathfinders together more often to practice and fellowship.
Special thanks is given to the Gethsemane and Raleigh churches for providing their facilities, as well as to volunteers Lawrence Davis, Austin Davis, Jeanelle Posy, Nehemiah Mabry, and 2018 Drum Camp Ministry leader Robert Parker.
South Atlantic | November 2017