BY DONOVAN WASHINGTON, D.MIN.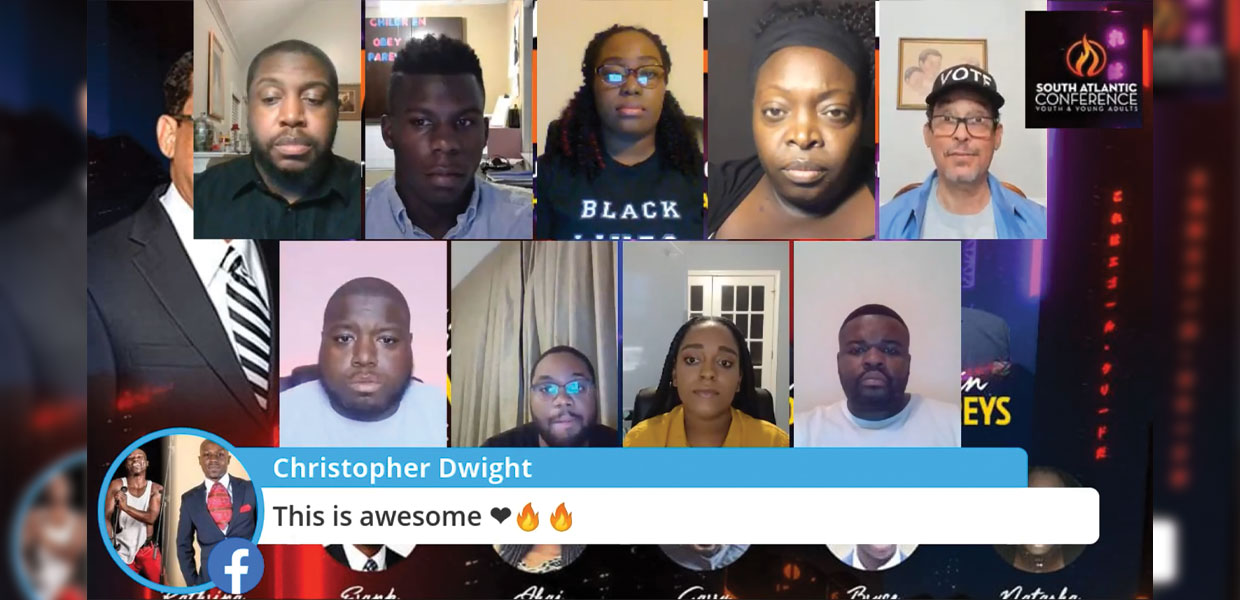 The online forum participants include Donovan Washington (top, left), Conference youth director; Bryce James; Kathrina Samuels; Natasha Jones; William Winston, Conference president; Austin Humphreys, pastor of the Washington and Murfreesboro, N.C., churches; Frank Harrell II; Jhai Sampson; and Gary Troxler Jr.
It all began with an idea by William Winston, South Atlantic Conference president. He wanted to connect and hear from the young people of the Conference. He had no desire to lecture them. He wanted to listen. After meeting with key leaders in the Ministerial and Communications departments, Winston partnered with Donovan Washington, Conference youth director, to host "You Talk, We Listen."
This was a historic online forum where Winston took questions from generation X, millennials, and generation Z about young people and where they fit in the Church. Austin Humphreys, pastor of the Washington and Murfreesboro, N.C., joined to moderate the discussion. Youth and young adults from North Carolina, South Carolina, and Georgia asked Winston unfiltered and thought-provoking questions.
The panel included Gary Troxler Jr., Jhai Sampson, Kathrina Samuels, Bryce James, Natasha Jones, and Frank Harrell II.
This event was broadcast on Facebook and YouTube. The replay of the event can be found on the South Atlantic Conference pages on those sites.
The feedback was tremendous, and gave Winston and Washington great information to better reach the youth and young adults.
South Atlantic | November 2020