BY paul d. nixon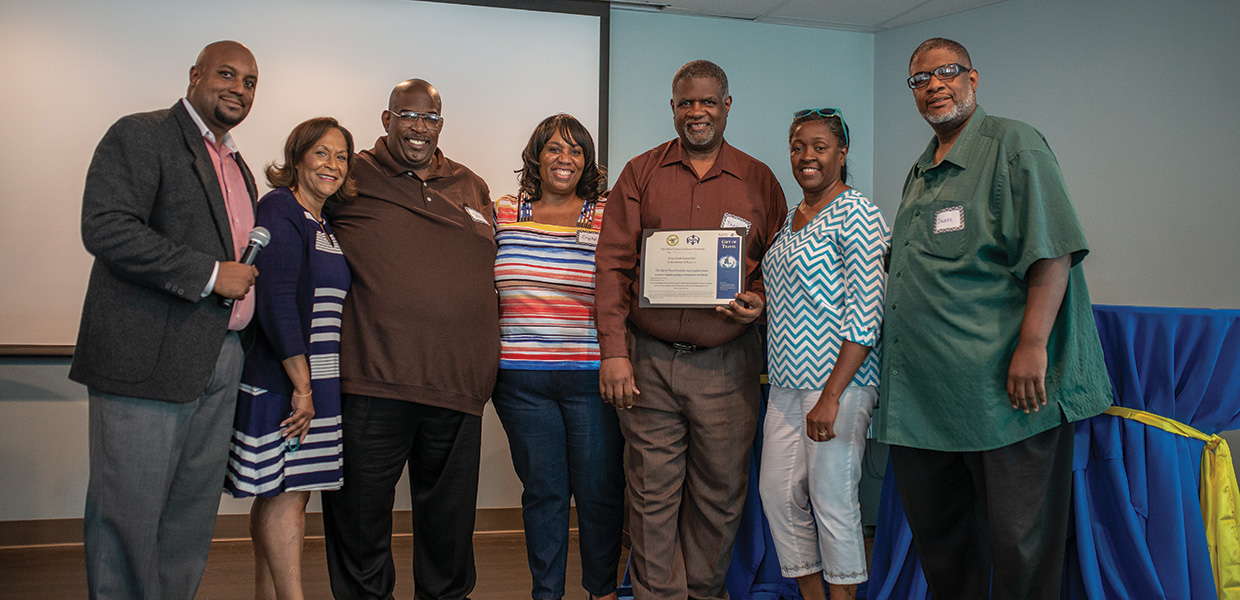 The Thomas family, grand prize winners, stand with Paul Nixon (left), host, and Januwoina Nixon, Ph.D., South Central family ministries co-director (second from left).
Gianna Snell
This past summer during Camp Meeting, the Family Ministries Department at South Central Conference (SCC) hosted a unique take on family fun: a Family Feud tournament to which all SCC families were invited. The four-day tournament featured two families each day responding to unique questions related to Christianity and Adventist culture. Januwoina Nixon, Ph.D., family ministries co-director, spearheaded the event by giving surveys to Adventist pastors, church department heads, church members, and academy students. Nixon gathered the results, and her team created the presentations in true Family Feud style.
Each day's participants were given prizes. The team that didn't win was given a Family Feud card game as host Paul Nixon gently teased the family into using it to practice and trying again next year. The winner of the day's game won a family prize — a family picnic kit, a sound bar, a new set of pots and pans, or a flat screen TV. The winner was also a potential finalist to compete for the grand prize. On the last day of the tournament, the two winning teams with the highest scores played for a chance at a $2,500 travel voucher to any destination in the world. In the end the Thomas family won the grand prize. Led by Theron L. Thomas, the family included Gwen Thomas, Duane Thomas, Leon Thomas, and Crystal Thomas.
All prizes were sponsored by different Family Ministries departments, including General Conference directors Willie and Elaine Oliver, and North American Division directors Claudio and Pamela Consuergra. Ron Smith, D.Min., Ph.D., president and family ministries director at the Southern Union, sponsored the grand prize. By all accounts, the Family Feud game was one of the most fun events during South Central Camp Meeting. It served as a wonderful reminder that godly family fun is some of the best fun many can have!
South Central | November 2018