BY Roger Alvarez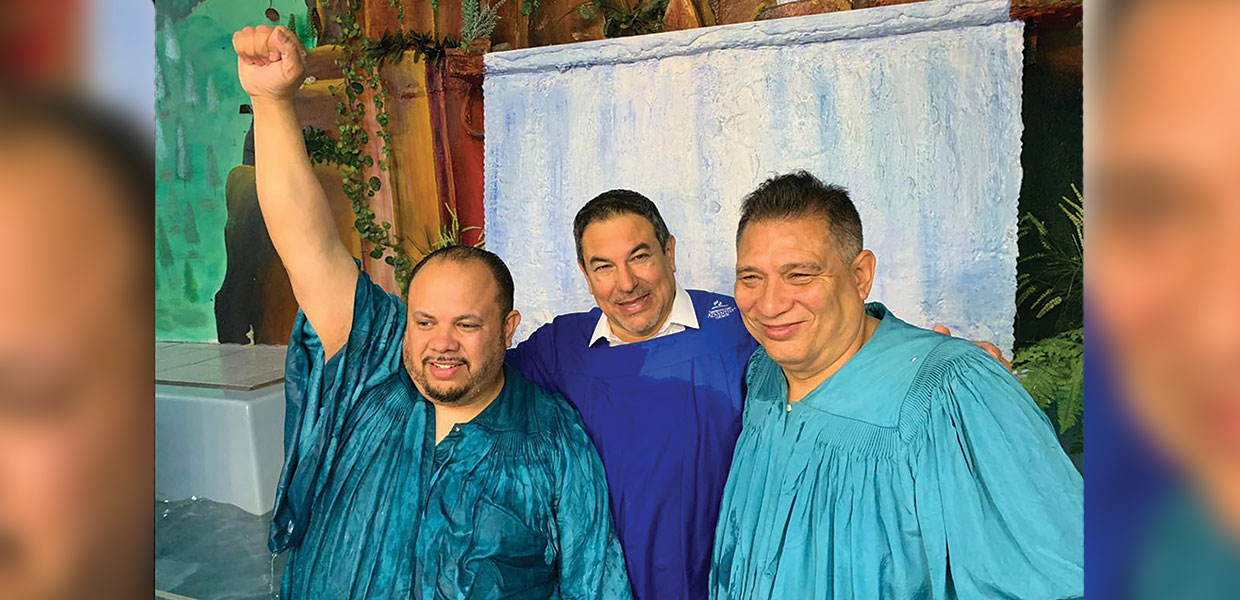 Pictured are Johnnie Rodriguez (left), church member; Rafael Ortega, pastor; and Ernesto Rodriguez, baptism candidate. Johnnie Rodriguez brought his co-worker Ernesto Rodriguez to the evangelistic meetings.
Roger Alvarez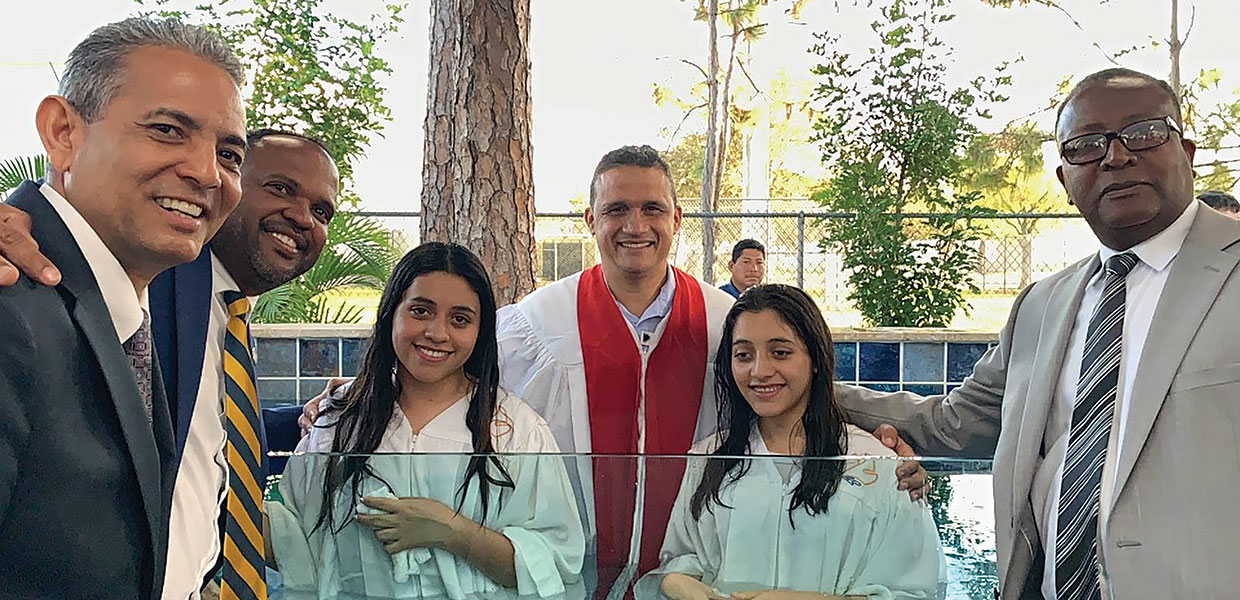 Celebrating baptismal candidates Esteysi and Johana Maldonado are Abel Morrobel (left), pastor; Isaac Ibarra, assistant to the president of Oakwood University; Freddie Sanchez, pastor; and Roger Alvarez, Southeastern Hispanic coordinator. Fifty-five new individuals were baptized, and a branch Sabbath School was started in Lehigh, Fla.
Roger Alvarez
As part of a mission-driven Conference, Southeastern's Hispanic ministries launched its first Conference-wide evangelistic crusade, "God First," March 2-9, 2019, in a joint effort with Oakwood University (OU) students and professors. From the peaceful beaches of Clearwater, Fla., to the beautiful landscape of Silver Palms, Fla., 16 evangelists, armed with the power of a transforming Gospel, shared the Good News of salvation, and proclaimed a Christ-centered message of hope, compassion, and wholeness. As a result of the efforts, hearts were touched, lives transformed, 55 individuals accepted Jesus as their personal Savior, and a new Sabbath School branch was born in Lehigh, Fla.
The unconditional support of Southeastern Conference administration is appreciated. Those represented at the closing ceremony included Nicola McClymont-Stoddart, D.B.A., director of human resources at Southeastern; Isaac Ibarra, assistant to the OU president for diversity and inclusion; pastors; and committed church members, all recognized for their hard work and passion for the Gospel. The mission will continue to be fulfilled as all strive together to advance His Kingdom.
Southeastern | June 2019