BY SOutheastern Conference Administation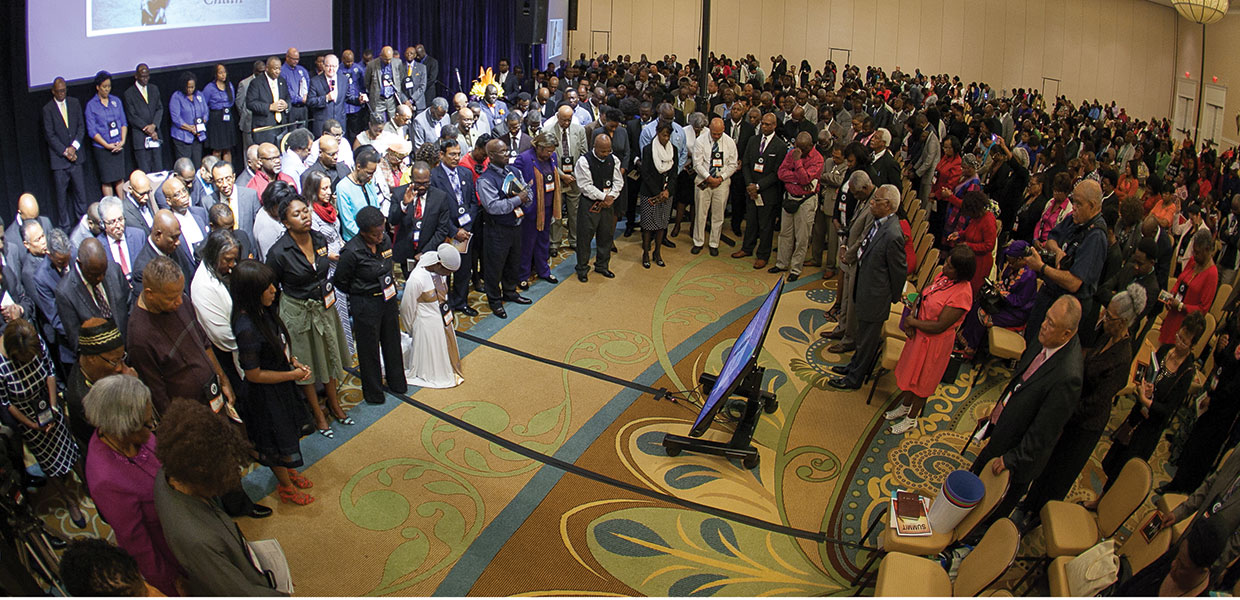 Southeastern church and Conference officers committed themselves to mission-driven leadership.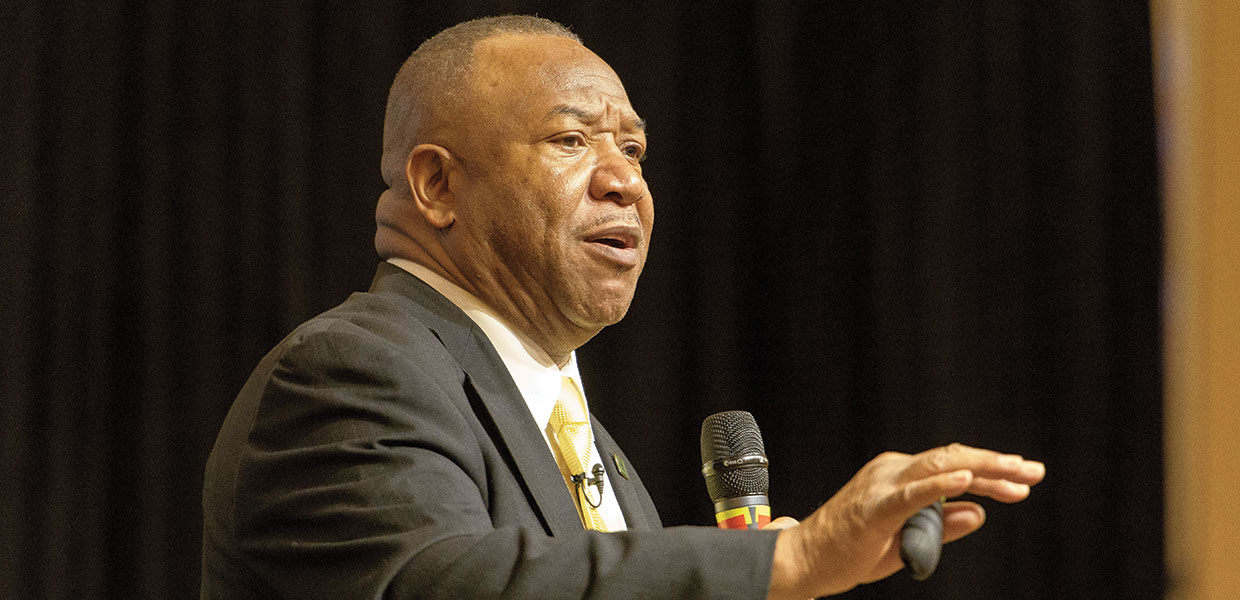 Greogry Mack, Southeastern president, presents the strategic imperatives of the Conference.
R. Steven Norman III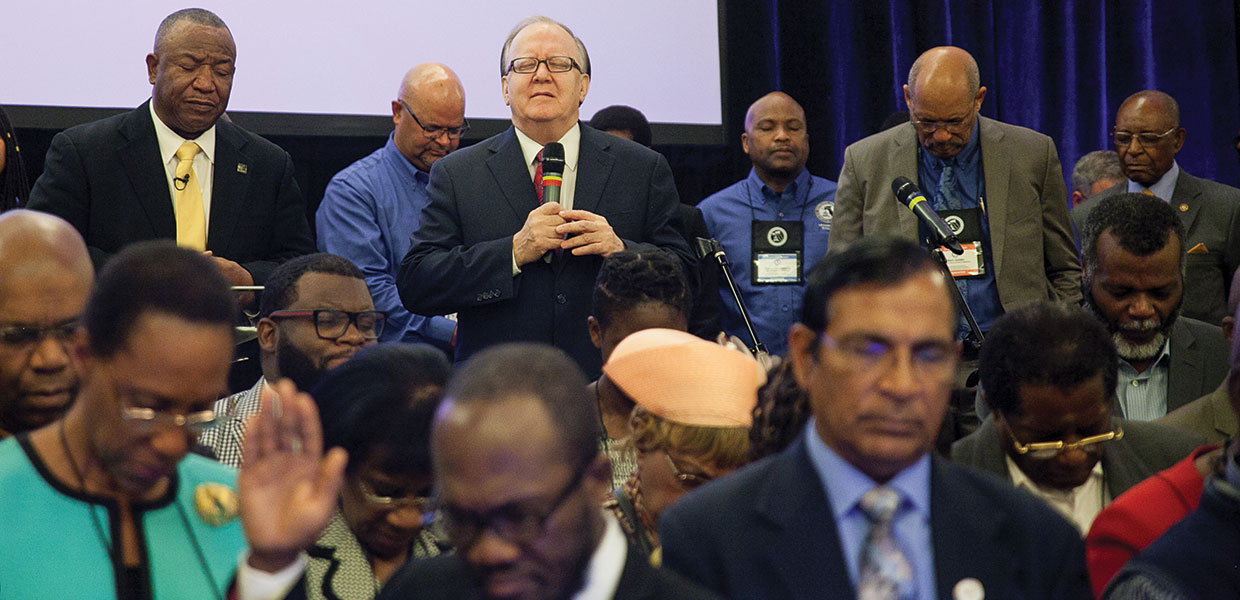 Dan Jackson, North Amercian Division president, offered a prayer of commitment for Southeastern leadership.
Attendees participated in a small group discussion during a presentation led out by Roxanne Stone from the Barna Group.
Under the Leadership of Gregory O. Mack, Southeastern president; Michael K. A. Owusu, executive secretary; and Robert Patterson Jr., chief financial officer, more than 1,600 pastors, lay leaders, members, and friends gathered at the Hilton Orlando Bonnet Creek Resort in Orlando, Fla., for the 2017 Southeastern Conference Leadership Summit. With the focus of becoming a mission-driven Conference by "sharing hope and restoring wholeness" throughout its territory and beyond, it was evident that the Lord blessed with excellent training and Spirit-filled inspiration.
As stated by Mack, "We firmly believe that it is high time for us as a Conference to become more mission driven: no longer will Southeastern Conference be driven by events, big days, and celebrations. We will set a new direction — one that moves ministry forward." As the recently elected leader, he further stated that, "Southeastern intends to become and remain intentional about sharing hope and restoring wholeness to our communities through mission-driven initiatives." The 2017 Leadership Summit served as the launch of the initiative for all leaders throughout the Conference.
Southeastern has partnered with the North American Division (NAD) in Sharing Hope and Restoring Wholeness. The administrators, departmental directors, pastors, principals, teachers, and office staff met in prayer in various orientation sessions to develop the Conference mission statement, tagline, core values, and five-point strategy to guide the institution forward. In a well-articulated presentation at the Summit, Michael Owusu, D.Min., and Mark Brown, Ph.D., family/health ministries director, shared those developments with all the attendees. Owusu and Brown affirmed, "SEC is poised for greatness — to the glory of God." Southeastern has been blessed with significant personnel and institutional strengths that must be leveraged for mission accomplishment, while areas of weakness should be strengthened.
With delight, Mack passionately outlined four major imperatives that are strategically aligned with Southeastern's mission that will help the Conference to leverage and reinforce its mission:
Youth and Education: We will give our best to our youth and children.
Transformational Leadership: We will lead like Jesus, promoting a culture of integrity, accountability, and excellence at all levels.
Community Outreach and Evangelism: We will reach and transform communities with hope and wholeness.
Financial Stewardship: We will position ourselves to support and fund mission while nurturing a culture of fiscal transparency and accountability at all levels.
The Summit started on Friday morning, February 2, 2017, with training and development sessions for all Southeastern pastors. During these sessions, the pastors received resources and information on many different topics, including pastoral leadership, accountability, and mission. They were challenged to strive for excellence and relevance, especially in this age of moral relativity. Many pastors expressed thanks and appreciation for the presentations, and recommitted themselves to sharing hope and restoring wholeness in their respective districts.
The Leadership Summit continued with other plenary session speakers: Dan R. Jackson, NAD president; Roxanne Stone, editor-in-chief of Barna Group; Barbara Y. Davis, executive leadership coach of Chang Results Consulting; Jim Davidson, Southern Union executive secretary; Benjamin Jones, president of South Central Conference; and James Doggette, senior pastor of Patmos Chapel Church. Adding to the success and the richness of the meetings were several breakout sessions with speakers who shared their expertise and various approaches to reach and impact communities with the Gospel.
More than 40 churches signed up to become mission-driven congregations, and Southeastern Conference administrators and directors stand ready and willing to assist each church in adopting this new mission-driven strategy to its local context. The Bible reminds all that, "The harvest truly is great, but the laborers are few: pray ye, therefore, the Lord of the harvest, that He would send forth laborers into His harvest," Luke 10:2. Never before has there been such a need in society for the Good News of salvation as there is today. More churches and schools are expected to unite in the plan to carry God's message of hope and wholeness to many communities. May hearts continue to burn within as all look forward to the soon return of the Lord, Jesus Christ.
Southeastern | May 2017