by nicola mcclymont-stoddart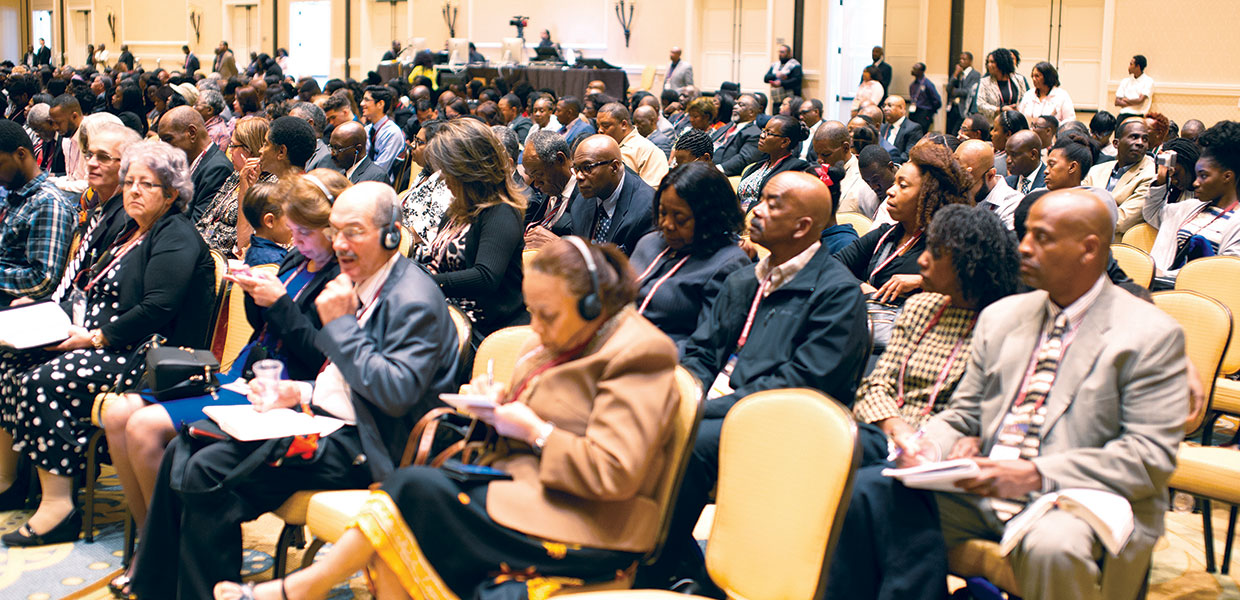 Leadership summit attendees were able to listen to presentations in their own language via translation devices. General sessions and workshops exposed church leaders to the trends, issues, and best practices in organizational and church leadership.
Marcel Sutherland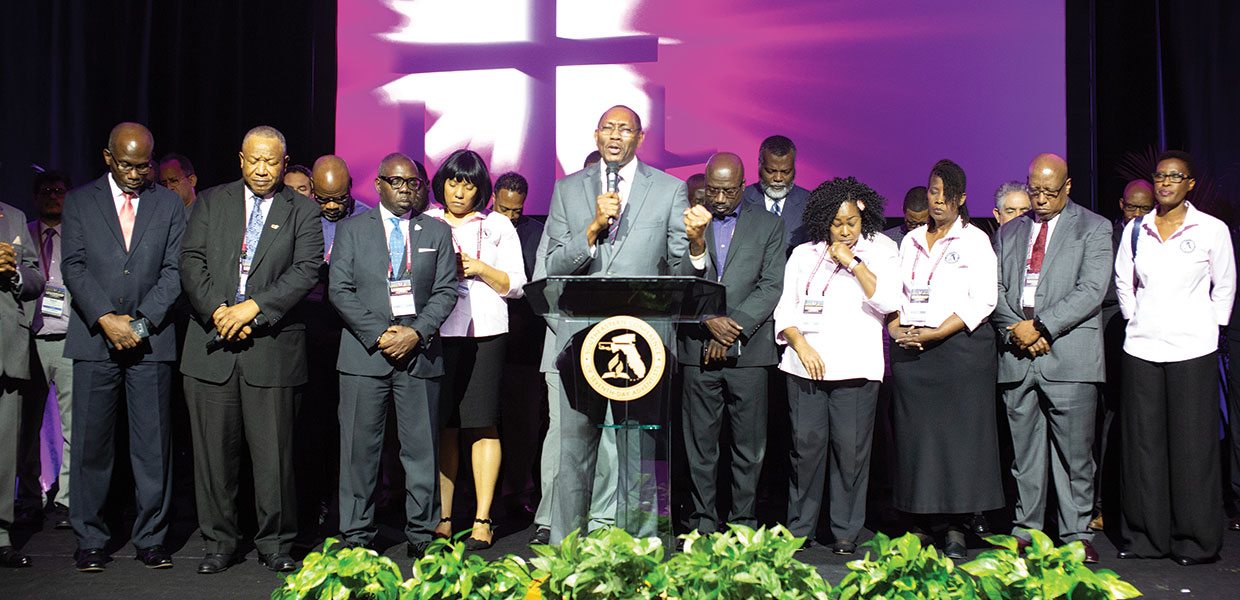 Balvin Braham, Ph.D., assistant to the Inter-American Division president and summit devotional speaker, led the Southeastern team in prayer of dedication to close the summit.
Marcel Sutherland
The church environment in the 21st century demands intuitive and adaptable leaders. These types of leaders are deliberate about engaging in consistent self-improvement and self-assessment activities to remain on the cutting edge of effective church leadership. With the objective of exposing church leaders to the trends, issues, and best practices in organizational and church leadership, the Southeastern administration, along with the Executive Committee members, directors, pastors, principals, office professionals, and more than 1,400 lay leaders, members, and friends, gathered at the Hilton Orlando Bonnet Creek Resort for the 2019 Southeastern Conference Leadership Summit. It was evident that the Lord blessed through excellent training and Spirit-filled inspiration.
Southeastern Conference Imperatives
With delight, Gregory O. Mack, president of the Southeastern Conference, passionately shared the accomplishments of the administration since its inception in 2016, within the context of the five major imperatives that are strategically aligned with Southeastern's mission to help the Conference leverage and reinforce its mission:
"Children, Youth, and Education: We will give our best to our children and youth, preparing them for leadership and service to God and humanity.
"Transformational Leadership: We will lead like Jesus, promoting a culture of integrity, accountability, and excellence at all levels.
"Community Outreach and Evangelism: We will reach and transform communities with hope and wholeness.
"Financial Stewardship: We will position ourselves to support and fund mission while nurturing a culture of fiscal transparency and accountability at all levels.
"Campground Improvement: We will improve facilities on our campground, creating an environment of wholeness and rejuvenation."
Southeastern is poised for greatness — to the glory of God. Southeastern has been truly blessed by God, and it is obvious that great strides have been made in all the strategic initiatives. The workers will continue to look to the Savior as He continues to guide them in the future to greater heights.
Speakers
The Summit began with training for pastors, who received resources and information on different topics for developing a culture of excellence, pastoral self-care, leadership and team development, and accountability. They were challenged to strive for excellence and relevance, especially in this age of moral relativity. Many pastors expressed appreciation for the presentations, and recommitted themselves to excellence in their respective districts.
Pastors' spouses and women of Southeastern were also treated to presentations on achieving excellence, focusing on spiritual growth, motivation, and personal and professional growth. The women were motivated and encouraged to move to the next level with God.
Jake Mulder, director of strategic initiatives, led out the plenary sessions which focused on innovative approaches to leading and engaging millennials, and Reggie McNeal, Kingdom leadership specialist, focused on strategies for leading a movement and missional church. Bertrum Melbourne, Ph.D., professor at Howard University School of Divinity, shared with the participants valuable information regarding transformational leadership and finishing well. Hyveth Williams, D.Min., challenged the audience with a powerful message on courage and taking action.
Balvin Braham, Ph.D., assistant to the Inter-American Division president, was the Summit's devotional speaker. The Lord used him mightily to recharge the attendees' relationships with God. Attorney Josue Pierre, associate general counsel from the General Conference, articulated the risks and liabilities that face the Church and conferences, and charged the group to help protect them from ascending and various liabilities. Dana Edmond, executive director of the Office for Regional Conference Ministries, shared eye- opening, relevant facts, and statistics regarding regional conferences. Adding to the success and the richness of the meetings were several breakout sessions with speakers who shared their expertise and various approaches to developing sustainable ministries at the local level that will reach and impact communities with the Gospel.
The blessing of leadership development will continue to ignite the hearts of each member of the Southeastern Conference to reach communities for Christ as they look forward to the soon return of Jesus Christ. "The harvest truly is great, but the laborers are few: pray ye, therefore, the Lord of the harvest, that He would send forth laborers into His harvest," Luke 10:2. Never before has there been such a need in society for the Good News of salvation as there is today.
Southeastern | May 2019