Jennifer Ruth Sankey, Ph.D.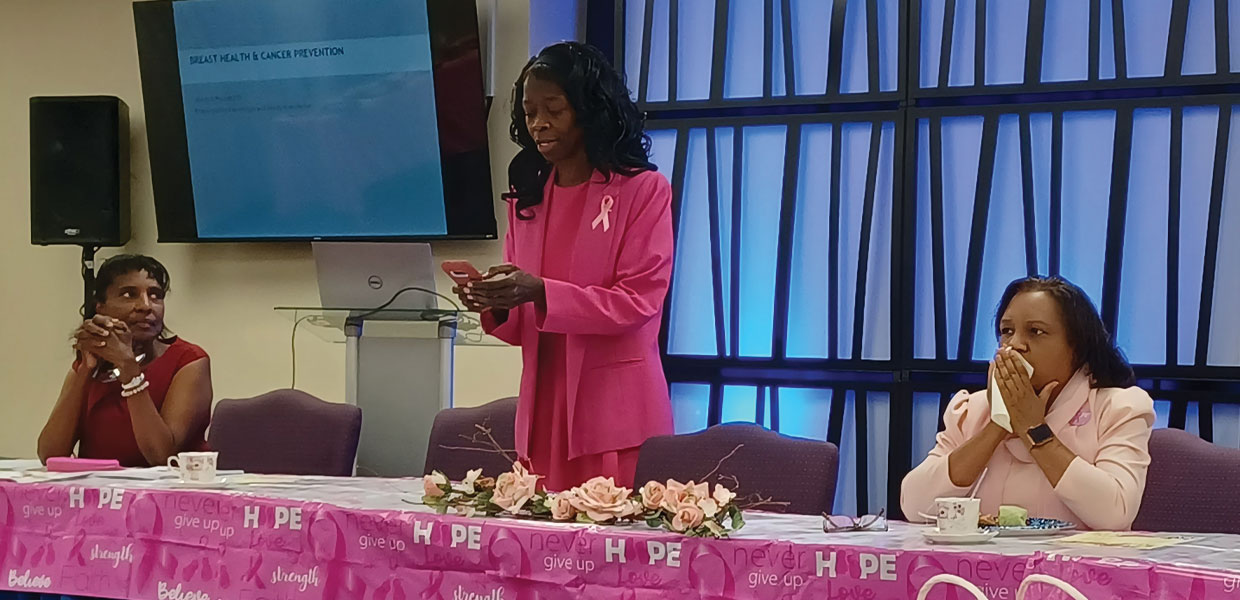 Wendy Perrott, M.D. (left), obstetrics and gynecology physician; Jennifer Ruth Sankey, Ph.D., R.N., director of health and disabilities ministries and performance; and Esmeralda Guzman-Harris, Southeastern women's ministries director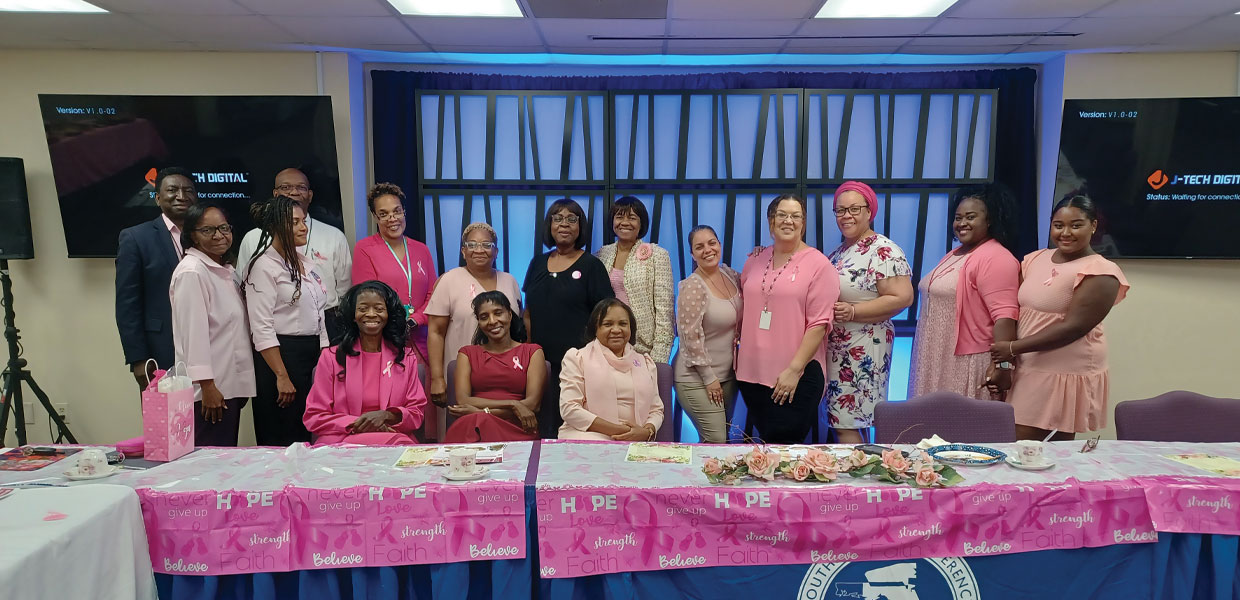 Southeastern office staff
The first Breast Cancer Awareness Tea was held at the Southeastern Conference in Mt. Dora, Fla., on October 12, 2022. This well-planned event made history, and the room was beautifully decorated with pink and white tablecloths with rose petals, along with dainty teacups that lined the table. The event opened with prayer by Olinto Groce, pastor, and an inspirational song by Georgette Valdespino. A variety of special teas and a nutritious lunch buffet were enjoyed by 22 office staff consisting of men and women who were dressed in different shades of pink. Wendy Perrot, M.D., obstetrics and gynecology physician, gave a dynamic and captivating presentation on breast health. She explained how cancer occurs through an imbalance of estrogen and progesterone, and expounded on how to prevent it using a wholistic approach, namely eating a plant-based diet, exercising enough to make you sweat, and weight management. Each attendee received a gift bag from unnamed donors, with information and memorable trinkets to remind them of ways to prevent and detect breast cancer. The tea concluded with a prayer of consecration and dedication by Alpha Footman, Southeastern prayer coordinator for women's ministries.
Southeastern is committed to breast cancer awareness and health and wellness 365 days a year. In conjunction with the tea, a breast cancer awareness fund was launched. Approximately $1,200 has been donated. The tax-deductible funds will be used to promote breast cancer prevention, and to provide support and resources for individuals who are fighting the disease. Donations can be made via Adventist Giving.
Both the Breast Cancer Awareness Fund and tea initiatives align with the Conference's mission to share hope and restore wholeness at the office, in the churches, and throughout the community. The mission-driven activities were organized by Esmeralda Guzman- Harris, director of women's ministries, and Jennifer Ruth Sankey, Ph.D., director of health and possibilities ministries. To learn more about upcoming events for women and health, contact esmeralda.guzman-harris@secsda.org or jennifer.sankey@secsda.org. They believe that together the journey to optimum health and wellness will make a difference in many lives. They are praying for you and your continued good work in your local church.
Southeastern | January 2023