BY Trisney Bocala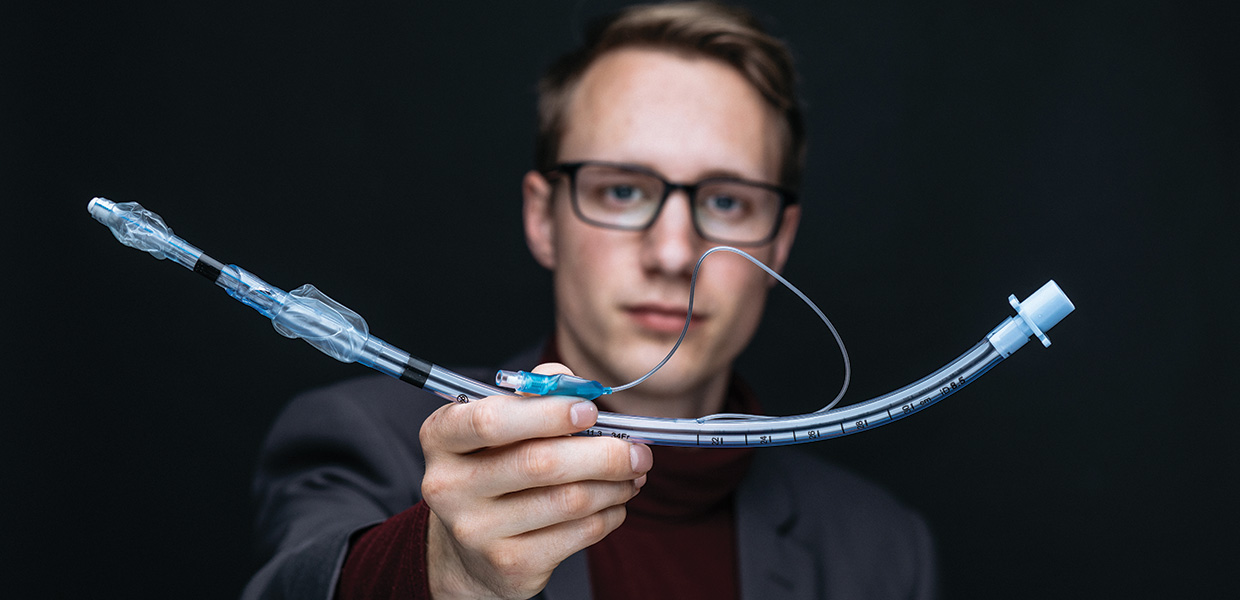 Caleb Sutherland saw a need and invented this medical device, which will save lives following traumatic lung injuries.
This fall, a Southern Adventist University student beat out professional competition to be recognized by Chattanooga's technology community for his invention. Caleb Sutherland, junior business management major, earned a place as one of three finalists for the Chattanooga Technology Council's annual Early Innovator Award.
Sutherland's invention, a lung isolation tube (LIT), is a Class II medical device designed to treat pneumothorax and tension-pneumothorax (a punctured lung, usually caused by a traumatic injury). Sutherland had become a certified emergency medical technician in Alaska at 18, which opened his eyes to the need for such a device. After his discussion this past spring with a paramedic from Washington, who had also noticed the need, the two collaborated to develop the initial idea for a solution.
Before Sutherland's invention, the standard method of treatment for pneumothorax provided temporary relief. Inspired by methods employed in the military, he created a tube, specifically for this condition, that can be inserted and inflated, so the patient is completely stabilized. With the help of two medical advisers, Sutherland patented his device this summer and started a company called LIT Devices. Soon afterward, his lawyer nominated him for the Chattanooga Early Innovator Award.
The Chattanooga Technology Council considered about 12 innovations for the award, mostly by larger companies, but the decision was not straightforward.
"We are always comparing apples, oranges, and grapefruits," said Carla Askonas, executive director. "However, the committee definitely found it interesting that Caleb is still a student."
As a finalist, Sutherland was invited to attend the Spirit of Innovation Award luncheon, where he was able to network and connect with other local businesses.
"The nomination itself has brought about so many different opportunities that I wouldn't have had otherwise," Sutherland said. "The recognition and awareness that being a finalist has brought my company has been incredible."
Although he did not win the award, Sutherland is excited to take the next steps toward marketing his invention. He is in talks with several different investors and manufacturers, as well as innovation officers from Blue Cross Blue Shield Tennessee.
"What I love is innovation — things that are new; things that, in this case, very literally save lives; things that can benefit the world around us," he said. "I cannot wait to continue on this incredible journey!"
Southern Adventist University | December 2018