BY Abigail King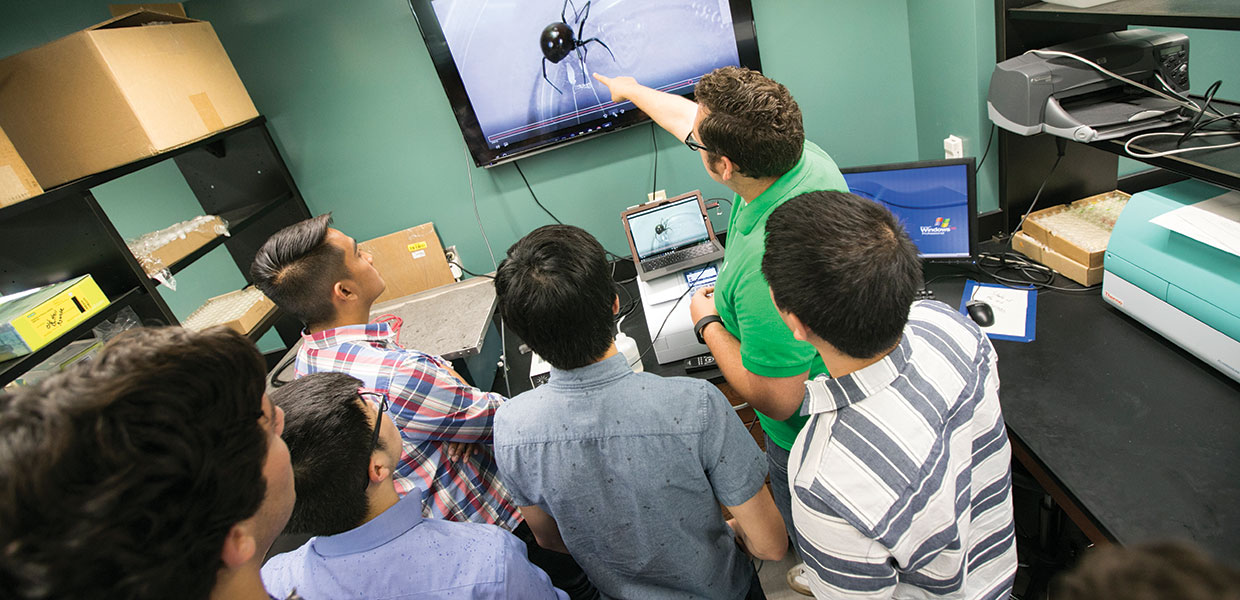 Professor David Nelsen points out the spider's defensive silk as he and students analyze research footage.
Students in all fields of study at Southern Adventist University are encouraged to engage in research projects, with tools and mentorship provided. To highlight the results of these studies, each semester Southern holds a Research Day; this spring, 493 people presented their findings.
Two biology students, David Bonney, a junior, and Isaac Delote, a senior, shared their research experiment on the defensive behavior of western black widow spiders. Their goal is to determine whether or not a spider can assess risk, as evidenced by its conservation of defensive silk during various threatening situations. This defensive silk is different from web silk; it is extremely sticky, and the spider uses it when sensing danger.
Delote developed this experiment after reading several articles about black widows written by David Nelsen, Ph.D., assistant professor in the School of Biology. Delote found that not many published findings exist, and this study is the first to analyze the correlation between defensive silk and threat level.
To gather data, Delote and Bonney are using a GoPro camera to record the spiders as they react to low, medium, or high threat levels. Then they review the video frame by frame and analyze the density of the droplets of defensive silk.
Southern provided the tools needed for this project, and Nelsen, along with Aaron Corbit, Ph.D., associate biology professor, has provided advice and mentorship.
"I have always enjoyed learning new things about nature, so to actually participate in the process of discovery is exciting," Bonney said. "Although spiders would not have been my first choice, I am passionate about working with all creatures."
While neither student has had prior experience with spiders, they hope to find that these arachnids have a greater level of cognizance than most people assume.
"I believe that if spiders are shown to have some small form of cognition, it may change the way that people look at them," Bonney said.
As Delote explained, "Proving this would give even more evidence of our Creator."
Bonney and Delote plan to showcase their research at the American Arachnological Society conference this summer.
Southern Adventist University | June 2017