BY Emma Winegardner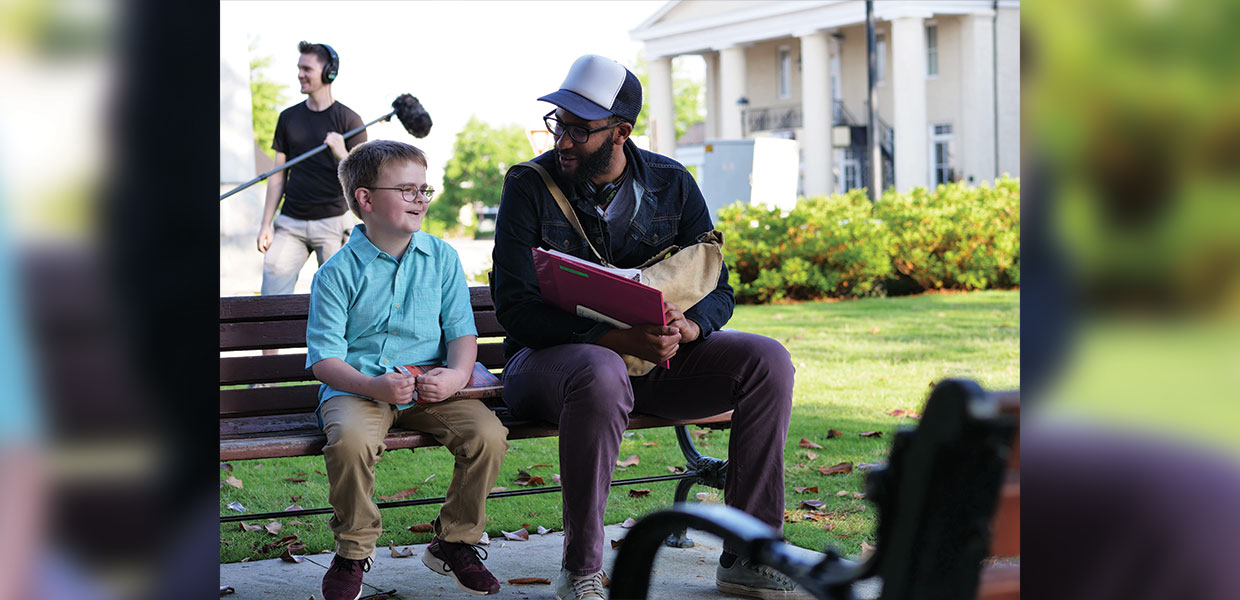 Theo Brown (right), Southern alum and director of the new video series, talks with one of the actors between takes.
Film students at Southern Adventist University had a unique opportunity this summer, working on a new eight-part video series called "Smoky Mountain Rescue," co-produced by the North American Division's Stewardship Ministries and Southern's School of Visual Art and Design. The first episode of the series will be screened at the Oshkosh International Pathfinder Camporee.
The series is adapted from Jan and John Mathews' book, Smoky Mountain Rescue, and tells the story of Emily, a city girl who moves to live with her grandparents in the country, finds a lost dog named Jack, and goes on adventures in an attempt to return Jack to his owners. Each episode teaches her more about what it means to be a good steward.
Members of the production crew had a broad range of experience levels. In addition to the eight current Southern students who worked on the project, several alumni and additional professional crew members made up the team; one of the participating alumni was part of the film program's first graduating class.
"One of the cool things about this project is you have people who graduated 15 years ago, and then you have current students," said Theo Brown, Southern alum and director of the series. "It's a spread of experience spanning 15 years."
The project was particularly valuable for students. Besides putting their classroom knowledge to work in the field, they were able to participate in more technical aspects of production, such as working with live animals and filming a car crash.
"It was great for our students," said Nathan DeWild, manager of Southern's production company and producer for the series. "By helping us with projects like this, they already have real-world experience with professionals in the field before they graduate."
The production team plans to release the series this fall, and hopes to make "Smoky Mountain Rescue" available on major streaming platforms.
Southern Adventist University | August 2019