BY Oksana Wetmore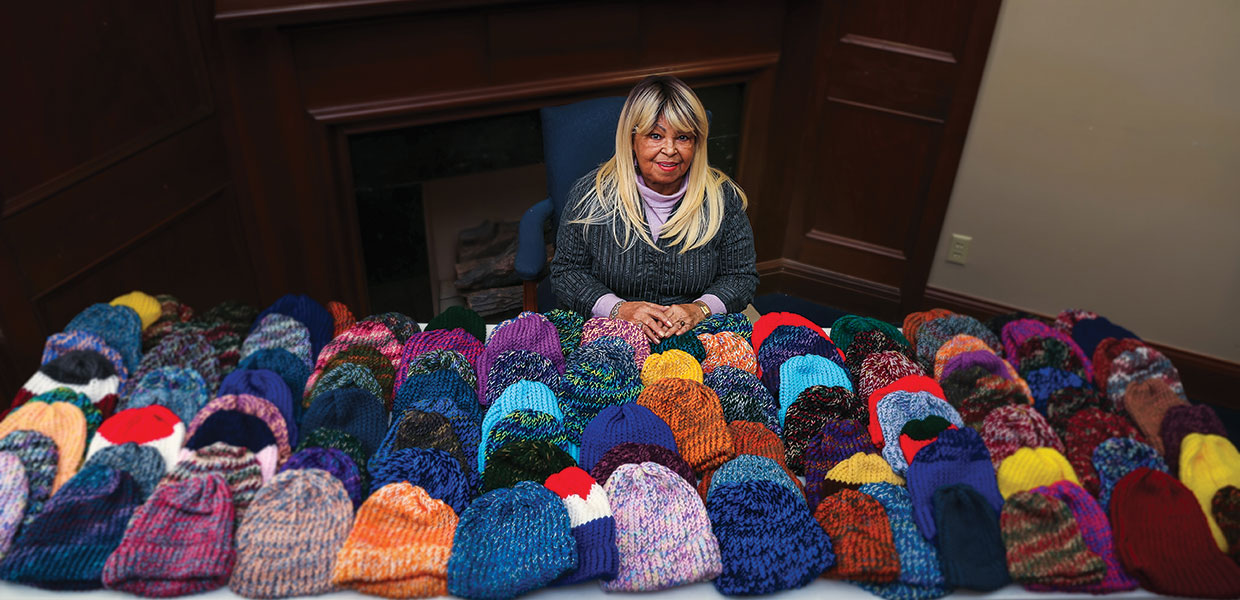 Grasi Suarez-Benitez knit 110 hats to be given out to the homeless during Southern's MLK Service Day.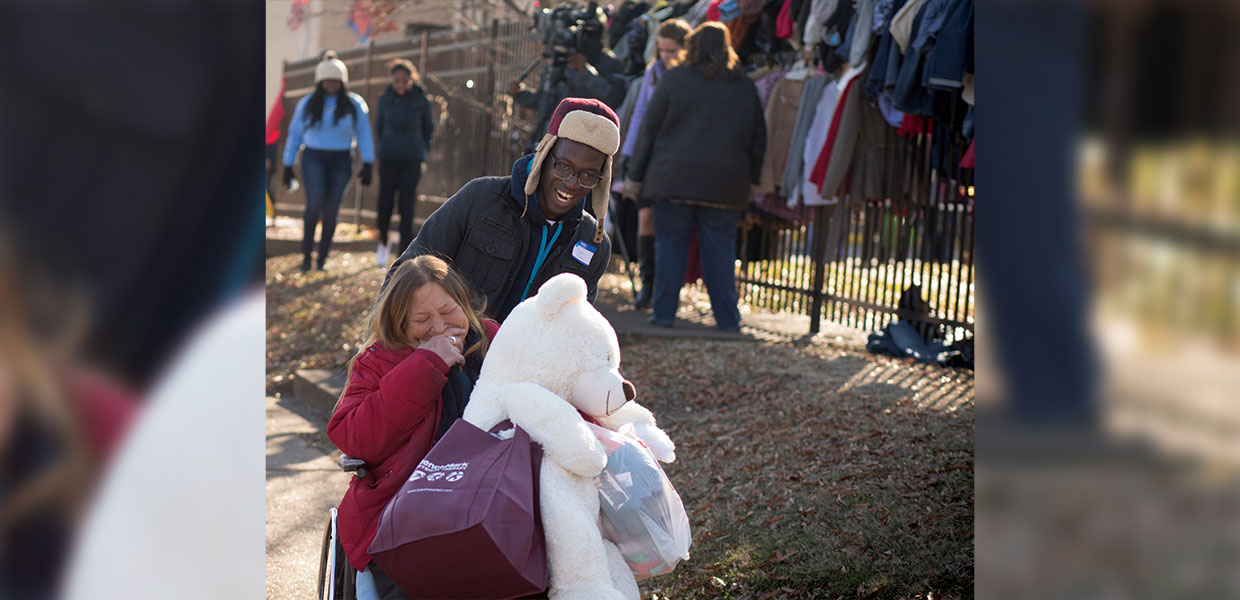 Dylan Gibbons, junior social work major, connects with a homeless woman as he helps her find just the right items during the MLK Service Day Street Store.
Barry Daly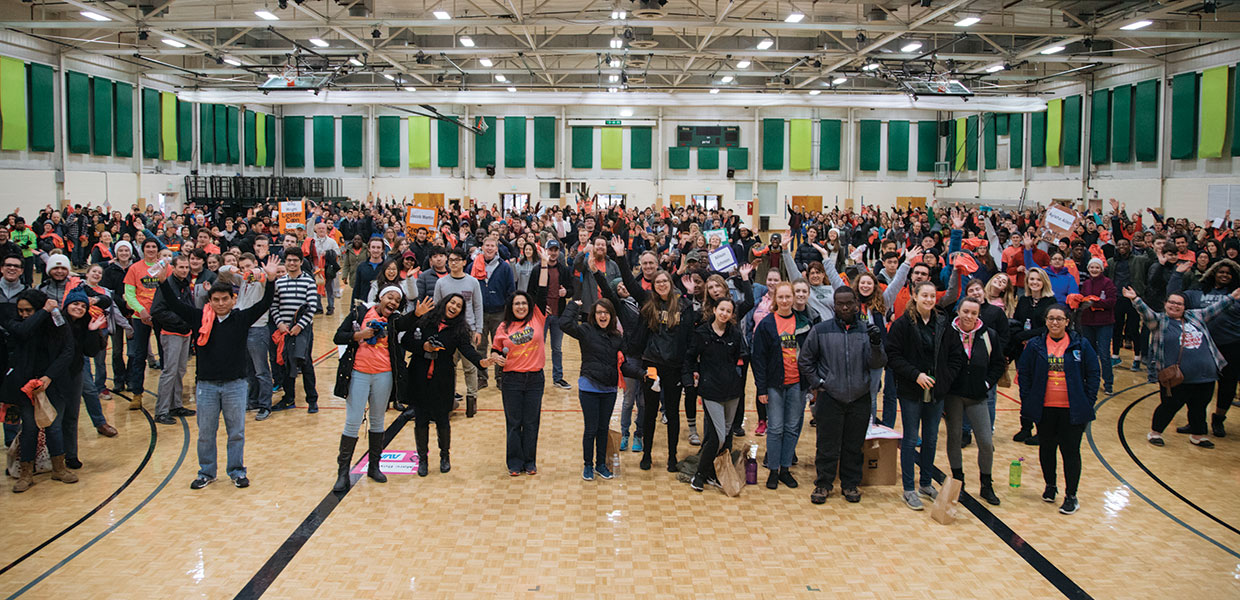 Nearly 1,000 Southern students and employees prepare to scatter across the Chattanooga, Tenn., community, offering their time and skills during the 2018 MLK Service Day.
Gus Moretta
Every January for 25 years, Southern Adventist University students and employees have given their time to serve the Chattanooga, Tenn., community on Martin Luther King Jr. Day. This year, nearly 1,000 participants took part in Southern's annual day of service, assisting community members and partnering with 34 organizations, including the American Red Cross, Samaritan Center, and the Salvation Army.
The City of Chattanooga had also coordinated a day of service in honor of King's legacy, marking the 50th anniversary of King's death, and Southern joined in to commemorate this milestone. As the finale for the city's kick-off event, Southern's a capella group, Voculus, and gymnastics team, Gym-Masters, gave a rousing performance. The Southern participants then had the privilege of coming alongside many other schools and Chattanooga residents to help local organizations.
"We want our students to learn the joys of serving their community," said Jennifer Carter, director of Christian Service at Southern. "We hope to instill a desire for service in them beyond their college career."

Knitted with Love

A special project that Southern has helped with on MLK Day for a number of years is the Street Store — a temporary store set up to provide free warm clothing to the homeless, in partnership with the Salvation Army. On the day of the event, Southern students help set up, organize clothes, and serve as personal shoppers for the homeless customers.
Before the yearly event, Annette Heck, associate professor in Southern's School of Social Work, helps prepare by collecting donations of winter clothing on campus and at local churches. It turns out that her spirit of service is contagious. Heck's grandmother, Grasi Suarez-Benitez, a retired resident in Florida, learned about Heck's efforts. Unbeknownst to Heck, last year Suarez-Benitez began knitting hats for the Street Store because she wanted those in need to be warm and to know that they are cared for.
She sent them to Heck a few at a time, and before they knew it, the number of hand-knit hats filled several grocery bags — 110 hats in all colors and patterns, each made with love.
"My grandmother had no idea how many she had made," Heck said. "When I laid the hats out and counted them, she was quite emotional to see how her work all year long had made an immense impact."

Prioritizing Service

The same spirit of service is evident in Southern's students. For Alysia Wright, who recently completed a bachelor's degree in chemistry and is now pursuing a master's in clinical mental health counseling, her involvement in service began when she was six years old. She recalls her mother, a registered dietician, taking her and her brother to health fairs and school activities to volunteer. The spirit of helping others became ingrained in Wright, and when the time came to choose a college, she knew that it had to be one that prioritized service.
This ultimately led her to Southern. Wright has volunteered during every MLK Service Day since her freshman year, and spends her Sabbath afternoons in active service in her community.
"I love making people smile, knowing that I am making a difference in their lives," Wright said. "When I have the opportunity to help someone less fortunate, it warms my soul."
Southern Adventist University | March 2018