by Staff Report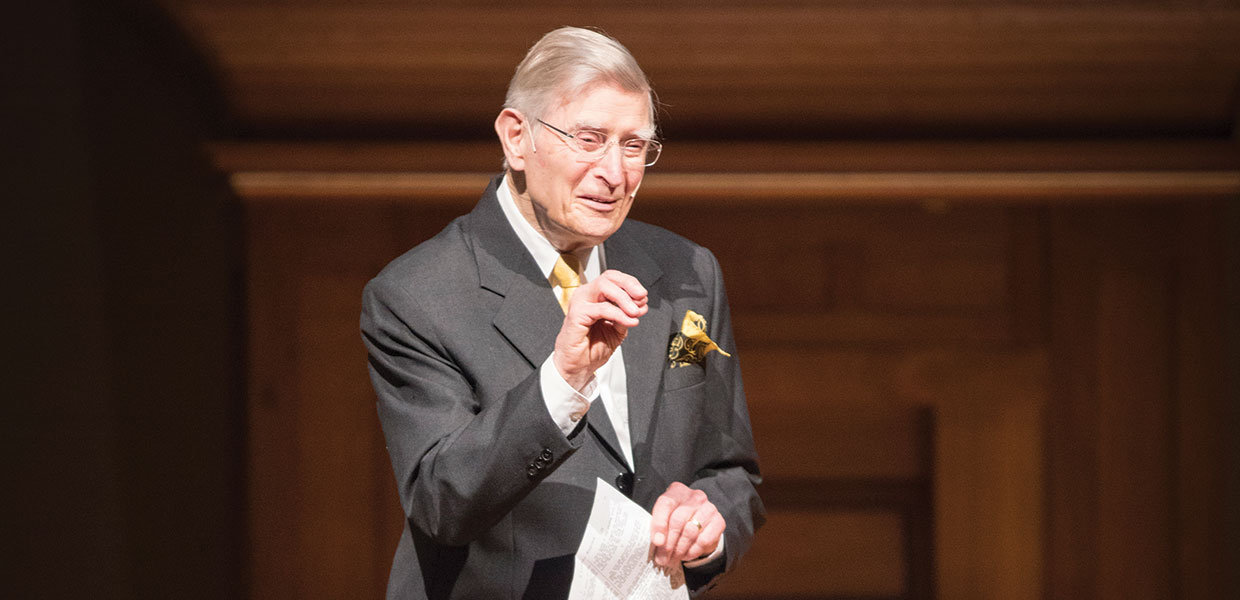 Students, faculty, and community members benefited from Herbert Blomstedt's visit to Southern.
Herbert Blomstedt, conductor laureate of the San Francisco Symphony, spent three days at Southern this spring as a guest of the Eugene A. Anderson Organ Series. Events included a hymn sing and short organ recital, a lecture on Johannes Brahms' "A German Requiem" (along with a screening of Blomstedt's performance of this work with the Danish National Symphony), and a panel discussion.
Judy Glass, professor in Southern's School of Music and a personal friend of Blomstedt's, explained that he accepted the invitation to Southern in hopes that his talents would spiritually and musically influence the students.
"It's important to see someone at the top of his field who is so humble and willing to help students," she said. "He is very personable; he has no ego and his center of focus is completely on God."
During Blomstedt's visit, Robert Young, Ph.D., senior vice president for academic administration, presented him with the Southern Adventist University Award for Outstanding Service and Scholarship. This honor recognizes Blomstedt's distinguished contributions to the world of classical music, his extensive service to the public, and his outstanding talent as a conductor.
In constant demand as a guest conductor, Blomstedt has led many of the world's greatest orchestras, including the Vienna Philharmonic. A devout Seventh-day Adventist, he does not rehearse on Friday nights or Saturdays. Blomstedt does, however, conduct concerts, since he considers actual performances to be an expression of his religious devotion rather than work.
Blomstedt's numerous distinctions include membership in the Royal Musical Academy of Stockholm, of which Beethoven was a member, and several honorary doctorates. In 1992, he was awarded Columbia University's Ditson Award for distinguished service to American music.
Southern Adventist University | July 2018