BY Southern Staff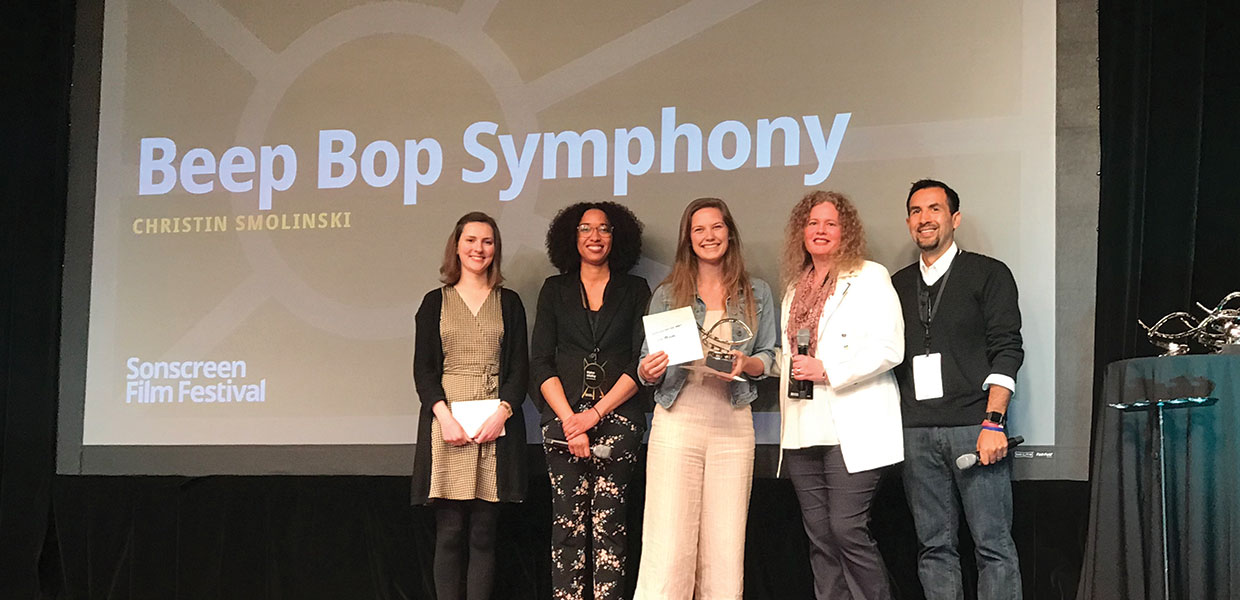 Southern animation major Christin Smolinski (center) receives an award from North American Division communication staff Georgia Standish (left), editorial assistant; Mylon Medley, news producer; Kimberly Maran, associate director; and Julio Muñoz, associate director of communication and director of the SonScreen Film Festival.
During the annual SonScreen Film Festival this year, a Southern Adventist University senior received the top award for her animated work. Christin Smolinski, an animation major, was one of approximately 25 students from Southern's School of Visual Art and Design who participated in the festival.
Smolinski tied for Best in Festival and also received Audience Choice Award and Best Animated Short for her work titled "Beep Bop Symphony." The short explores the power of working together in harmony through a humorous, musical animation.
Two other Southern students also were honored for their work: Joshua Trevilcock, senior film production major, received Best Comedy Short for his piece, "Missing Sock"; and Brittany Danese, junior film production major, received Honorable Mention, Comedy Short for her piece, "Writer's Journey."
Nick Livanos, assistant professor in Southern's School of Visual Art and Design and 2007 graduate of the university's film program, accompanied the students. He enjoys witnessing their creative ideas become a reality through many long hours of work, and finally appearing on screen in front of a live audience.
"It is so meaningful to watch as students craft every part of their film," Livanos said. "The fact that the SonScreen participants have the experience of hearing the audience gasp, laugh, and jump at appropriate moments is very satisfying."
The festival, which is sponsored by the Seventh-day Adventist Church, had a record number of participants this year, with a total of 265 student filmmakers, professionals, and professors. The event provides young Christian filmmakers with the opportunity to network, brainstorm, and dialogue with others who share their interests and values.
"I am remarkably proud of all my students," Livanos said. "They each showed a tremendous amount of professionalism as they answered questions, received compliments, and engaged the audience well."
Southern Adventist University | July 2019