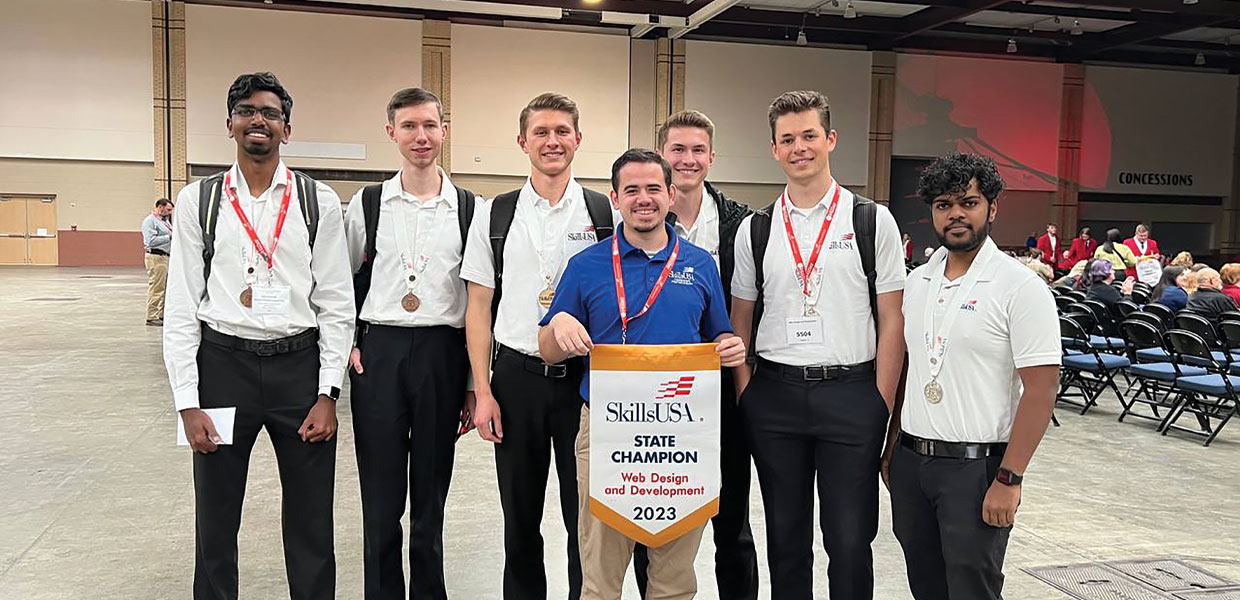 Abishur Moses (back row, left), Sam Tooley, Brandon Gustrowsky, Allen Gustrowsky, Caeden Scott, and Daryl Illangovan, all computer science majors at Southern Adventist University, swept the podium as two-man teams at the state level for SkillsUSA web design and development. Southern alum and graduate student Dakota Cookenmaster (front), adjunct instructor at the University, coached the teams.
For the second consecutive year, two brothers attending Southern Adventist University received gold medals during SkillsUSA's National Leadership and Skills Conference held this summer in Atlanta, Ga. Allen and Brandon Gustrowsky, junior and senior computer science majors, participated in the collegiate division for web design and development.
The national competition for web involved completing a series of challenges while creating a website for a client and a specific target audience. Judging focused on meeting the client's needs, usability and accessibility, and industry-standard best practices as well as process and teamwork.
"SkillsUSA has taught me that you build momentum as you accomplish things," said Allen Gustrowsky. "One achievement opens doors for another, and performing well in competitions has facilitated additional opportunities, for which I am grateful. Placing first in nationals for two years in a row increases our chances of going to WorldSkills championship next year in Lyon, France."
"At the state level, Southern fielded three teams of students majoring in computer science who swept the podium for Tennessee!" said Rick Halterman, Ph.D., dean of the School of Computing. Along with the Gustrowsky brothers earning first place and qualifying for the national championship, Caeden Scott and Daryl Illangovan took second place, and Abishur Moses and Sam Tooley, third. Dakota Cookenmaster, '22, a graduate student and adjunct instructor at Southern, coached the teams at both levels.
Empowering students to meet the demand for expertise in trades and technical competence, SkillsUSA hosts an annual multifaceted convention to showcase skilled workforce education across the nation. Approximately 240,000 members compete at local, district, regional, state, and national levels in thousands of events. More than 6,000 state champions vied for medals in this summer's 110 artistic, leadership, technical, and trade fields.
Southern Adventist University | September 2023