BY Tierra Hayes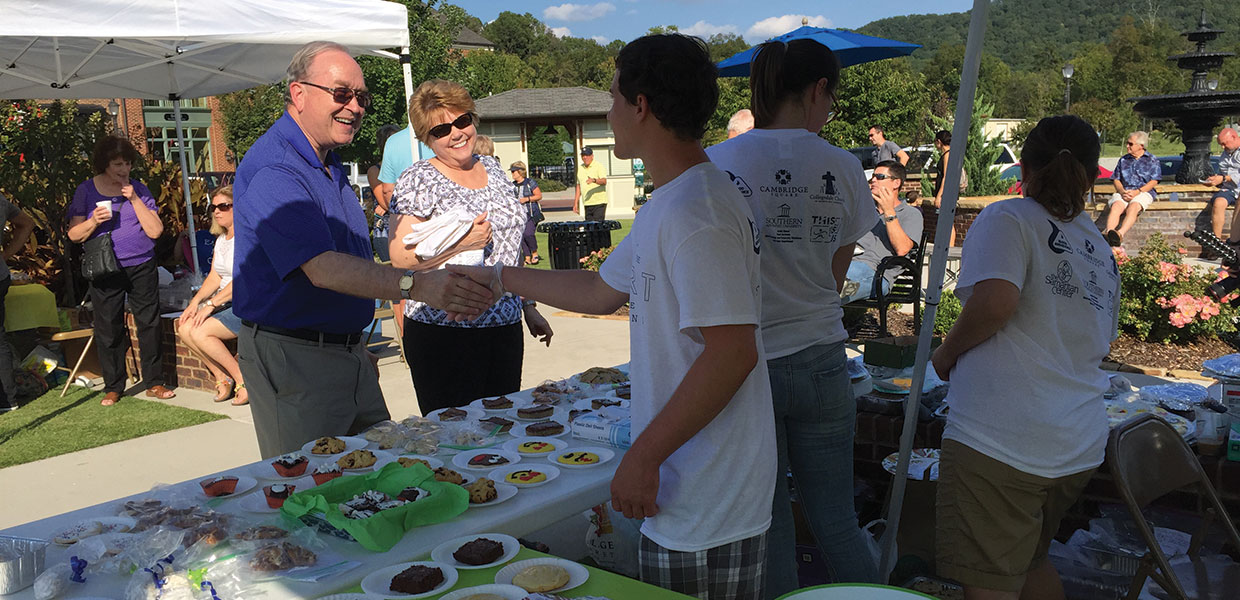 David Smith (left), president of Southern Adventist University, and his wife, Cherie, greet students during a student-organized hurricane relief fundraiser.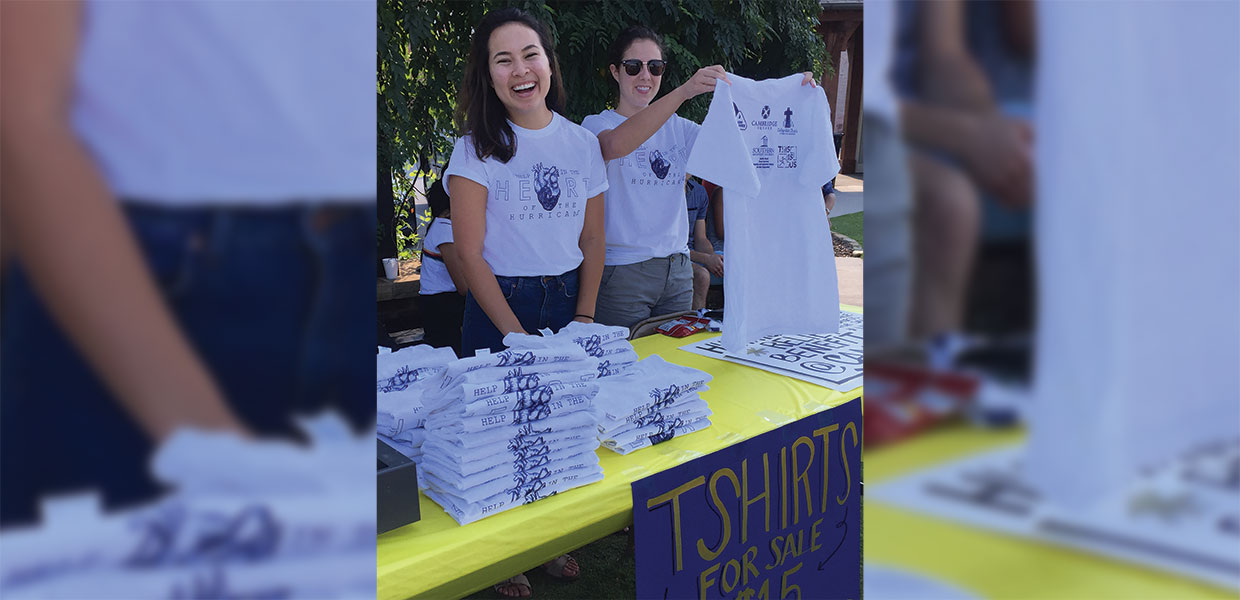 As one way to raise funds in support of hurricane clean-up efforts, Casey Goldring (left), sophomore elementary education major, designed a T-shirt to sell.
In the aftermath of multiple destructive storms this fall, Southern Adventist University's students, employees, and community members came together to make a difference.
One group of students hosted a community fundraiser on September 17, 2017, to support hurricane clean-up efforts. By the end of the day, they had raised more than $3,500, which they donated to the Samaritan Center, a local Adventist nonprofit, to help the devastated regions.
"My housemate and I saw a picture of elderly people in a nursing home up to their waists in water, and that's when we realized we had to do something," said Alexandra Martin, senior nursing major, "so we thought we should do a bake sale, and a couple weeks later it turned into this."
In addition to the bake sale — with goodies contributed by students, employees, and community members — the fundraiser included a student-designed T-shirt for sale, live music, and a blood drive. The event turned out larger than she expected.
"I was really excited," Martin said. "We had way more baked goods than we ever anticipated, but it turned out really well."
Additionally, students from the School of Journalism and Communication sponsored an on-campus bake sale. Since a member of the "Public Relations Campaign" class was from Houston, Tex., and her home church was damaged by the storms, that class spearheaded the effort. With an original goal of $250, the fundraiser brought in approximately $600.
"We set aside the syllabus and focused on putting together a small campaign," said Kaitlin Colon, senior public relations major. "Students were extremely generous, and most people added a donation on top of their purchase! As a class, we are so thankful and happy that we had the opportunity to help out."
Southern's Chemistry Department also wanted to do its part. "I thought about how our department could be involved, and decided that sunscreen is a good example of using chemistry to solve problems," said Brent Hamstra, Ph.D., chair of the Chemistry Department. "There are many people working down there in the sun, and we don't want any long-term skin problems."
As a result, the department held a sunscreen drive in which they raised dozens of bottles of sunscreen to send to the affected areas.
In terms of long-term help, the Campus Ministries Department is planning short mission trips to areas devastated by the hurricanes. There are currently four trips slated for the Thanksgiving, Christmas, spring, and summer breaks.
"We have a very compassionate student body," said Melissa Moore, uQuest Missions director. "The high level of student interest and the mindset of wanting to help wherever and do whatever we can, inspired the creation of these trips. It's a part of Southern's mission for students to live a life of service."
Southern also extended the offer of free lodging to 15 families displaced by Hurricane Irma. The evacuees included alumni, as well as families of students, staff, and community members; in total, they were given more than 70 nights at various properties across campus.
"I was blessed by the experience of being able to gift this to evacuees," said Barb Edens, director for strategic planning, who oversees guest lodging. "I am also blessed to work at a University that says 'this is the least we can do.'"
In a letter to the school, evacuees Josette and David Swartz thanked the University for its hospitality.
"We had to evacuate from Miami due to Hurricane Irma, and suffered some damage to our property. We can now use the money we saved to pay for some of the repairs," Josette wrote. "Thank you, thank you!"
Southern Adventist University | November 2017