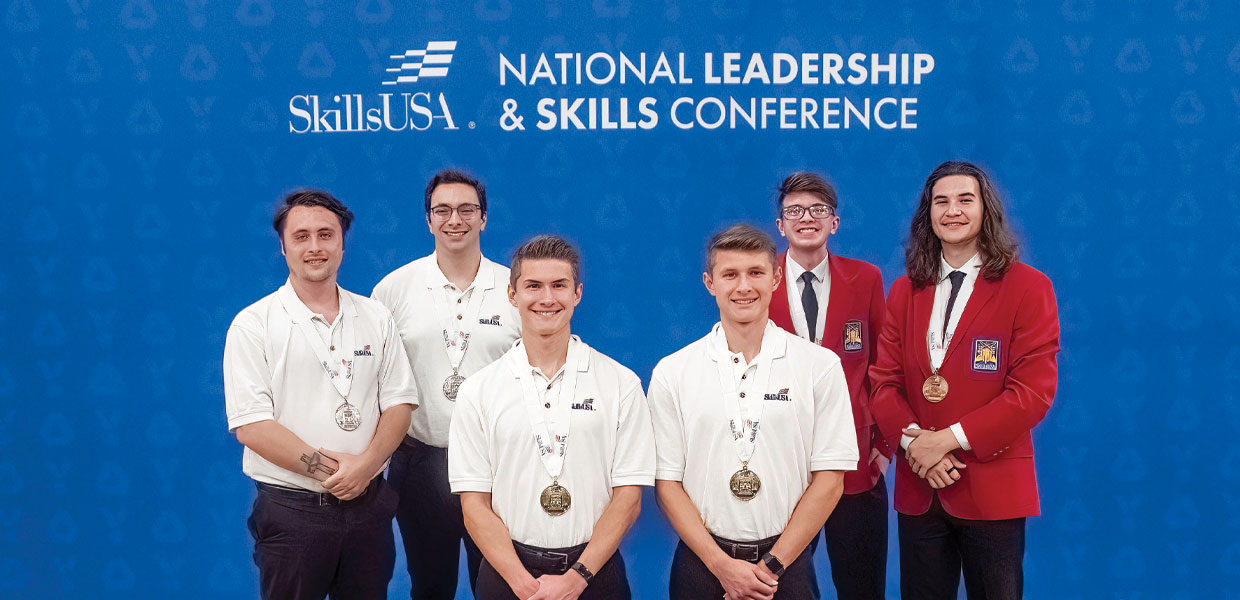 Southern computer majors Allen and Brandon Gustrowsky (center) receive the gold medal in web design and development from SkillsUSA at the national level.
SkillsUSA
Southern Students Win National Web Design Competition
This summer, two brothers attending Southern Adventist University received gold medals during the Skills-USA's national championships held in Atlanta, Ga. Allen and Brandon Gustrowsky, sophomore and junior computer science majors, participated in the collegiate division for web design and development.
"We are so proud of Allen and Brandon's accomplishment," said Rick Halterman, Ph.D., dean of the School of Computing. "Special thanks to their coach, Dakota Cookenmaster, '22, and Professor Robert Ordoñez, who mentors our SkillsUSA chapter."
The annual SkillsUSA national conference is a showcase of career and technical education where this year more than 5,200 outstanding career and technical education students — all state contest winners — competed hands-on in 108 different trade, technical, and leadership fields.
The Gustrowsky brothers qualified for the national championship by winning first place in the Tennessee competition. In that event, Southern students earned both first and second place, with junior computer science majors Simon Sierra and Adrian Morales receiving silver.
The national competition involved each team completing an interview and written test, as well as building a website from start to finish in six hours.
"It felt good to walk away knowing we had built a website that was organized, clean, and strong on its fundamentals," Allen Gustrowsky said. "I came away with good memories of the competition week."
"We finished with no time to spare; I remember rushing for the last 10 minutes to add a few small features to hopefully give our website a fighting chance for second place," Brandon Gustrowsky said. "Receiving the gold medal on stage in front of an audience of 10,000 people is an experience I will not forget."
Anaya Miller
Southern Adventist University | October 2022