BY Tierra Hayes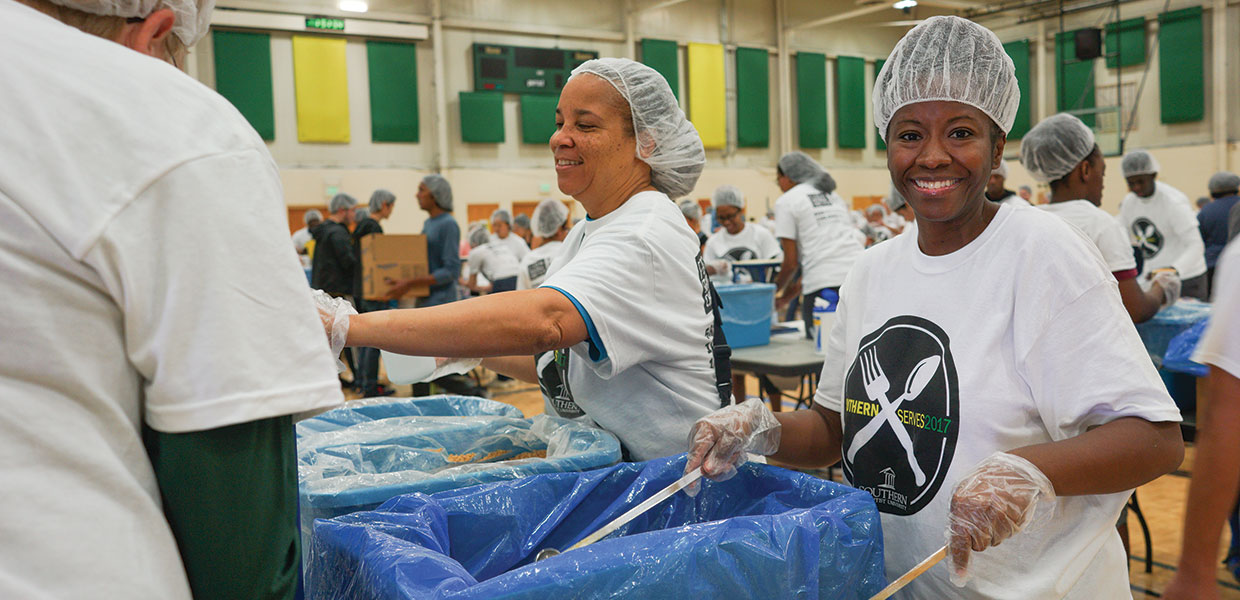 Alumni Lydia Rose (left) and Krystal DesChamps, '06, scoop rice, soy, veggies, and a blend of vitamins and minerals into individually labeled meal packs.
Gus Moretta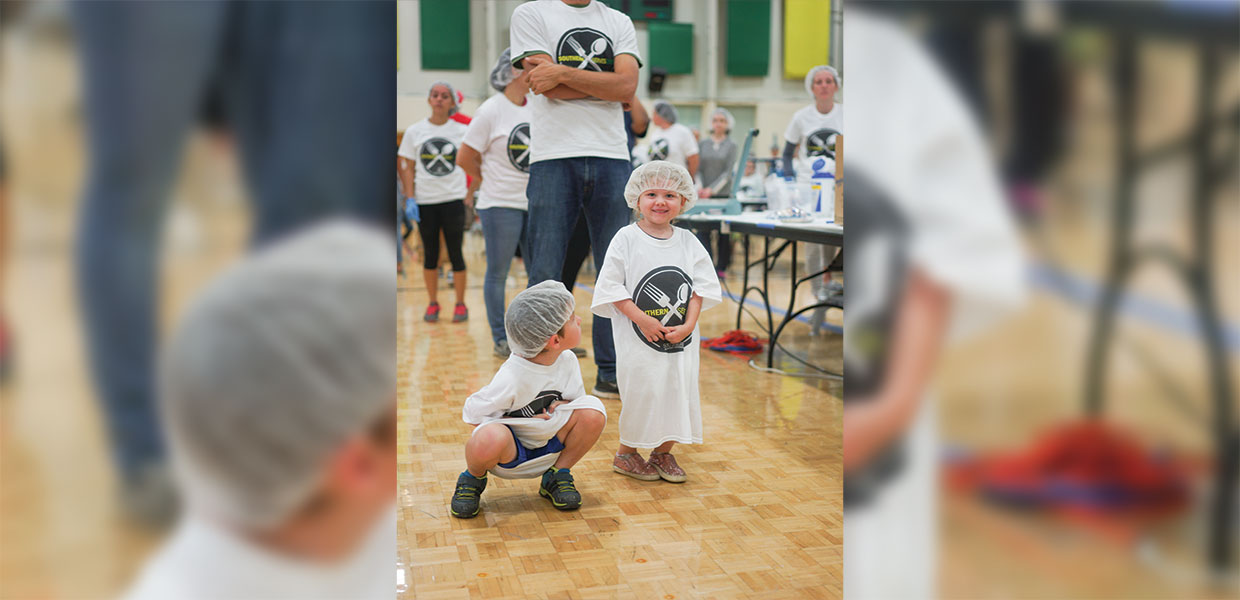 Volunteers of all ages helped; Jax and Scarlett Kirstein served alongside their father, Brennon Kirstein, '94, who is Southern's chaplain.
Gus Moretta
During the annual Alumni Homecoming Weekend at Southern Adventist University, students, employees, alumni, and community members came together to make a dent in global hunger. In partnership with the Christian nonprofit Feed My Starving Children, 457 volunteers packed more than 101,000 nutritious, ready-to-cook meals that will feed 276 children around the world for a year.
"Service is at the heart of everything we do here at Southern," said David Smith, Ph.D., president of Southern Adventist University in Collegedale, Tenn. "During Homecoming Weekend it was great to work side by side with young people, employees from our campus, returning alumni, and groups from area churches. I think everyone benefited as we joined together, sharing in service, and developing a stronger bond."
Feed My Starving Children is a donations-based nonprofit that sends food to struggling communities around the world, including areas recently devastated by hurricanes. During the meal-packing event, volunteers worked in teams to package nutrient-dense individual servings that included a blend of soy, enriched rice, and dried vegetables.
"Our volunteers packed a lot of food," said Lucas Patterson, who coordinated the event at Southern. "More than one box per person is Feed My Starving Children's goal for these events, which we exceeded thanks to our enthusiastic volunteers. This was a wonderful way to have a global impact without even leaving campus."
Many of those enthusiastic volunteers were Southern students.
"This was a great opportunity," said Mackenzie Richardson, senior nursing major. "We were able to make a huge impact on not just one person, but I think we gave hope to hundreds of children!"
Senior elementary education major Katie Lawrence said she got to interact with people on campus in a way she hadn't before the event.
"We got to team up with people that we normally wouldn't get to work with," Lawrence said. "Even coming together as part of the Education Club, I got to work with my professors in a way that I had never seen them before. It was really great to experience that community, not only growing together as a whole group, but in small groups as well."
Many of the alumni who signed up for the event, like Carlton Vollberg, '92, were glad to be able to work alongside current students.
"I think it teaches young people the value of life and helping others through service," Vollberg said.
Tara Bugg, the event supervisor from Feed My Starving Children, is excited to be part of an organization that is serving God around the world.
"To think of the potential that some of these little kids have," Bugg said. "Maybe God has a plan for them to be president, or an Olympic athlete, or to radically change the world in some way, but they can't do that because their parents can't feed them, and so they don't see adulthood. It just breaks my heart. I'm very passionate about partnering with an organization whose true goal is to change the world."
Southern Adventist University | January 2018