BY Amanda blake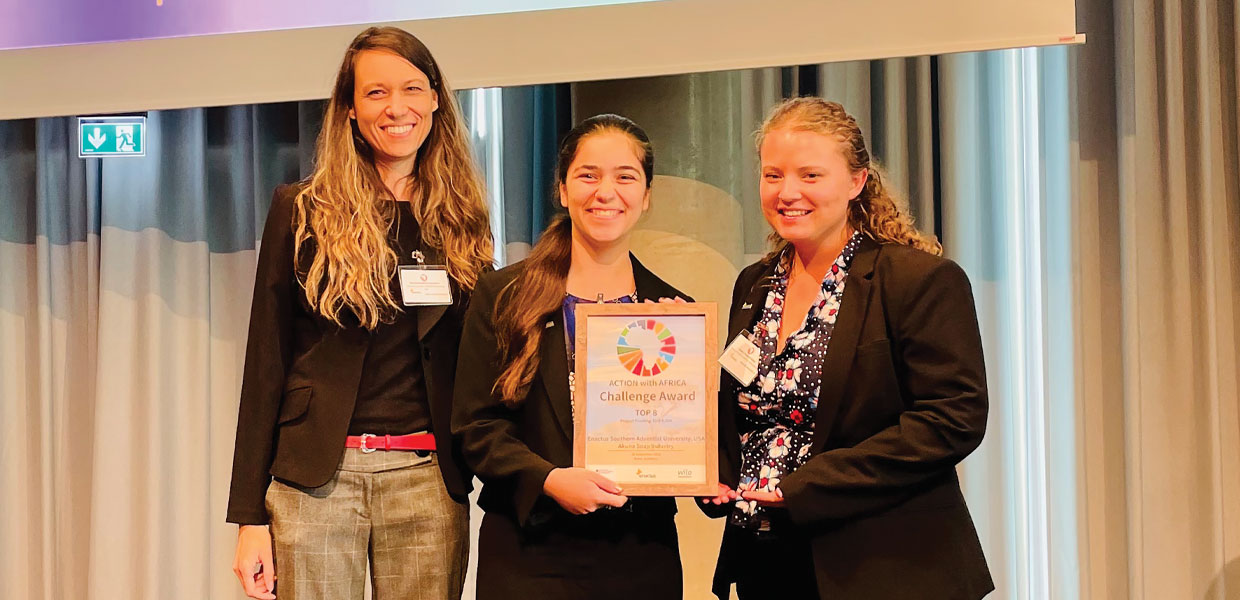 This fall, Southern Adventist University's student-led Enactus chapter placed seventh in the global "Action with Africa" challenge, a social entrepreneurship competition that highlighted the work Enactus teams around the world are doing in Africa. Out of more than 200 projects that applied to participate, Southern's chapter was the only group from the United States to place in the international competition's top eight in August.
The Southern team progressed to the competition's main event in Germany. There, Adonna Andino, junior accounting major, and Ashley Blake, senior accounting major, presented to a panel of judges about their team's project, which assists Akuna Soap Industry, located at Riverside Farm Institute in Zambia. They explained Akuna's mission of training Zambian women to become entrepreneurs by selling all-natural, affordable soap. This empowers females to secure a sustainable income and pursue education in a country where gender inequality is an ongoing problem.
As a result of their presentation, the Akuna project was granted €8,000 in funding. Michelle Doucoumes, '05 and '10, Southern associate professor of business and Enactus sponsor, accompanied Andino and Blake on the trip.
"Akuna is unique compared to many other Enactus projects I've seen over the years," Doucoumes said. "It was invented, built, and is now being run by students. That's what Enactus is supposed to be about: students who change the world."
Andino and Blake are both thankful for the service and academic opportunities this competition and Akuna have provided for them.
"I'm learning business principles and looking at balance sheets, but what I really love about Akuna is the Christ-centered service at its core," said Andino, the current Akuna project manager. "It's all about the people we're helping, and I think that aligns perfectly with Southern's mission to pursue Spirit-filled lives of service."
Southern Adventist University | December 2022