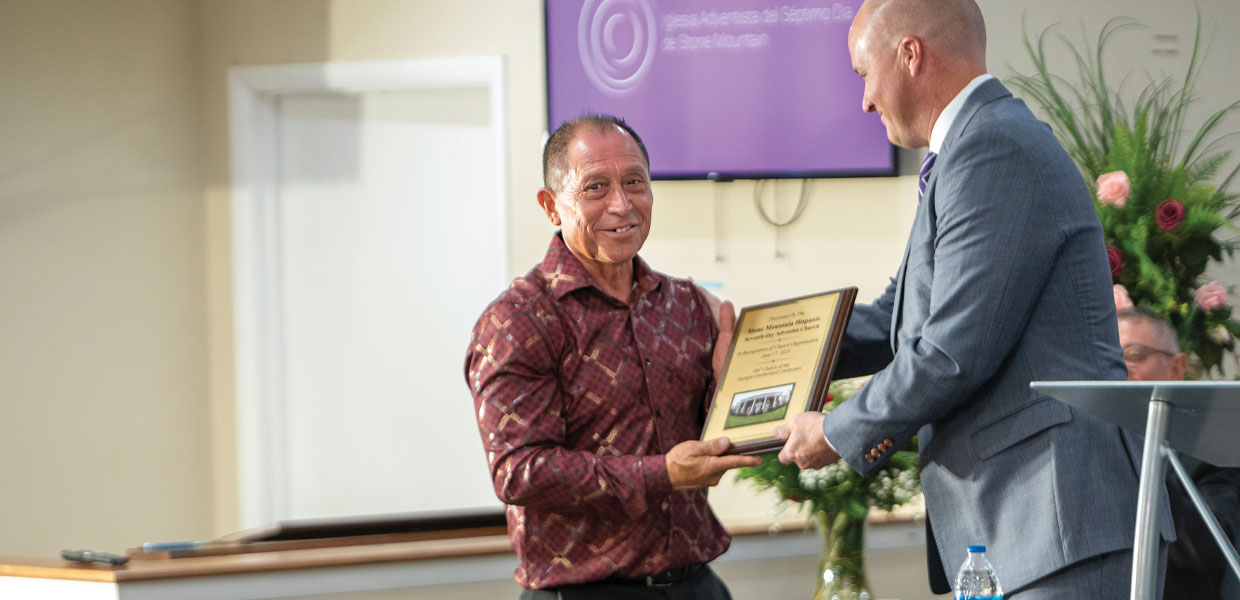 Nadin Diaz (left), first elder, receives a plaque from Gary Rustad, Georgia-Cumberland president, recognizing the Stone Mountain Hispanic Church as the 184th church in the Georgia-Cumberland Conference.
Nathan Zinner
Stone Mountain Hispanic Receives Church Status
The Stone Mountain Hispanic Company was officially organized as a church on June 17, 2023, after 13 years of sharing the Gospel in the community. This milestone reaffirmed the faith and hope of its congregants, who were very joyful for the occasion. During the ceremony officiated by Georgia-Cumberland Conference administrators, Gary Rustad, Conference president, highlighted the importance of remembering to give thanks to the Lord, to keep sharing Jesus, and to make disciples. Chester Clark, vice president for administration, officiated the church organization service.
All three pastors — Orlando Gonzalez (2009-2013), Aldo Espinoza (2010-2011), and Danilo Cornejo (2013-2022) — who have led the church since its beginning, were in attendance to celebrate and congratulate the church members. Each one thanked the members for their hard work in achieving this accomplishment. "The waiting time has served to unite the members, develop new leaders, and understand the value of the church structure," declared Danilo Cornejo, pastor.
Virginia Guillen, one of the Stone Mountain Church members, provided the church's history and how it has grown over the past years, and positively impacted the community. She reported that Cornejo was the one who requested the Georgia-Cumberland Conference administration on April 4, 2014, to establish the group as a company, a petition granted on November 15, of the same year. He also was the one who led the church to receive its full church recognition.
On the same day of the ceremony, the Conference installed Ronald Rojas as the church's new pastor; he challenged the church not to sit as if the full church status was the ultimate goal, but rather to use the new status as a springboard to fulfill God's mission of spreading the Gospel to the Stone Mountain community.
In the history of the Stone Mountain Church, this event marked the beginning of a new chapter. With gratitude to God for all His favors, leaders, and members reaffirmed their commitment and dedication to continue growing God's Kingdom by sharing the Gospel in the community.
Virginia Guillen and
Cecilia Cornejo
Georgia-Cumberland | August 2023