BY Stefanie Green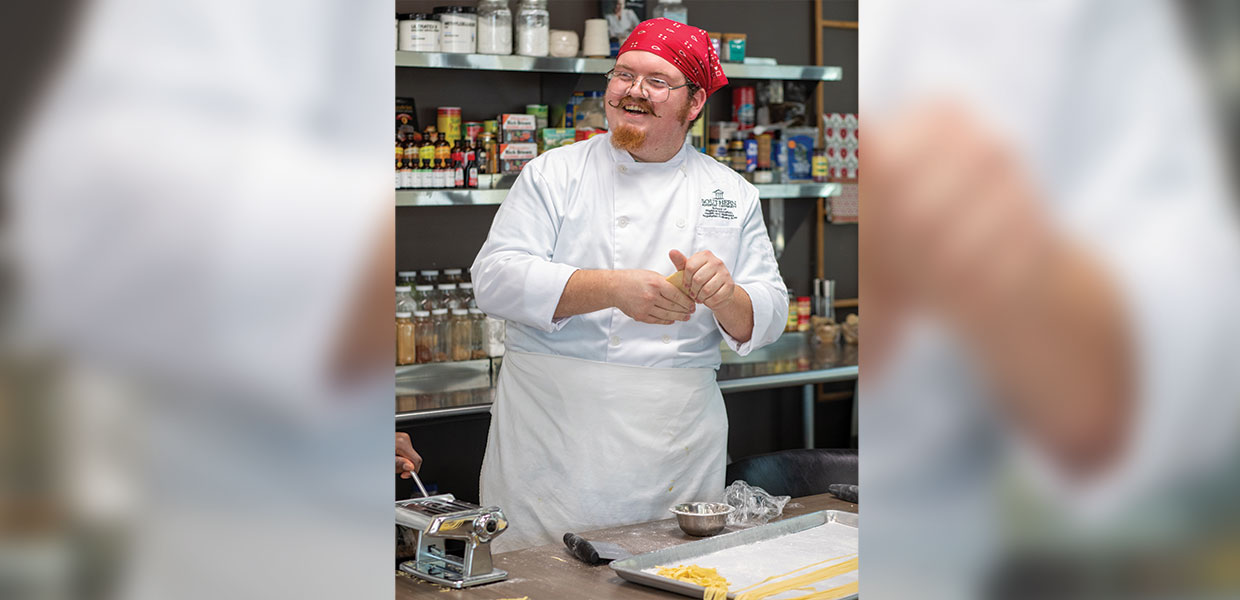 Thoroughly enjoying the vegetarian culinary arts program at Southern, Benjamin Greeson made many lifestyle changes this year.
Benjamin Greeson, a freshman vegetarian culinary arts major at Southern, has had a passion for cooking since he was a child, with dreams of becoming a chef. Through the years, he built up experience in the kitchen, cooking at home and working in various restaurants.
Eight years ago, Greeson began culinary school in Atlanta, Ga.; however, following the death of his father, he had to drop out and move away. Last year, he decided to return to school, and as he searched for options near his current home, he discovered Southern's vegetarian culinary arts program and signed up.
Being part of the culinary program at Southern was an adjustment for Greeson, who was not accustomed to cooking without meat, but he is thriving.
"What I cook here is very different from what I was used to," he said. "Here we use lots more vegetables!"
Since coming to Southern, Greeson has made several major lifestyle changes; he quit smoking, drinking alcohol and soft drinks, and chewing tobacco. He even became a vegetarian, and, through a required fitness class, developed an exercise regimen that he committed to following. Thanks to these adjustments, he lost 70 pounds in his first semester at Southern.
That wasn't the only benefit Greeson discovered. Besides relief from severe heartburn, he found that smoking had dulled his taste buds; when he gave up tobacco, Greeson gained a new appreciation for the wide range and nuance of flavors in the food he was cooking.
Greeson credits two professors in particular for his new commitment to healthy living: Bob Benge, Ph.D., dean of the School of P.E., Health, and Wellness, who serves as Greeson's academic adviser, and associate professor Mike Boyd, who became a mentor to him.
"Ben is the first person I have ever seen give up so much in such a short amount of time," Boyd said. "His tenacity to stay focused is highly commendable."
Greeson offers advice to others seeking better health: "You can't sit at home and expect your health to improve," he said. "You've got to get up and do something about it."
Southern Adventist University | June 2020