BY Abigail king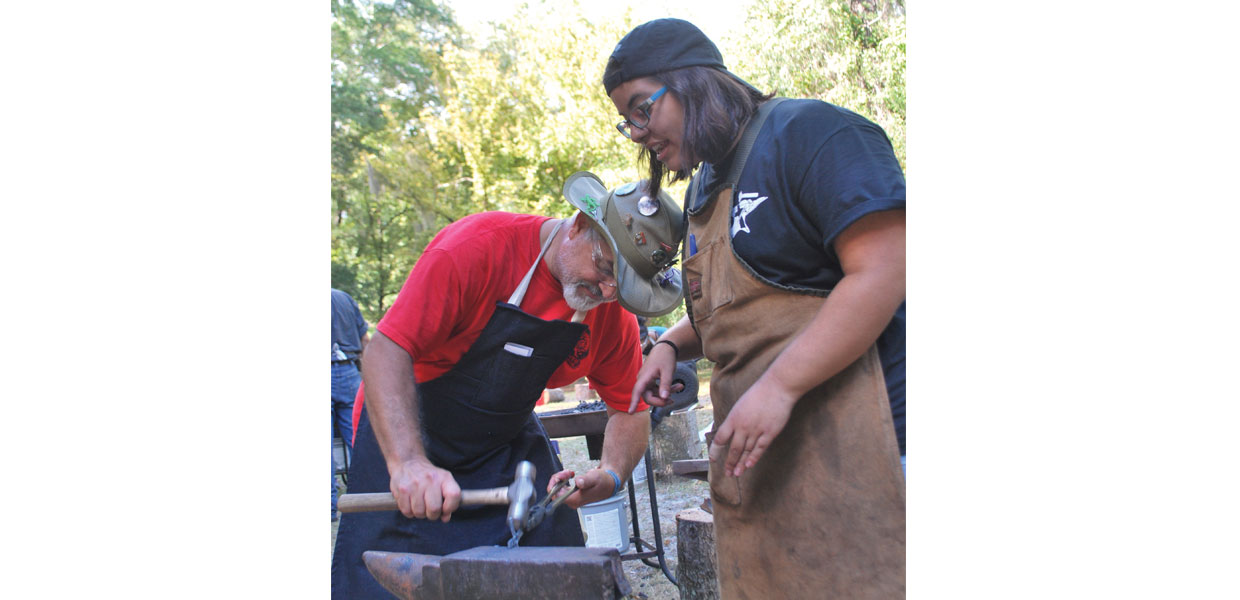 Angelica Acevedo (right) teaches her father, Angel Acevedo, blacksmithing during the Southern Union Pathfinder Camporee, October 12-16, 2016.
Dusty Miller
Southern Adventist University, Collegedale, Tenn., has a unique distinction: It is the only Seventh-day Adventist university in the United States with a blacksmithing club. The Southern Smiths club has more than 20 members from a variety of majors, and continues to grow. Members enjoy demonstrating their trade for students and the community during different events throughout the school year. For some members, participation takes on added meaning.
Angelica Acevedo, a sophomore social work major, joined the Southern Smiths at the beginning of the fall semester. She took up the hobby because she wanted to connect with her father, who is a passionate wood carver and very familiar with the tools and techniques used in blacksmithing. At the time, Acevedo didn't realize that through the club she would be able to give her dad the surprise of his life.
Shortly after the semester began, Acevedo learned that select club members would be traveling to the Southern Union Pathfinder Camporee at Camp Kulaqua to teach Pathfinders the art of blacksmithing. Acevedo decided that this would be the perfect opportunity to surprise her father, director for the Calhoun Cherokee Pathfinders, and tell him about joining the organization. The trip was only a month away, and Acevedo was brand new to blacksmithing. She was determined to learn the skills needed to accompany the club on the trip.
In the following weeks, whenever the blacksmith shop on campus was open, Acevedo was there, learning the trade from club sponsor Dusty Miller.
"I owe a lot of thanks to Dusty for all that he taught me in such a short amount of time," Acevedo said.
After spending long hours in the shop, she was finally prepared to instruct Pathfinders in the blacksmith activity required to receive their honor.
Acevedo kept her attendance a secret from her father, but once she arrived at Camp Kulaqua, news quickly reached him that she was there for the camporee. He hurried over to Pioneer Village where the blacksmith booth was located to investigate. When he saw his daughter, he was ecstatic and brought his entire Pathfinder group over to Acevedo's booth so they all could learn how to blacksmith and earn their honor.
"I also got to teach my father how to be a blacksmith," Acevedo said. "It was really special, but it was also hilarious because the entire time he was acting like my father, insisting that I be careful. I had to remind him multiple times that I was the instructor and he was the student."
Acevedo shared that it has been an amazing experience to connect with her dad on this level. They want to continue sharing this trade with each other, and plan to purchase an anvil for their home so they can work together during school breaks.
Southern Adventist University | January 2017