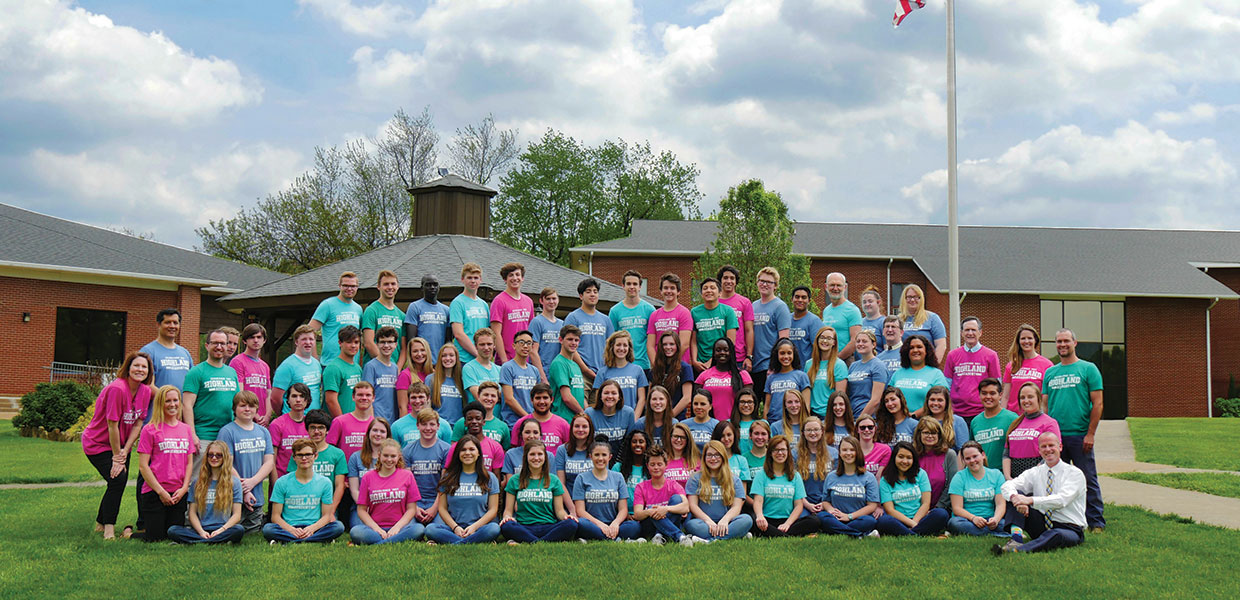 Students, faculty, and staff from the 2017-18 school year at Highland Academy
The following is a devotion written by a Highland Academy student.
It was a hot day in July where I sat outside of Chipotle with tears running down my cheeks. I silently raised prayers of sorrow and guilt. Hopeless is truly the best definition to describe how I felt at that moment.
I had taken a really stressful summer job away from home. It paid well and my coworkers were nice, but the work itself was aggravating. During this time my parents were struggling both emotionally and financially. I needed a good summer experience and money, so I took the work opportunity. Unfortunately, my mother had just used her entire saving's account for her schooling. Money became a huge need for us since she spent that money on summer classes so she could graduate earlier and start working sooner.
While I was away at my job, there was a time we only had $30 in our bank account. She didn't have enough money to send me so I could buy food. I broke down in tears. I didn't feel despair because of lack of food, but because of how sorry I felt for my mother. Hearing her say, "I am sorry," devastated me. We still had to pay our bill from the previous year at Highland Academy, pay the phone bill, and find an apartment — and I needed to eat. I finally realized we wouldn't be able to pay for me to go to Highland next year.
Everything was so stressful. I truly hated my job, and I wanted to quit so badly. If I did, how would we pay for the things we needed? Tears of absolute doubt rolled down my cheeks. God had done amazing things for me in the past, but why was it now so hard to trust Him?
A simple prayer and a little faith changed things drastically. One of my bosses offered to buy me food. The next day my mother had enough money for us. Unfortunately, I had some medical problems which forced me to quit my job. During my recovery time at home, I received a letter from Highland saying how much financial aid I was approved for, and I was so happy! I would be able to go back to Highland! I felt like God wanted me at Highland, but why?
In August when I went back to school, I met a lot of new students who needed comfort in the dorm. I was able to help them, encourage them, and be their friend. I got to share Christ's love with them. This showed me God needed me at Highland. I'm so grateful for those who helped me, for donors, and for the staff who also helped me. "…before they call, I will answer and while they are still speaking, I will hear," Isaiah 65:24.
Kentucky-Tennessee | July 2018