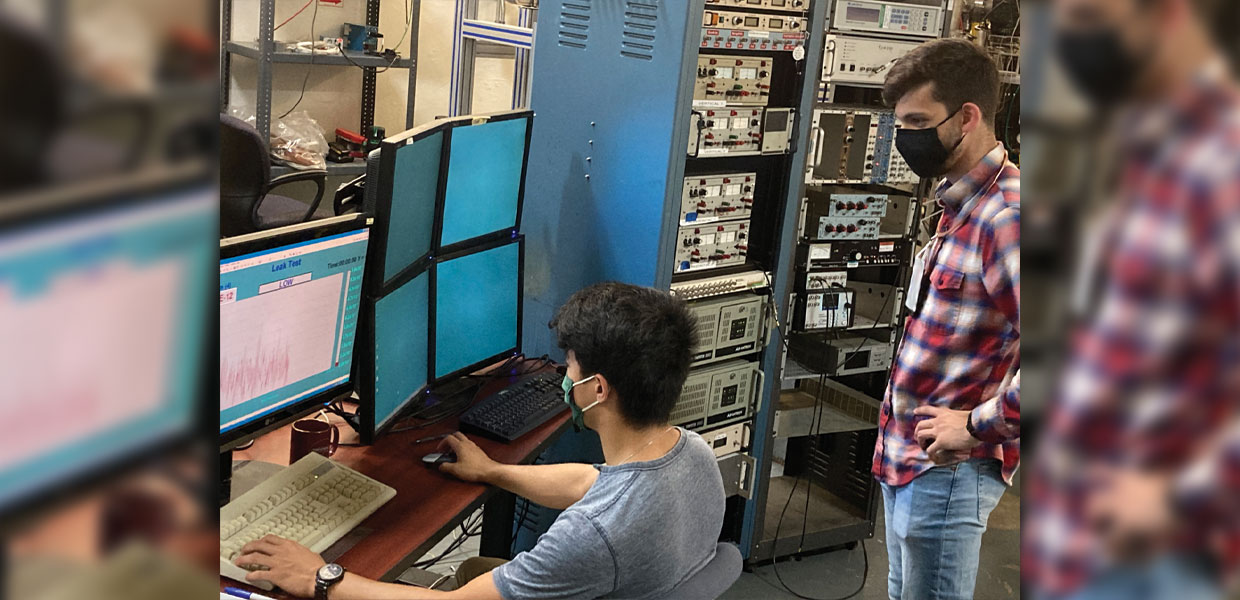 Physics students Timothy Suzuki (left) and Arian Dovald gained valuable hands-on research experience at Oak Ridge National Laboratory.
Students Conduct Research at Oak Ridge National Laboratory
This summer, two Southern physics majors helped conduct research at Oak Ridge National Laboratory (ORNL). Vola Andrianarijaona, Ph.D., a physics and engineering professor at Southern, invited senior Timothy Suzuki and junior Arian Dovald, both physics majors, to help with two of his research projects. Located in Eastern Tennessee, the laboratory is the largest (by size) science and energy national laboratory in the Department of Energy system. Research access is mostly reserved for those working at the doctoral level.
"This is a big deal for undergraduate students," Andrianarijaona said. "These students will be likely to write a science poster with the research results from their own work, not just the results of someone else's work. That's real-life experience for the researcher."
During their time at ORNL, the students worked on two main projects: building a specific square wave using multi-pulse generator to ensure that the ion beam would send a specific number of pulses, and achieving an ultra-high vacuum environment within the merged ion beamline while checking for leaks in the system to reach desired vacuum pressure.
"This is an important step toward entering the world of physics research, and it inches me closer to the graduate school of my choice," said Dovald.
"This opportunity granted me valuable experience," Suzuki said. "The most important lesson that I learned was that in real life, problems do not have simple solutions, and that to overcome these challenges, a flexible mind is absolutely necessary."
Madison Reinschmidt
Southern Adventist University | December 2021