robert abdul-karim and james mello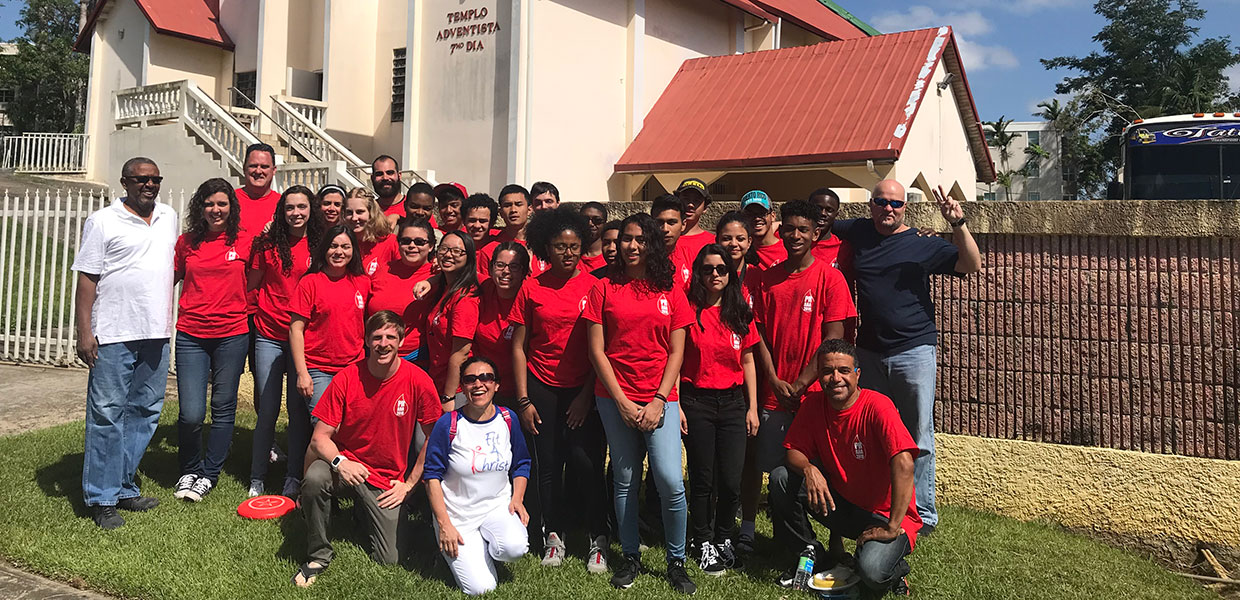 Students from Atlanta Adventist Academy and Duluth youth spent spring break helping to rebuild the Academia Adventista de Vieques in Puerto Rico. Vieques is a small island that suffered great damage during Hurricane Maria.
Robert Abdul-Karim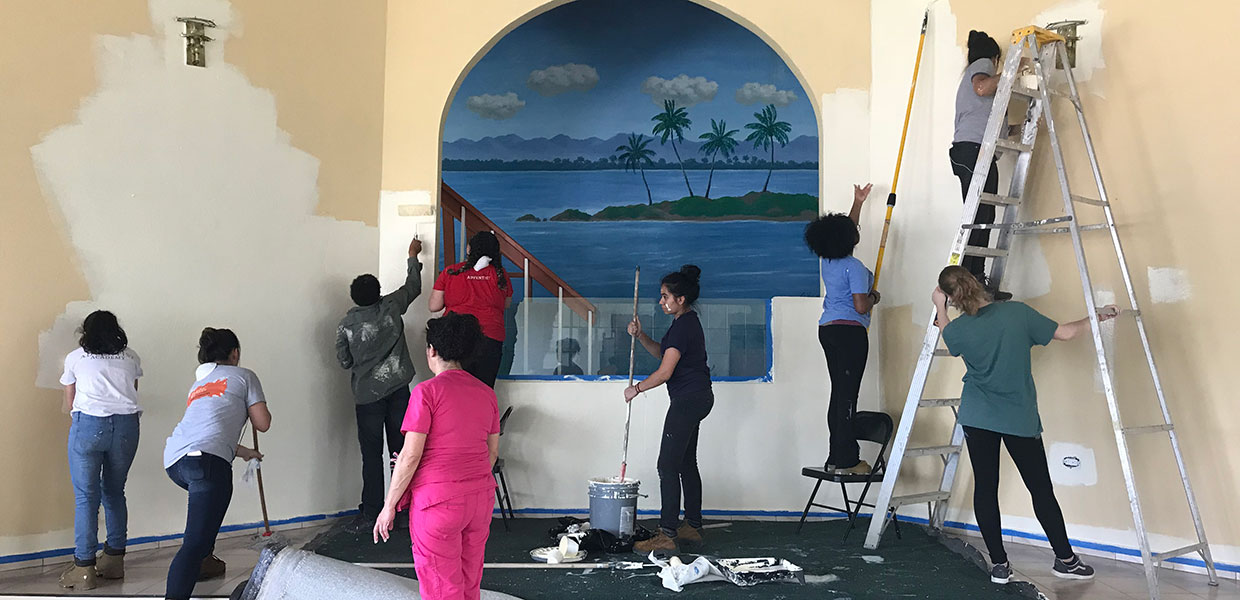 AAA and Duluth youth students completed twice as many projects as expected including hosing down and repainting the church sanctuary.
by Robert Abdul-Karim
Rebuilding the Caribbean is not a top news story anymore. But, in Duluth, Ga., there are a few people who have not forgotten that Hurricane Maria made landfall on Puerto Rico, September 20, 2017, with the eye of the storm passing directly over, and including the smaller Island of Vieques. The students of Atlanta Adventist Academy (AAA) and Duluth Church felt a passion and drive to help make a difference during their spring break, March 1-8. The focus was Academia Adventista de Vieques.
Five and a half months later it "got real," as students, faculty, and sponsors landed in San Juan, the capital city of Puerto Rico. Once out of the airport, they learned that the city had experienced a black out and it would not be fixed for another 15-24 hours. This, along with all the blue tarps on house roofs, gave the newly arrived missionaries a major reality check. If the capital city was experiencing blackouts and in obvious need of repair, how much more was the demand for the remainder of the island, let alone smaller islands like Vieques.
The next morning the mission group took the ferry to Vieques, and the students of AAA and Duluth youth prepared to work. Work they did! They completed twice as many projects as expected, including hosing down and repainting the church sanctuary, uprooting the mangled fence around the property, removing damaged walls of the trailer classrooms, cleaning and sealing the roof of the multi-purpose room, and re-leveling and tiling the multi-purpose room.
Following are a few testimonies from students.
Gisselle Pizarro, a 10th-grade student with the Duluth youth group, said, "Going on the mission trip to Vieques Puerto Rico was a blessing to the people there and to myself. The empty hole in my heart I had been feeling was filled. I was able to connect spiritually with God and got to help those in need."
AAA senior Nicole Pustea said, "I approached this mission trip thinking I was ready for everything that hit me since this was my fourth one. One could see signs of the devastation everywhere you looked, from the SOS written on the street in front of the school we worked on, to the blue tarps that were too numerous to count from the sky. It just showed me how Jesus in your life can truly change it to something completely different."
Nick Mu, a refugee student at AAA, said, "I didn't expect to be on the mission trip at all, but God provided and I was there with all the friends. The trip helped to develop our character as Christ followers, and also showed us how Christ worked through us. It was a big blessing for them to see these youth helping out, and give up their spring break to do the work of God."
The theme for the trip was "Blood, Sweat, and Tears." While in the early stages of planning this trip to Puerto Rico, they decided that fellowship must be the key for everything they did. Fellowship with Jesus was first, fellowship with brothers and sisters in Puerto Rico second, and fellowship with each other third.
Jesus shed His blood for all in His final hours on the cross, and the students of AAA and Duluth youth sought to share their compassion for the bloodshed, loss, and damage on Vieques. What they experienced was a beautiful example of what church is always meant to be — a fellowship through Jesus of blood, sweat, and tears.
Georgia-Cumberland | May 2018