BY Carolina Bonilla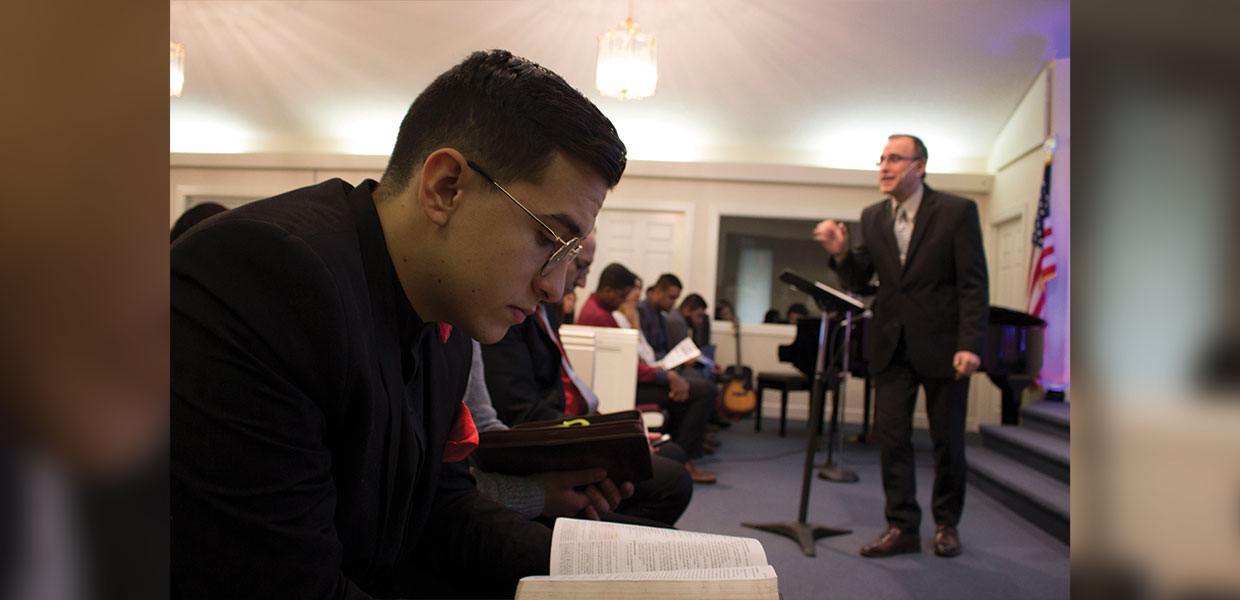 Joel Barrios, pastor of the Collegedale, Tenn., Spanish-American Church, preaches a sermon while many follow along in the Word of God. Barrios has a passion for media ministry, and has 10,000 subscribers on his church's YouTube channel.
Francis Rios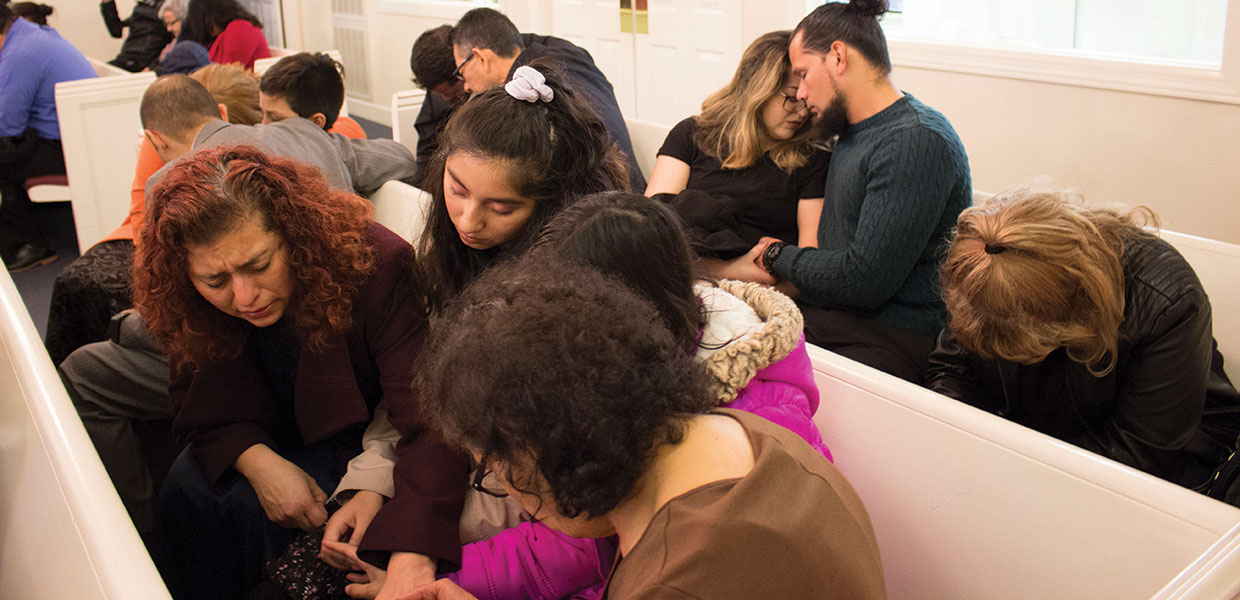 The Collegedale Spanish-American Church is a church of prayer and action. Here, members pray for their church and its media ministry, through which the Holy Spirit has prompted people from around the world to be baptized.
Francis Rios
Carolina Bonilla shares her testimony about SuCasa Church's media ministry.
It was 2014 when I watched a five-part YouTube series titled, "What does it mean to be an Adventist?" by Joel Barrios, that broke me. One truth bomb after another was dropped before me, making me realize that belonging to the "right" denomination isn't enough. I wasn't living for the second coming of Jesus as if it were to happen.
I had no idea who this pastor, Joel Barrios, was or how he appeared on my YouTube searches. However, I began to watch his sermons, and they became a part of my Christian walk. They helped me see that I needed more of Jesus, and they inspired me to live by faith; and these messages, I would soon discover, were not only intended to be heard by me. God had a greater plan.
Later in 2014, I moved to Collegedale, Tenn., where I was surprised to learn that Barrios was one of the local pastors. I had no need to go church shopping.
The first Wednesday I arrived in town, I went directly to Collegedale Spanish-American Church, where Barrios was leading Prayer Meeting. As soon as Prayer Meeting was over, a woman approached me, introduced herself and offered to introduce me to the pastor. I excitedly said, "Yes!"
When exchanging greetings with the pastor, I felt as if I knew him, so I asked, "Pastor, would you like to record radio programs?" His eyes opened wide.
Barrios began to share with me about his burden. He had previously pastored in Atlanta, Ga., where his church had a radio ministry, and with the transfer to Collegedale he prayed for God to open the doors to spread the Gospel through media. It was his passion.
Consequently, I shared my conviction. "Pastor, I have a plan. I have a fiancé who lives in Chile and works for the Chilean Adventist University radio station. We are going to get married in about a year, and when he moves here, we are going to help you."
Honestly, I had no idea if my media ministry plan would work. I hadn't discussed the plan with my fiancé or even asked if he would be interested, but, somehow, I figured he would be. I knew God had led me to this specific church for this specific mission.
As time passed, Barrios asked, "When is your fiancé coming?" He had taken my plan seriously. He had begun to pray for God to bring together a group of people to begin a media ministry, and God answered.
God not only brought my husband, but an entire group of talented individuals specialized in different areas to build the SuCasa Church media ministry. Together, we have been able to work on segments for the local radio station, short videos to share on social media, podcasts, a music CD, a weekly commentary of the Sabbath School lesson, and viewings of our weekly worship services. We have developed a phone app, and a question-and-answer Bible program that airs through YouTube and Facebook. Together, God has worked to make media ministry a part of the Collegedale Spanish-American Church.
As a result, our YouTube Channel has reached 10,000 subscribers, and some of our videos have more than 35,000 views. Every Sabbath more than 150 follow our live stream, and the numbers keep growing.
We have six online followers, who have flown from their countries or residing locations to our church to be baptized.
Aside from posting and managing our media ministry, our church interacts with those watching online from different parts of the world by inviting them to send us a video message during a special program called "Maratónica SuCasa," every three months. It is a way for our church to meet and welcome them. We have received messages from people in places as far as Australia, Japan, Sweden, Spain, and every country in Latin America. What is more impressive is that these individuals are committed to the mission of our church. They know about the different activities we organize, and they want to be involved. Some have even asked to have their church membership transferred here. These members are called our "virtual church members."
The SuCasa Church media ministry has resulted from individuals hearing God's calling on their hearts, and desires to be part of seeing the climatic event of Jesus' second coming. It is not of our own doing, but of His providential workings. We hope and pray that you will collaborate with us in our Collegedale Spanish- American Church's mission of "preparing the way of the Lord," using the avenues God places on your heart to use.
Georgia-Cumberland | June 2019