Shane Hochstetler
Angela Hernandez learned about disaster response organization from her parents, and took opportunties to practice it through Adventist Community Services.
Shane Hochstetler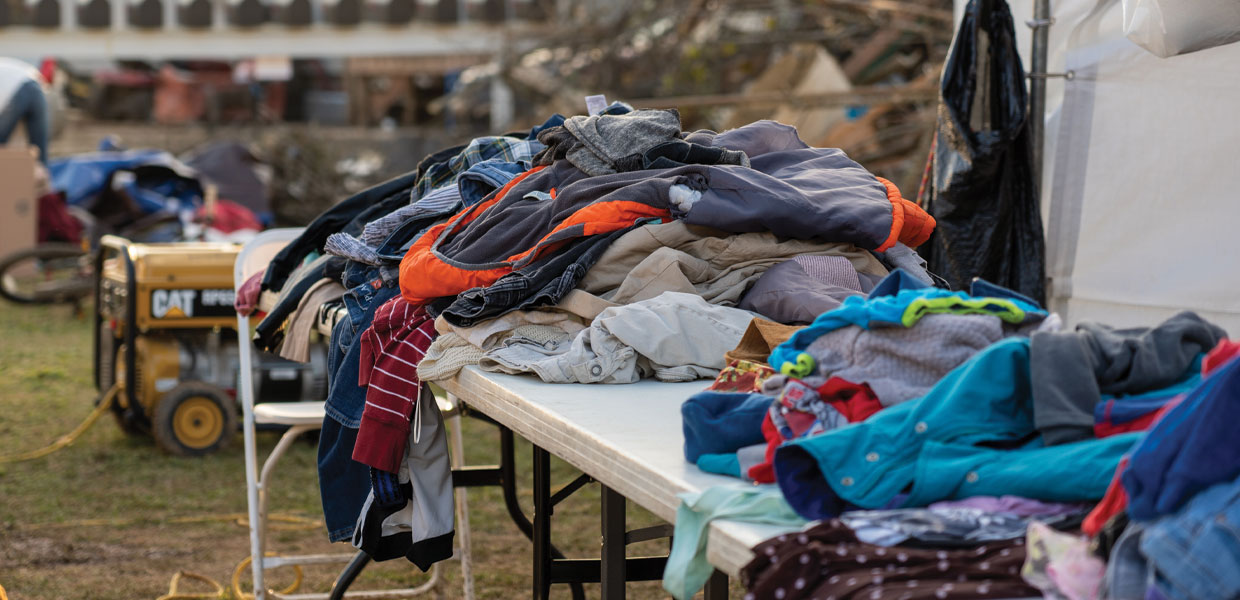 Donations continued to arrive for several days following the tornado, and the neighborhood supplies were plentiful.
An EF-3 tornado traveled for 10 miles through northern Jefferson County in Alabama on January 25, 2021. While the width of the tornado was only 900 yards at its widest point, it left a considerable amount of damage, including a loss of life. Part of the tornado path came through the neighborhood of the Pinson Hispanic Company near Birmingham, Ala.
In the wake of the disaster, the church sprang into action under the banner of Adventist Community Services and set up a tent in the middle of the damaged neighborhood. They were also able to set up cooking stovetops quickly, and began meal distribution right away. The church continued to offer several meals a day for more than a week, all from the same location. Their tent was immediately recognized as a point of distribution, and donations began to pour in. These donations needed to be organized for distribution, and that's where the Hernandez family came in.
Angela Hernandez, a junior at the local Pinson Valley High School, accompanied her parents as they began working on the area's disaster response. While Hernandez isn't a church member, she, along with her family, has been involved in Bible study small groups and other community services with the local Adventist church. As the donations continued to arrive, Hernandez began taking note of the contributions and who brought them. She also assisted with distribution, keeping track of which family had received each item.
While Hernandez assisted with the project for several days, her school continued to operate, and there was concern whether she would be in trouble for missing the classes. When the school learned about her situation's details, she was offered grace for the missed time. Hernandez's involvement inspired her school to make a meal donation to the neighborhood, and inspired the local mayor to acknowledge her community service commitment.
The church continued working in the neighborhood until everyone had a significant start to their recovery.
Gulf States | May 2021