BY Becky Brooks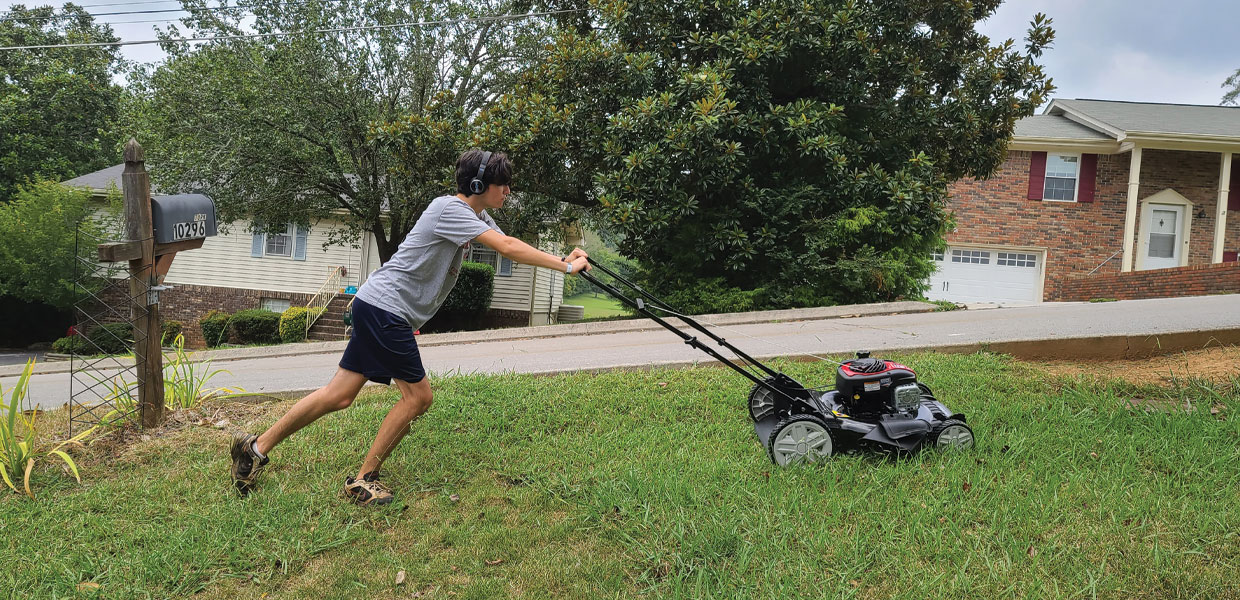 This summer amid the coronavirus pandemic, Thomas Turk, a teen from McDonald Road Church in McDonald, Tenn., completed the 50 Yard Challenge. The challenge is to mow 50 yards free-of-charge to help the elderly, disabled, single parents, and veterans.
"It was really good just to be able to help people, to see their appreciation, and to know that I was helping and making things easier for them," he said.
Mike and Theodora Sayne are one couple whose lawn Turk mowed. Theodora
Sayne was grateful for Turk's help because her husband has heart trouble and isn't able to be out in the heat much.
"Thomas was diligent to get his work done, and we much appreciated his work," she shared.
The 50 Yard Challenge, started by Rodney Smith Jr. of Raising Men Lawn Care Service, is open to young people who want to make a difference in their community. After each 10 yard milestone, participants receive a different color T-shirt to highlight their experience in helping others. After mowing 50 yards, they are rewarded with a brand new lawn mower, weed eater, and leaf blower.
Turk has been mowing lawns for years, and he's been involved in the 50 Yard Challenge for two years. He received his new lawn care equipment on July 31, 2020.
Smith shared on Twitter: "Family, please help me in congratulating Thomas from Collegedale, Tenn., on completing our 50 Yard Challenge by mowing 50 FREE lawns for the elderly, disabled, single parents, and veterans in his city."
Raising Men Lawn Care Service (RMLCS) is the union of an ordinary yard maintenance service, and the commitment to establish an inspiring program to keep youth (girls and boys), ages 7-17, on a positive path while learning and understanding their value in society.
Georgia-Cumberland | October 2020